The 2020 NFL Draft starts on Thursday, April 23. As a lead up to the draft, we'll be giving a team-by-team breakdown for positional needs. For each team, we'll give an overview of each team's current depth chart and how big of a need each position in the upcoming draft. Find all teams and the rest of our draft content in our NFL Draft Hub.
Be sure to follow our new Twitter account @SharpFBAnalysis for additional content like this, plus in-season NFL analytics, betting insights, fantasy football analysis, and game picks & props.
Pittsburgh Steelers 2020 Draft Picks Overview
Round 2 (49)
Round 3 (102)
Round 4 (124)
Round 4 (135)
Round 6 (198)
Round 7 (232)
Pittsburgh Steelers Offense
by Rich Hribar
2019 Pittsburgh Steelers Offensive Ranks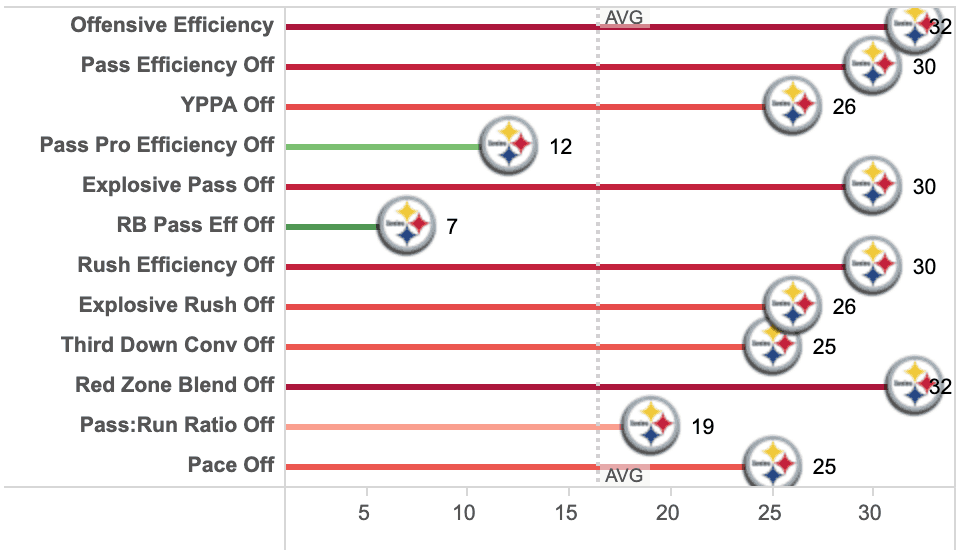 *denotes new addition
Quarterback
Ben Roethlisberger
Mason Rudolph
Devlin Hodges
Paxton Lynch
J.T. Barrett
Ben Roethlisberger played just six quarters last season and the Steelers offense never recovered. The team went from 313 passing yards per game in 2018 down to 186.3 passing yards per game in 2019, the largest single-season decline of passing yardage per game in league history.  Their depth of Mason Rudolph and Devlin Hodges turned the ball over 17 times via interceptions compared to 18 touchdown passes.
The Steelers were not involved in adding a veteran through the first wave of free agency, but shouldn't be expected to enter the 2020 season with the same insurance they had a year ago behind Roethlisberger, who just turned 38-years-old this March and only is signed through the 2021 season. The issue is the Steelers have no significant draft capital to pursue a true heir apparent passer, meaning they may wait until post-draft to pursue a veteran for short term protection.
Running back
James Conner
Jaylen Samuels
Benny Snell
Trey Edmunds
Kerrith Whyte
Ralph Webb
Darrin Hall
Another area where the Steelers depth chart was exposed a bit was at the running back position. Durability has been an issue for James Conner over the past two seasons, missing nine games outright due to injury and playing fewer than 40% of the team snaps in 10 of his 23 games active. Conner is entering 2020 in the final season of his rookie contract.
With Conner missing time last year, second-year back Jaylen Samuels totaled 113 touches (4.2 yards per touch) and fourth-round rookie Benny Snell (122nd overall) totaled 111 touches (4.0 yards per touch). On a combined 214 touches, the duo totaled 929 yards while Conner produced 715 yards on his 150 touches. The Steelers should be expected to add a back, but their limited draft capital compromises the degree of player they can bring in for competition unless they are using their first (and only top-100 pick) on a running back.
Wide receiver
JuJu Smith-Schuster
Diontae Johnson
James Washington
Ryan Switzer
Deon Cain
Amara Darboh
Anthony Johnson
Jamal Custis
Quadree Henderson
Even with a few misses over time, the Steelers know how to get production from wideouts on their rookie contracts. Last year's third-round pick (66th overall) Diontae Johnson led all rookie wideouts with 59 receptions (690 yards and five touchdowns) while contributing 12.4 yards per punt return with a touchdown. 2018 second round James Washington took a step forward in his second season, catching 44-of-80 targets for 735 yards (16.7 Y/R) and three scores.
What the Steelers didn't get an answer on is if JuJu Smith-Schuster was truly their next WR1 following the trade of Antonio Brown in the offseason. Through his own myriad of injuries, Roethlisberger going down, and the anemic quarterback situation behind that injury, Smith-Schuster averaged just 3.5 receptions for 46.0 yards per game. Smith-Schuster enters 2020 on the final year of his rookie contract. 
Wide receiver isn't a glaring need for Steelers and they have only six draft picks, but with a deep draft class and the potential of future contract talks breaking down between Smith-Schuster, the team could add another option.
Tight End
Eric Ebron*
Vance McDonald
Zach Gentry
Kevin Rader
The Steelers added Eric Ebron to a two-year contract this offseason while Vance McDonald restructured his salary to remain with the team through the 2021 season. The team used a fifth-round pick (141st overall) on Zach Gentry a year ago, who will remain on as depth at the position. Pittsburgh could get out of either contract for Ebron or McDonald after this season with minimal damage, but they enter the draft with their tight end depth chart in order.
Offensive Line
LT: Alejandro Villanueva/Chukwuma Okorafor
LG: Stefen Wisniewski*
C: Maurkice Pouncey/JC Hassenauer
RG: David DeCastro
RT: Matt Feiler/Zach Banner/Christian DiLauro
The Pittsburgh offensive line was above par once again a year ago in pass protection, ranking seventh in Pass Block Win Rate per ESPN, 12th in pass protection efficiency, and 12th in adjusted sack rate (6.6%) allowed. Where thy did run into issues was in the run game, ranking 30th in Adjusted Line Yards created (3.84) per Football Outsiders and ranking 30th in overall rushing efficiency as an offense.
There still stands to be some shakeup here in terms of starting lineup, as Matt Feiler filled in a left guard for the recently retired Ramon Foster when he was injured a year ago, but the addition of Stefen Wisniewski this offseason may have him at right tackle.
The Steelers also have 2018 third-round pick Chukwuma Okorafor in the mix to compete at right tackle. Starting left tackle Alejandro Villanueva will turn 32-years old this September and enters the season in the final season of his contract while Maurkice Pouncey (turning 31 in July) and David DeCastro (30) are both under contract through the 2021 season. The Steelers line is aging quickly while showing some signs of deterioration. 
Pittsburgh Steelers Defense
by Dan Pizzuta
2019 Pittsburgh Steelers Defensive Ranks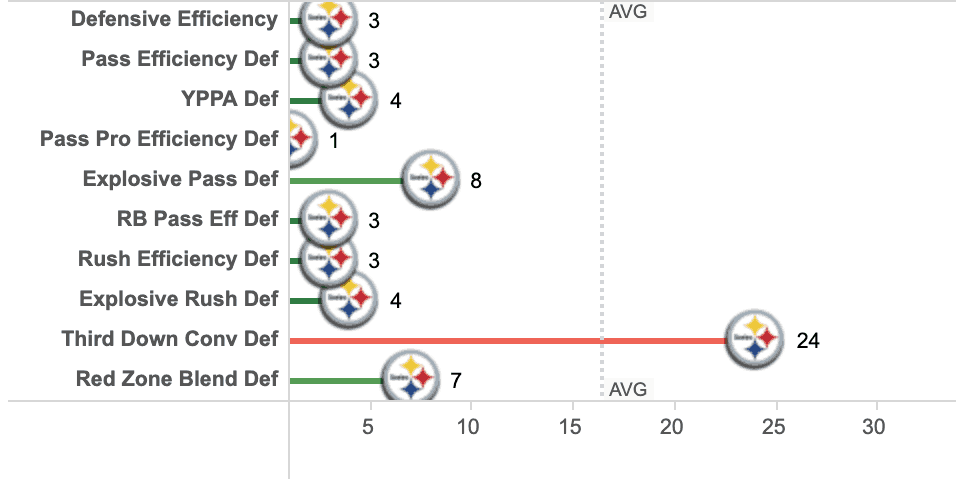 interior defensive line
Cam Heyward
Stephon Tuitt
Chris Wormley*
Tyson Alualu
Dan McCullers
Isaiah Buggs
Even after losing Javon Hargrave to the Eagles in free agency, the Steelers have one of the strongest interior lines in the league with Heyward and Tuitt, though Tuitt played just six games last season and ended the year on IR. Both have the ability to rush the passer and can kick outside in a four-man front if necessary. Pittsburgh already made a move to add positional depth with a rare intradivision trade that brought Chris Wormley over from the Ravens. Wormley just has one year remaining on his rookie contract, though, which could open the door for added depth.
EDGE
T.J. Watt
Bud Dupree
Olasunkanmi Adeniyi
Dewayne Hendrix
Tuzar Skipper
T.J. Watt is already one of the league's best pass rushers. He was second in ESPN's Pass Rush Win Rate last season and was second in pressure rate, per SIS. The Steelers franchised Bud Dupree after he finally broke out in his fifth season. There's a question around how committed the Steelers are to Dupree and that might need to be answered given how much Pittsburgh relied on their two edge rushers last season. Dupree played 90% of the defensive snaps and Watt played 86%. There's little depth of note behind them.
Off-ball Linebacker
Devin Bush
Vince Williams
Robert Spillane
Ulysees Gilbert III
Christian Kuntz
Devin Bush was an instant impact starter last season but the Steelers also relied on Mark Barron for nearly 70% of the defensive snaps as an inside linebacker. He wasn't particularly effective but those are still snaps that need to be accounted for. Pittsburgh could give a bigger role to Vince Williams, who flashed with limited playing time. His coverage was solid and he was an effective blitzer with a 29% pressure rate on 48 pass rush snaps, per SIS.
Cornerback
Joe Haden
Steven Nelson
Mike Hilton
Cameron Sutton
Justin Layne
Joe Haden and Steven Nelson played as one of the league's best corner duos last season; both allowed a sub-1.0 Adjusted Yards per coverage snap. Mike Hilton was the weak link as the slot corner, but Cameron Sutton was a star in limited playing time across the secondary. Justin Layne also has promise as a long third-round pick from 2019. This is one area where the Steelers have high-level play and depth.
Safety
Minkah Fitzpatrick
Terrell Edmunds
Marcus Allen
Jordan Dangerfield

Like every position expect corner, the Steelers have a good top duo they rely on often with little depth behind the starters. The acquisition of Fitzpatrick was a season changer for the defense but it also limited the picks Pittsburgh could use to build depth behind him.