The 2020 NFL Draft starts on Thursday, April 23. As a lead up to the draft, we'll be giving a team-by-team breakdown for positional needs. For each team, we'll give an overview of each team's current depth chart and how big of a need each position in the upcoming draft. Find all teams and the rest of our draft content in our NFL Draft Hub.
Be sure to follow our new Twitter account @SharpFBAnalysis for additional content like this, plus in-season NFL analytics, betting insights, fantasy football analysis, and game picks & props.
San Francisco 49ers 2020 Draft Picks Overview
Round 1 (13)
Round 1 (31)
Round 5 (156)
Round 5 (176)
Round 6 (210)
Round 7 (217)
Round 7 (245)
San Francisco 49ers Offense
by Rich Hribar
2019 San Francisco 49ers Offensive Ranks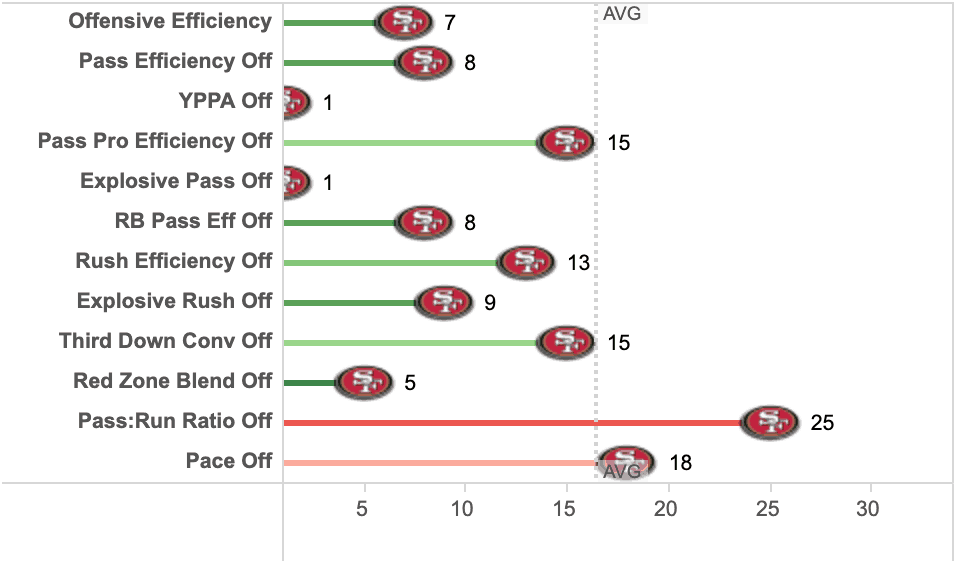 *denotes new addition
Quarterback
Jimmy Garoppolo
Nick Mullens
C.J. Beathard
Jimmy Garoppolo played his first full season as a starting quarterback in 2019. He closed the year ranking fifth in the league in yards per pass attempt (8.4) and eighth in yards per completion (12.1) while completing 68.1% of his passes. Despite the spiked rate stats, there was some potential discord on whether or not Garoppolo was the franchise quarterback as the 49ers were rumored to have interest in Tom Brady this offseason.
Sticking with Garoppolo, the 49ers have removed themselves from pursuing true competition and have him under contract through the 2022 season with out-years starting as early after this season. Backups Nick Mullens and C.J. Beathard both enter 2020 in the final year of their current contracts.
Running back
Raheem Mostert
Tevin Coleman
Matt Breida
Jerick McKinnon
Jeffery Wilson
The 49ers backfield collectively combined for 31.5 touches (third) and 175.3 yards from scrimmage (second) per game in 2019 with their backs averaging 5.6 yards per touch, which was third in the league. All of Raheem Mostert (952 yards), Tevin Coleman (724), and Matt Breida (743) chipped in with over 700 yards from scrimmage.
At the end of the season, it was Mostert who had claimed lead duties. Mostert tallied 792 total yards and 12 touchdowns over the final eight games of 2019. This is a deep group, but heading into this season, Mostert (signed through 2021) is the only running back here currently signed beyond the upcoming 2020 season. That could mean that the 49ers could take a running back late, but they don't have a lot of draft capital or current roster space to make it an immediate need.
Wide receiver
Deebo Samuel
Kendrick Bourne
Jalen Hurd
Dante Pettis
Travis Benjamin*
Marquise Goodwin
Richie James
Trent Taylor
Chris Thompson
Shawn Poindexter
San Francisco hit on Deebo Samuel in the second round (36th overall) as he became their lead receiver down the stretch as a rookie. He even led wide receivers in rushing yardage (159 yards with three touchdowns) in 2019. But his season didn't really take off until the team acquired Emmanuel Sanders. Samuels' 7.6-yard average depth of target ranked just 114th among wide receivers, functioning better when the offense had another player pressing the defense vertically and all levels.
The 49ers don't really have a replacement for that role with their only vertical wideouts currently on the roster being Travis Benjamin and Marquise Goodwin, who are far from polished receivers that can press the defense on multiple levels like Sanders did. That makes them a prime player for a wideout with one of their two first-round picks.
Kendrick Bourne signed a one-year deal after a 30-358-5 line a year ago. San Francisco still also has all of Jalen Hurd, Dante Pettis, Trent Taylor, and Richie James on their rookie contracts with Taylor being the only one expiring after the 2020 season. 
Tight End
George Kittle
Ross Dwelley
Daniel Helm
George Kittle is a bonafide stud tight end, already catching 216 passes for 2,945 yards and 12 touchdowns over the first three years of his career. He enters 2020 in the final season of his rookie contract and is in line for a big payday. Behind him, third-year tight end Ross Dwelley played 34% of the team snaps in 2019, catching seven passes for 38 yards in the two games that Kittle missed due to injury. The 49ers are in the market for further tight end depth in the later rounds.
Offensive Line
LT: Joe Staley/Justin Skule/Shon Coleman
LG: Laken Tomlinson/Kofi Amichia
C: Weston Richburg/Ben Garland/Jake Brendel
RG: Daniel Brunskill/Tom Compton/Ross Reynolds
RT: Mike McGlinchey/Jaryd Jones-Smith/Leonard Wester
Aside from releasing starting right guard Mike Person, the 49ers are returning the remaining offensive lineman they had under contract for 2020. The 49ers will inevitably have to look for a replacement for Joe Staley, who will turn 36-years-old this August prior to the season, but he still is under contract through 2021. Players such as Daniel Brunskill and Justin Skule filled in for Staley when he missed nine games this past season.
Center Weston Richburg is coming off a late-season torn patellar tendon in Week 14. He is signed long term, but does have a potential out year on his contract after this season. Mike McGlinchey and Laken Tomlinson are both under contract through 2021. The 49ers could look to pursue interior offensive lineman, but it's unlikely that they use one of their two first-round picks in that direction, which means that player would come as later-round depth. 
San Francisco 49ers Defense
by Dan Pizzuta
2019 San Francisco 49ers Defensive Ranks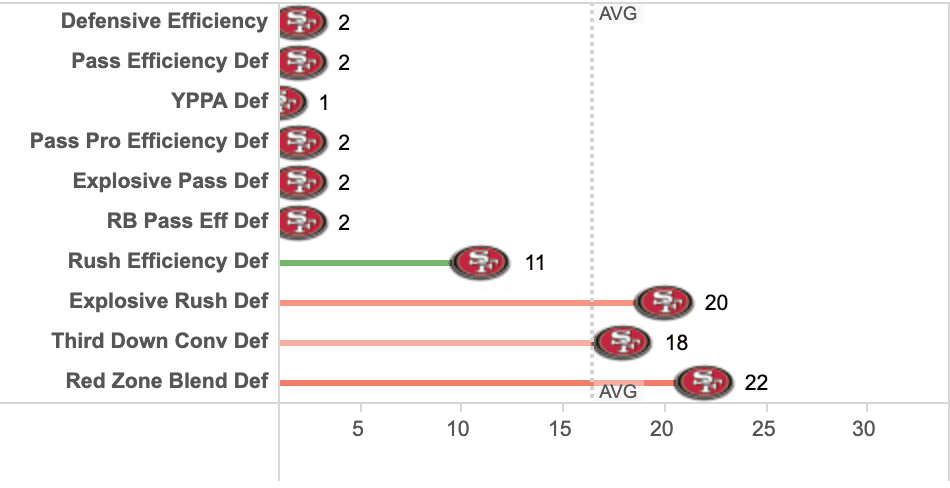 interior defensive line
Arik Armstead
Solomon Thomas
DJ Jones
Julian Taylor
Kevin Givens
Ray Smith
Willie Henry*
Arik Armstead is a versatile piece that can play on the edge and the interior. With the 49ers picking Armstead for an extension and trading DeForest Buckner, it seems more likely that Armstead will play more inside, where he was still a productive pass rusher, which opens up the edges for Nick Bosa and Dee Ford. Solomon Thomas hasn't lived up to his draft status and is in the final year of his rookie deal. DJ Jones has emerged as a productive interior rusher as well. Julian Taylor could also provide depth as he has developed from a super athletic seventh-round pick in 2018.
EDGE
Nick Bosa
Dee Ford
Kentavius Street
Kerry Hyder*
Ronald Blair
Jonathan Kongbo*
With Bosa and Ford, the Niners have a dominant edge duo. There's slightly less depth than last season with Buckner gone and Armstead potentially stretched more to the interior. Kentavius Street was a promising prospect who tore his ACL in pre-draft workouts and he appeared in four games last season. Kerry Hyder has also been a versatile inside/outside piece throughout his career and peak with eight sacks in 2016. 
Off-ball Linebacker
Fred Warner
Kwon Alexander
Dre Greenlaw
Azeez Al-Shaair
Joe Walker*
Joey Alfieri
Mark Nezeocha
Fred Warner has already turned into one of the best off-ball linebackers in the league with elite coverage and instincts. Many (present company included) questioned the Kwon Alexander contract last offseason but he played well in coverage in the eight games he played in 2019. Dre Greenlaw also played incredibly well in the times he filled in at linebacker. 
Cornerback
Richard Sherman
K'Wuan Williams
Emmanuel Moseley
Ahkello Witherspoon
DJ Reed
Jason Verrett
This might be the deepest group of corners in the league. Richard Sherman just had one of the best seasons of his career in his second year off his Achilles injury. K'Wuan Williams and Emmanuel Moseley broke out as plus performers — Williams was 15th in Adjusted Yards allowed per coverage snap last season — and took over as the No. 2 and 3 corners. A 2019 decline from Ahkello Witherspoon could derail another group but the 49ers are so deep, they were able to work around it. While the 49ers are still deep, their belief in cornerback depth could have them taking a corner.
Safety
Jaquiski Tartt
Jimmie Ward
Marcell Harris
Tarvarius Moore
Derrick Kindred*

Like at other positions, the 49ers interchange some of their safeties and corners. Tartt has excelled in his deep safety role and Ward has jumped between safety and corner, but has done well with both positions. He was re-signed to a three-year deal this offseason. Slot corner DJ Reed also has some safety experience. Marcell Harris also played 40% of the defensive snaps last season while being a core special teamer.