The 2022 NFL Draft starts on Thursday, April 28. As a lead-up to the draft, we'll be giving a team-by-team breakdown for positional needs. For each team, we'll give an overview of the current depth chart and how big of a need each position is in the upcoming draft. You can find the rest of the team needs (as they're updated) and the rest of our draft content in the 2022 NFL Draft hub.
What Picks do the Denver Broncos have in 2022
The Denver Broncos have eight picks.
Round 2 (64)
Round 3 (75)
Round 3 (96)
Round 4 (115)
Round 4 (116)
Round 5 (152)
Round 6 (206)
Round 7 (232)
Round 7 (234)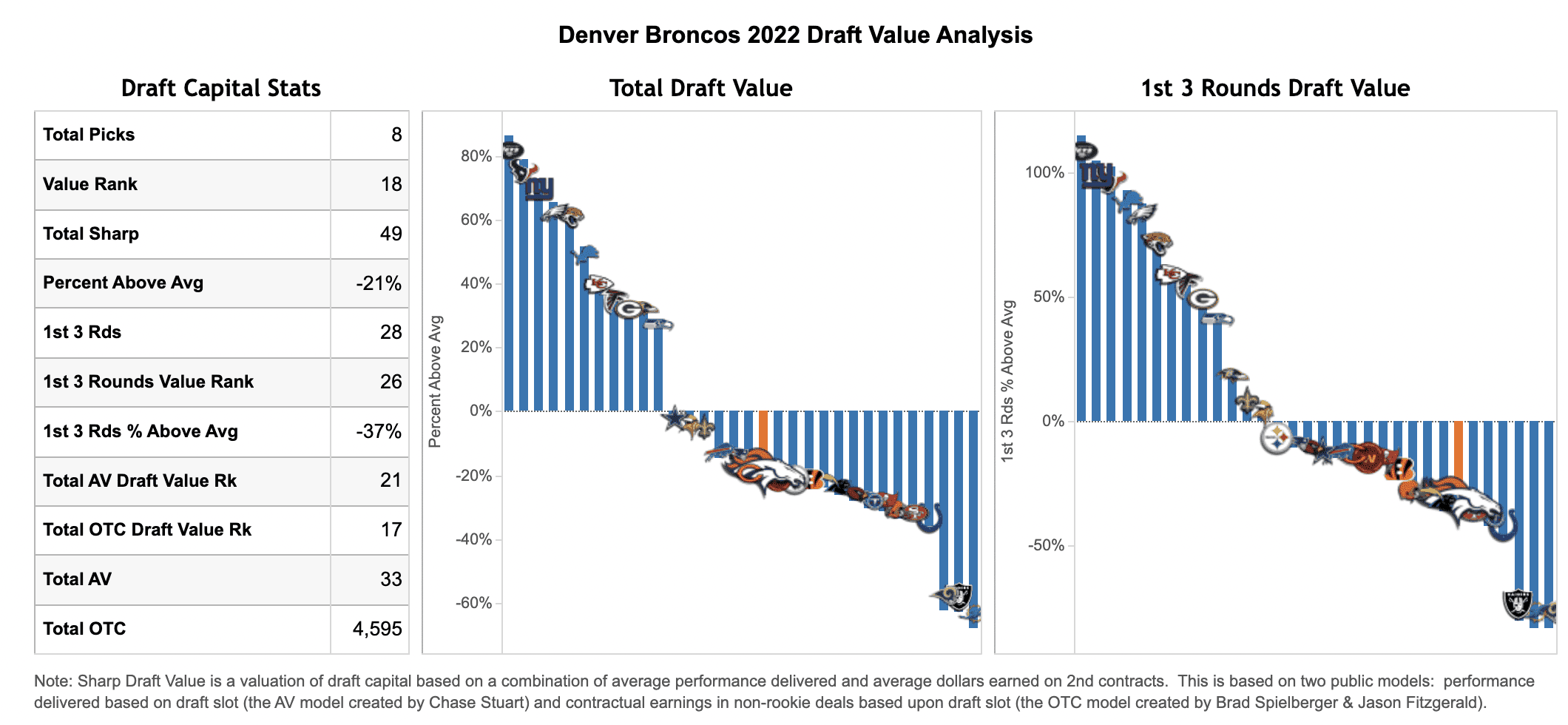 Denver Broncos Top POSITIONS OF NEED
RT
CB
EDGE
Denver Broncos Strength of Schedule, 2022
The Denver Broncos have the 15th hardest NFL strength of schedule for the 2022 NFL season.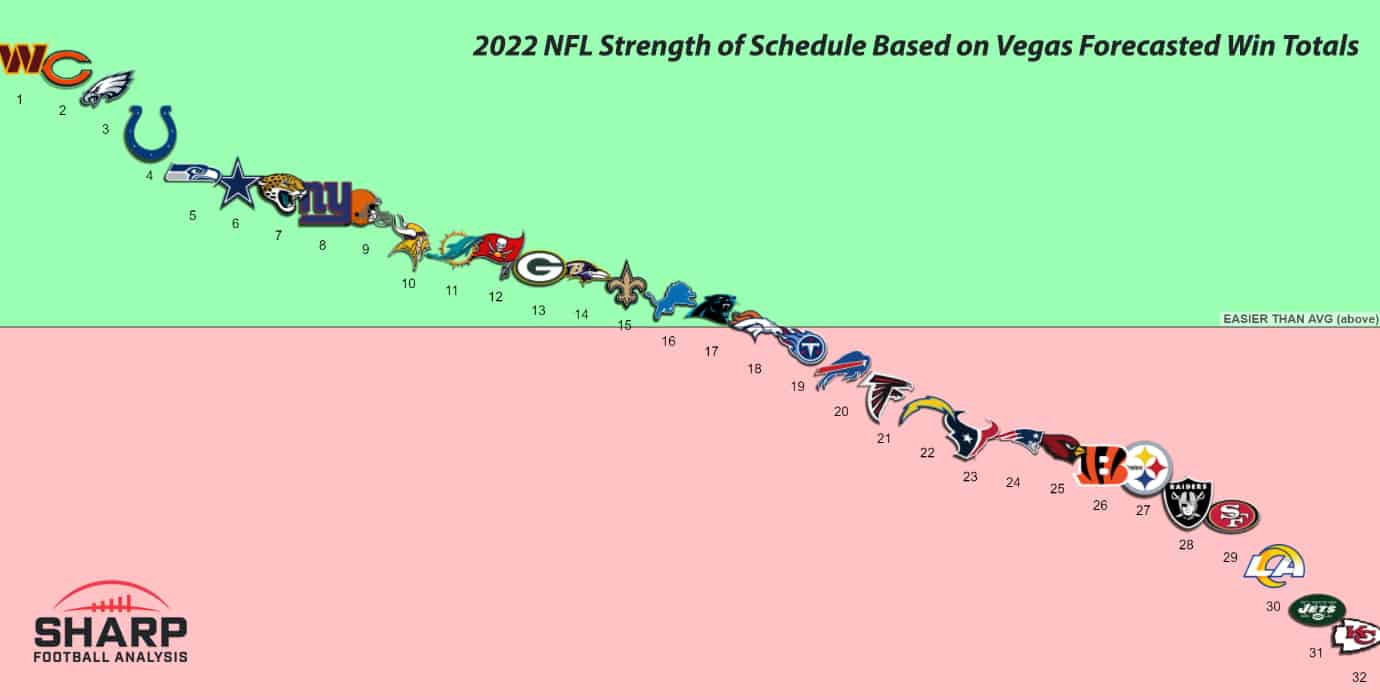 Denver Broncos Offense
By Rich Hribar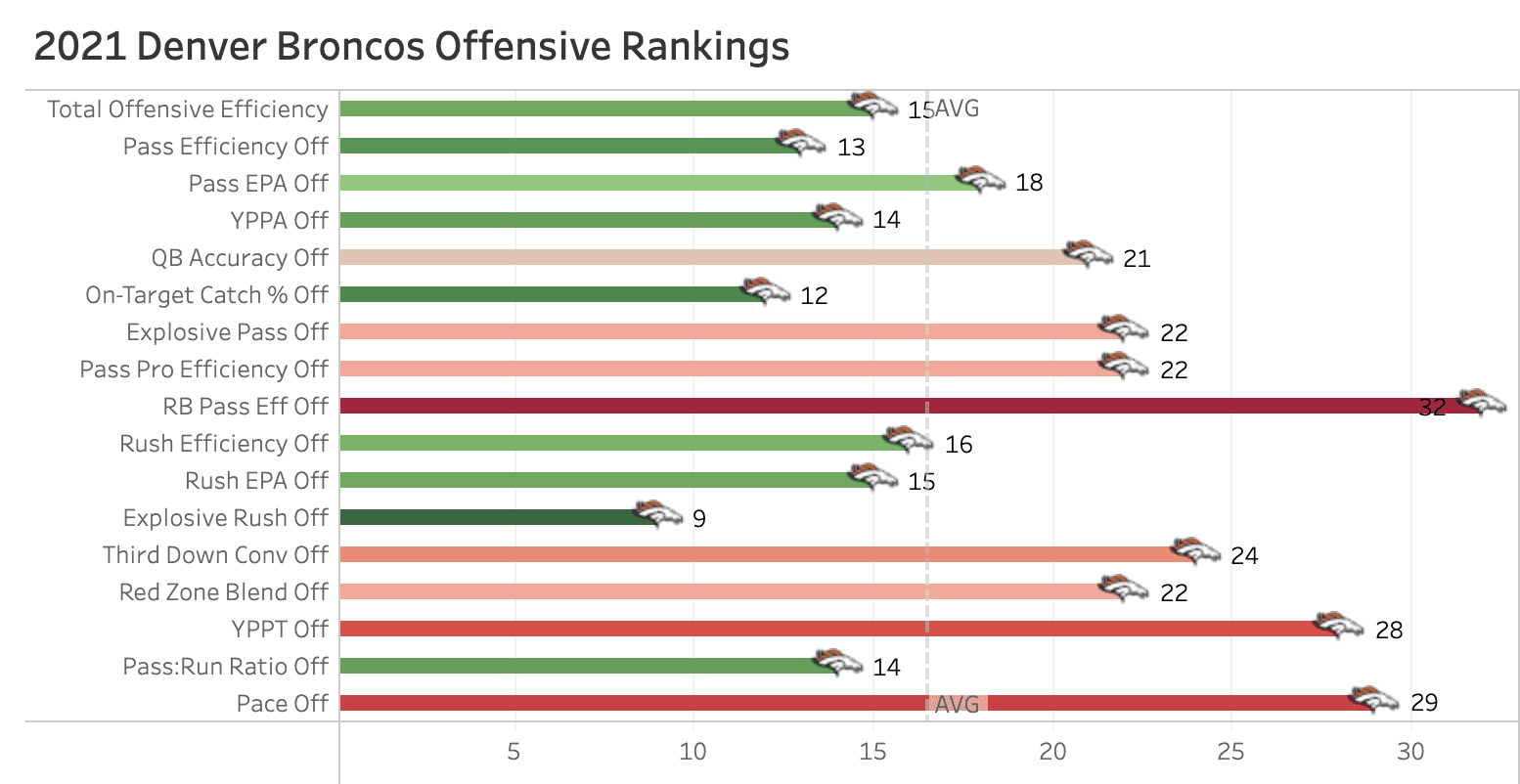 QUARTERBACK
Russell Wilson
Josh Johnson
Brett Rypien
The Broncos were the team that got this trade-fueled offseason kicked off by dealing for Russell Wilson. 
Turning 34 years old in November, Wilson still posted a 6.3% touchdown rate in 2021, his fifth straight season over 6.0%. 
Denver still has Wilson under contract for 2022 and 2023 at palatable cap hits of $24 million and $27 million. 
Backups Brett Rypien and the immortal Josh Johnson are both signed for 2022 only. 
RUNNING BACK
Javonte Williams
Mike Boone
Damarea Crockett
Andrew Beck (FB)
Denver traded up in the second round to select Javonte Williams with the 35th overall pick of last year's draft. 
Williams was everything as advertised as a rookie, delivering as an elite tackle-breaker and well-rounded back capable of making a jump to three-down alpha. Williams was 12th among all backs in yards from scrimmage (1,219), caught 43 passes, and ranked second in the league in missed tackles forced (63) in the run game behind Jonathan Taylor despite having 129 fewer carries.
Williams only handled 50.6% of the Denver backfield touches, but in the one game that Melvin Gordon missed, we saw the upside as Williams turned 29 touches into 178 yards a touchdown. 
Denver could still bring Gordon back as he is still floating around the free agent market. With only Mike Boone and Damarea Crockett currently on the roster, we should expect a body to be added here, whether with a late-Day 3 pick or bringing in a veteran after the draft.
WIDE RECEIVER
Courtland Sutton
Jerry Jeudy
Tim Patrick
K.J. Hamler
Tyrie Cleveland
Travis Fulgham
Kendall Hinton
Seth Williams
The Broncos have a plethora of unrealized talent here due to their recent quarterback play, something they are hoping can be unlocked with the addition of Wilson under center. 
Jerry Jeudy opened the year catching six passes for 72 yards on just 31 snaps as we appeared to be off to the races for a second-year breakout, but he suffered a brutal ankle injury that sidelined him for the next six weeks. 
On return, Jeudy managed to top those 72 yards in the opener in just one of his nine games while failing to score a touchdown. The 2020 first-round pick is just entering his third season. 
Denver got in front of an extension for both Courtland Sutton and Tim Patrick during the 2021 season, something that could prove to be sharp given the offseason the position has had this spring. 
Courtland Sutton flashed early last season-opening six games, but things bottomed quickly after that. Over the next 11 games, Sutton caught just 25 passes total for 305 yards. Just 62.1% of Sutton's targets were deemed catchable last season, ranking 79th out of 89 wide receivers with 50 or more targets on the season. Sutton was extended through the 2025 season, with the first potential out year coming after 2023.
Tim Patrick has led the Broncos in touchdown receptions in each of the past two seasons, posting solid campaigns of 51-742-6 and 53-734-5. Patrick was an older prospect, so he will be turning 29 years old this November, but is a steady contributor signed through 2024.
Denver also took another wideout in 2020, selecting K.J. Hamler in the second round that season. Hamler suffered an ACL injury in September a year ago but is another vertical playmaker that fits Wilson's strengths when he is ready to return at full speed.
TIGHT END
Albert Okwuegbunam
Eric Tomlinson
Shaun Beyer
The Broncos included Noah Fant in the deal for Wilson, opening the door for Albert Okwuegbunam to be a full-time player in his third year. 
Okwuegbunam was targeted on 23.5% of his routes run a year ago, which ranked fourth among tight ends). But he still was limited behind Noah Fant, playing just 47% of the snaps and running 170 pass routes.
The depth here is thin, with the only veteran on the roster journeyman Eric Tomlinson, and the only other tight end signed beyond this season with Okwuegbunam being Shaun Beyer. 
Denver will likely add more bodies to the position, with the most probable outcome being adding another experienced player after the draft.
OFFENSIVE LINE
LT: Garrett Boles/Calvin Anderson
LG: Dalton Risner/Netane Muti/Zack Johnson
C: Lloyd Cushenberry/Quinn Meinerz
RG: Graham Glasglow/Ben Baden
RT: Billy Turner/Tom Compton/Drew Himmelman/Casey Tucker
Denver hovered around and above league average in terms of success up front in 2021. The Broncos closed the season 16th in the league in ESPN's Pass Block Win Rate metric (61%) and 15tn in Run Block Win Rate (70%). At Pro Football Focus, Denver ranked ninth in collective pass blocking grade and 18th in run block grade. 
Their biggest areas of weakness from a year ago were overall health and the right tackle position. 
No starter appeared in all 17 games last season while their most commonly used offensive front of Garrett Bolles, Dalton Risner, Lloyd Cushenberry, Graham Glasglow, and Bobby Massie were on the field together for 30.9% of the team snaps. 
Massie (796 snaps) primarily occupied the right tackle spot, allowing a team-high 7.9% pressure rate, which ranked 77th among 95 qualified tackles. 
Denver went out and brought back Billy Turner to compete in filling that right tackle spot in 2022. After starting 11 games for the Broncos in 2018, Turner has started 43 games for the Packers the previous three seasons. Turner appeared in 13 games in 2021 but was only marginally better than Massie a year ago, allowing a 6.8% pressure rate, which was 66th among the same group. 
Locked-in viable starters Bolles, Cushenberry, and Glasglow are signed for multiple seasons while the team has a potential in-house replacement Risner in the final year of his contract in Quinn Meinerz.
Denver Broncos Defense
By Dan Pizzuta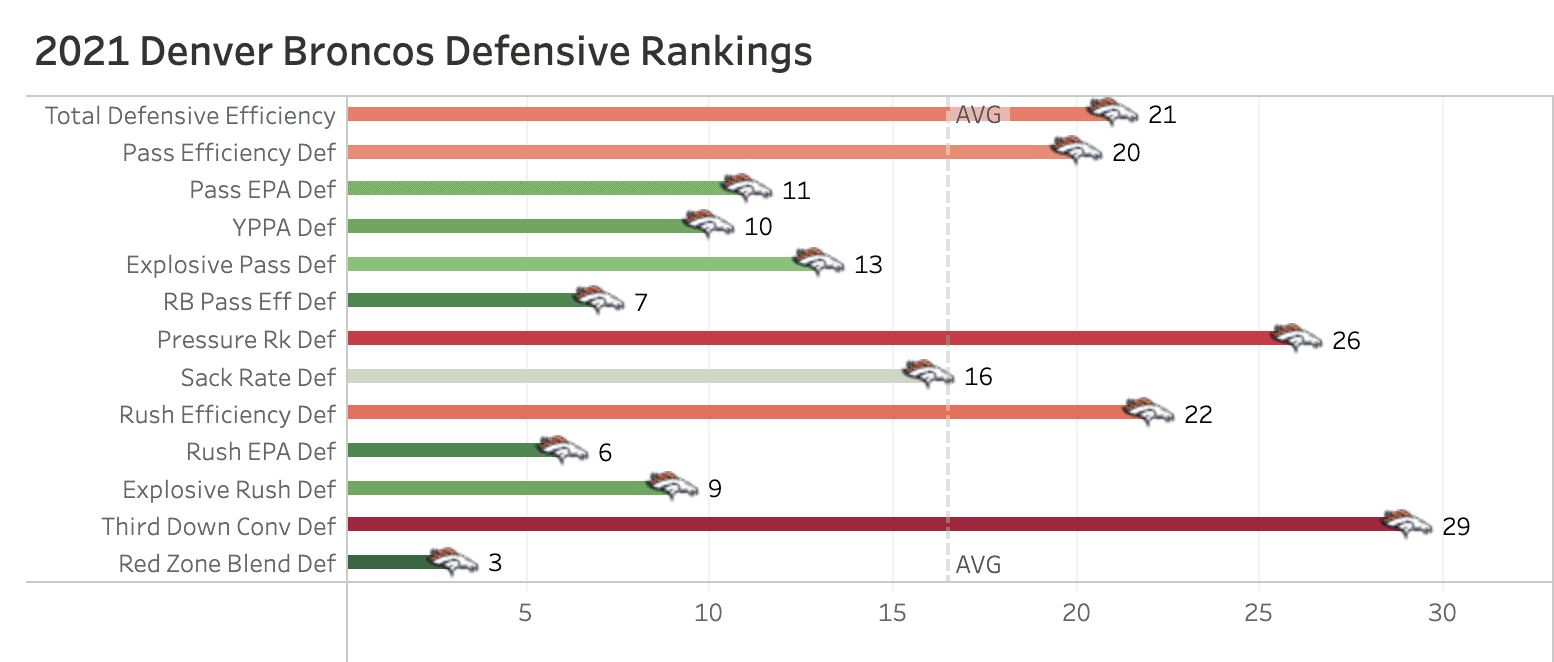 Interior Defensive Line
D.J. Jones
Dre'Mont Jones
McTelvin Agim
Mike Purcell
DeShawn Williams
Jonathan Harris
Jonathan Kongbo
Marquiss Spencer
D.J. Jones was one of the league's best run defenders last season. He ranked first among defensive tackles in ESPN's Run Stop Win Rate. He signed a three-year deal with the Broncos to beef up a defense that was already seventh in EPA per play against the run.
Dre'Mont Jones has turned into a disruptive pass rusher inside with 11 quarterback hits in each of the past two seasons. He was 21st among interior defenders in pressure rate in 2021, per SIS. Jones is in the final year of his rookie deal.
Behind those two, the Broncos have a ton of depth. McTelvin Agim was a 2020 third-round pick who has yet to make a significant impact. DeShawn Williams was 42nd among interior defenders in pressure rate last season. Mike Purcell remains a solid run defender as a nose tackle. 
EDGE
Bradley Chubb
Randy Gregory
Malik Reed
Jonathon Cooper
Aaron Patrick
Andre Mintze
Bradley Chubb only played five games in 2021 due to multiple foot injuries and did not have much of an impact in the time he was in the field. This comes after Chubb was seventh among edge rushers in pressure rate during the 2020 season. He's playing 2022 on his fifth-year option.
The Broncos were able to lure Randy Gregory away from the Dallas Cowboys in free agency. Gregory was 11th among edge rushers in pressure rate last season in his most productive season to date.
Malik Reed filled in more with Chubb out but he only ranked 87th in pressure rate, a year after he finished with 17 quarterback hits. 
Off-ball Linebacker
Josey Jewell
Alex Singleton
Jonas Griffith
Baron Browning
Justin Strnad
Barrington Wade
The Broncos were hit hard with injuries at linebacker and didn't have the depth to make up for it. Josey Jewell returns and he should be healthy enough to play more than the 7.5% of the snaps he played last season. Denver will look for Jewell to return to his 2020 level of play.
Alex Singleton was signed as a free agent from the Philadelphia Eagles. Singleton was 33rd among 85 qualified linebackers in yards allowed per coverage snap last season. He's signed on just a one-year deal.
Baron Browning, a 2021 third-round pick, played nearly half the defensive snaps as a rookie, He was 44th among linebackers in yards allowed per coverage snap.
Former undrafted free agent Jonas Griffith was acquired from the 49ers in August and was a pleasant surprise when he was forced into more playing time late in the season. He at least provides some decent depth with special teams ability.
Cornerback
Patrick Surtain II
Ronald Darby
K'Waun Williams
Michael Ojemudia
Essang Bassey
As a rookie, Pat Surtain was 34th among cornerbacks in Adjusted Yards allowed per coverage snap, which accounts for touchdowns and interceptions. He was part of a number of impressive first-year corners making an immediate impact across the league.
Ronald Darby did not have a good year in coverage, his first of a three-year deal with Denver. Darby ranked 89th among 93 qualified cornerbacks in Adjusted Yards allowed per coverage snap. He's been a high variance corner throughout his career, but 2021 was a low even for him.
K'Waun Williams was signed to play the slot. Last year with the 49ers, Williams ranked ninth in Adjusted Yards allowed per coverage snap. He signed for a two-year deal.
Safety
Justin Simmons
Kareem Jackson
Caden Sterns
J.R. Reed
Jamar Johnson
P.J. Locke
Justin Simmons played 99.5% of the defensive snaps in his first year of a four-year extension with the Broncos. Simmons remains one of the league's top safeties and a player who can move around the secondary.
The Broncos just brought back Kareem Jackson for another year. Jackson played 82% of the defensive snaps in 2021 and the 34-year-old will once again be looked at to play starters reps.
Denver likely won't stray too far from the two-high looks they used under Vic Fangio with new defensive coordinator Ejiro Evro. Evero was the Rams' secondary coach and pass game coordinator.