NFL free agency is upon us. As deals roll in, we'll be breaking them down here as this page will be updated with analysis and grades for all the major moves.
These grades are going to be on a curve given most of these signings won't work out to their full expected potential. These are more about the process behind the moves.
On top of the grades, you'll get plenty of context as to why deals were made and why they do or don't make sense. More emphasis is on the analysis than the grades.
Statistics from TruMedia unless noted otherwise. Salary information from Over The Cap.
Jump to:

Browns Trade For Elijah Moore
Reported deal: Moore and pick No. 74 for pick No. 42
Earlier in the day, the Jets signed Mecole Hardman on a one-year/$6.5 million deal. That created a crowded receiver room with Garrett Wilson, Allen Lazard, Corey Davis, Denzel Mims, and Elijah Moore on the roster. Unless the Jets were going to go heavy on 10 personnel for the 2023 season, something had to give.
Moore was the logical receiver to go after he requested a trade early in the 2022 season. The Jets didn't want to trade the 2021 second-round pick but with more receivers now on the roster, an already frustrated receiver was likely to have even less opportunity.
Last season, Moore only averaged 0.90 yards per route run, which ranked 100th out of 108 wide receivers with at least 200 routes run. But part of that was due to the target share. With Wilson on the field, Jets quarterbacks tended to throw the rookie's way. Moore only had an 11.1% overall target share and was targeted on 13.1% of his routes. Though as a rookie, Moore averaged 1.75 yards per route run (35th of 114) and was targeted on 25% of his routes.
Especially in 2022, there was a clear disconnect between Moore and Zach Wilson, which led to the receiver's frustration. Moore has averaged 1.05 yards per route run with Wilson in his career while those figures are 1.31 with Mike White and 1.54 with Joe Flacco.
Moore wouldn't have to catch passes from Wilson had he stayed on the roster but now he's part of potentially getting the next quarterback on the roster. Moore was speculated to be a piece in an Aaron Rodgers trade but it appears the Jets instead believe that high second-round pick to be a more valuable trade chip. The Jets now have the 42nd and 43rd picks in the draft.
Still, even if that was the main goal in this trade, swapping the 42nd pick for the 74th pick is not a lot of return for a third-year wide receiver with potential. Using a blend of the Football Perspective AV chart and the Fitzgerald/Spielberger Over The Cap chart, the value difference between those two picks is in the middle of the fifth round. The more traditional Jimmy Johnson chart would place it as a third-round pick and trades are still often based on those values, but the practical reality of the Jets' return is much lower than that.
There is a clear incentive here and maybe it was guided by what the Packers have indicated they want in return, but that doesn't mean the Jets didn't sell low. There is not a clear argument that Lazard or Hardman would be better receivers for the 2023 Jets than a 23-year-old Moore. It's certainly possible the Jets downgraded the roster in their attempt to bring Rodgers in.
For the Browns, this is a worthy swing to give up little for a young receiver who could blossom with a bigger role in an offense. Moore has the ability to stretch the field — his career aDOT is 11.86 and 21% of career targets have been 20 or more air yards — and he'll be cheap o with a total of $3.35 million on his contract over the next two seasons.
Grades: A- for Browns, D For Jets
Cowboys Trade For Brandin Cooks
Reported deal: Cooks for a 2023 fifth-round pick and 2024 sixth-round pick
Last offseason, the Cowboys traded away Amari Cooper and his salary for a fifth-round pick. Dallas picked receiver as the spot to shed that money and then spent the 2022 season needing a wide receiver, especially one who could stretch the field. Michael Gallup never fully looked like his pre-injury form and the No. 3 wide receiver was a rotating cast with the most downfield juice coming from a three-game stretch of a 33-year-old T.Y. Hilton.
Cooks, who will only turn 30 years old in September, is not longer the type of player worthy of a first-round pick as he was the first three times he was traded, but he should be a useful complementary piece next to CeeDee Lamb. Last season, Cooks averaged 1.63 yards per route run which ranked 40th among 108 receivers with at least 200 routes. He was 15th in yards per route run 20 or more yards beyond the line of scrimmage. Cooks can still get deep and haul in passes, even iof the separation isn't there — he averaged just 2.63 yards after the catch per reception on deep catches last season.
Dak Prescott was seventh in EPA per play on throws of 20 or more air yards in 2022 but just 10.9% of his attempts went deep after he had been over 12% in each of the previous three seasons.
With Lamb and Gallup on the field, Cooks won't have to see an opposing team's top corner as he often did in Houston. And with a threat to push vertically on the outside, the middle of the field can become less condensed. Lamb already crushed there last season, so more space can only benefit the Dallas passing attack.
It was reported Houston will take on $6 million of Cooks's $18 million salary in 2023. Cooks has a non-guaranteed $13 million salary remaining for 2024 with a $3 million roster bonus due on the fifth day of the 2024 league year. A two-year/$28 million deal would put Cooks around the high-WR2 contracts and more than what has been given out per year to this year's class of fre agents at the position. It wouldn't be a stretch to believe Cooks would be considered the best of that group.
This trade does make the fallout for the rest of the wide receiver market interesting. Dallas was a potential landing spot for DeAndre Hopkins via trade and Odell Beckham via free agency and the Cooks trade takes one suitor out of each of those markets. Beckham has indicated he's looking for more than what he's been offered, which could be as low as $4 million.
Hopkins will turn 31 years old in June and comes with non-guaranteed salaries of $19.45 million and $14.915 million over the next two seasons. Cooks going for a fifth and sixth while the Texans ate salary isn't great for the Cardinals, who have reportedly been looking for at least a second-round pick. Hopkins is still a superior receiver to Cooks, though. He ranked 18th in yards per route run among receivers last season. 
However, there is now a shrinking list of teams that might be willing to part with a draft pick and take on that type of salary. The wide receiver movement is not nearly as active as it was last season and teams across the league aren't overreacting in an attempt to grab one. That could make Dallas grabbing Cooks for this price look better with fewer receivers of that caliber available.
Grade: B-
Orlando Brown Signs With The Bengals
Reported deal: Four years/$64.09 million with $43.5 million guaranteed
Brown to the Bengals came out of nowhere, as did this contract. Brown wanted to be a left tackle and had a desire to be one of the highest paid at the position. He'll get to stay on the left side but with a $16 million average, he's outside the top 10. This is also below tackle deals right tackles this offseason, such as Mike McGlinchey and Jawaan Taylor, who will replace Brown in Kansas City.
However, the guarantees and the early cash flow appear to be workarounds for getting more money to Brown sooner. Over 67% of the contract is guaranteed, which is a pivot from the Bengals typically not guaranteeing anything after the first year. Brad Speilberger of PFF also notes the $42.3 million in cash flow over the first two years of the deal would be fourth among tackles.
Still, this deal appears to be much less on the whole than what Brown had been asking for. That makes it quite a deal for the Bengals, who used the heavy front-loaded structure to get out ahead of the deals that are incoming for Joe Burrow, Ja'Marr Chase, and Tee Higgins.
Brown was just 55th among tackles in blown block rate in 2022, per Sports Info Solutions, but Kansas City tackles can look worse in that metric because of the pocket movement and scrambling of Patrick Mahomes. It's likely Brown is more consistent blocking for a quarterback like Burrow.
The addition of Brown raises questions about the status of La'el Collins and Jonah Williams, but the Bengals will take the problem of having too many offensive linemen over the alternative. 
Grade: A- 
Juan Thornhill To The Browns
Reported deal: three years/$21 million with $14 million guaranteed
With the release of Josh Johnson and Ronnie Harrison hitting free agency, Grant Delpit was all alone on the Browns' depth chart at safety. Cleveland needed to add one and getting Thornhill could be a great addition in that defensive backfield.
We don't know exactly what Jim Schwartz is going to want to do on defense in this stop as a defensive coordinator but we do know he'll likely be aggressive whenever he can be. If that results in a bunch of single-high safety looks, Thornhill has the ability to be the deep coverage defender while Delpit sits in the box. Thornhill has always been a rangy and athletic safety, though they was occasionally a disconnect between his ability and the Kansas City coaching staff. But that turned around in 2022 when he played nearly every defensive snap for the Super Bowl run.
Thornhill's presence should give the Browns a bit of flexibility on the backend and he's a plus safety added between good coverage corners. He's a little old for just getting a second contact — he'll turn 28 years old in October but this deal is just below what Vobb Bell received from the Panthers and Thornhill can have just as big of an impact.
Grade: B-
Commanders Sign Jacoby Brissett
Reported deal: One year/$8 million guaranteed
The Commanders said they wanted a veteran quarterback to come in and compete with Sam Howell for the starting job in 2023. Of the mid-tier quarterbacks, Brissett might be the best option they could have grabbed.
Brissett was impressive in his half-season with the Browns in 2022. He averaged 0.09 EPA per play, which ranked 10th among quarterbacks. The other quarterback in Cleveland struggled to replace Brissett and avearged -0.12 EPA per play. Brissett routinely pushed the ball down the field and his 8.55-yard aDOT last season was the eighth-highest in the league. Brissett had a high rate of throws to the intermediate level of the field (11-19 air yards) and ranked fourth in EPA per play on those attempts.
That's an area where Brissett can win in an offensive coordinated by Eric Bienemy with Terry McLaurin and Jahan Dotson at receiver… we'll see about the status of Curtis Samuel on the roster throughout the offseason. Each year we seem to see how low we can set the bar by asking if [incoming Washing QB] is the best quarterback McLaurin will play with, but Brissett might be that. He's at least an option that can accurately get the ball down the field.
Washington still has pieces on defense and was surprisingly fourth in EPA per play on that side of the ball in 2022 and a baseline of competency on offense could keep the Commanders frisky. That's probably the goal in Year 4 of Ron Rivera, even if the franchise should be thinking more long-term.
At worst, Brissett could guide Washington whatever that long-term is but if he's on the field, the Washington offense could have some potential.
Grade: B
JuJu Smith-Schuster Signs With The Patriots
Reported deal: Three years/$33 million
Jakobi Meyers, Allen Lazard, and JuJu Smith-Schuster all got versions of the same deal in free agency with Lazard getting an added year with an $11 million average. For cash flow purposes, Smith-Shuster reportedly has an extra $500,000 in the first two years over Meyers's deal with the Raiders.
So how you feel about these deals depends on how you feel about these players and which play style you would prefer. There's a case to be made that all three landed in a spot that needed the skill set of the receiver they signed. There's also an argument to be made that given the same contracts, the Patriots could have just kept Meyers but Smith-Schuster could play a bigger role in the middle of the field. Take a look at the pass targets for these three last season:

Smith-Shuster had the lowest aDOT of the group and was targeted more often on zone coverage. That's nearly the opposite of Meyers, who was targeted on 31.3% of his routes against man coverage. Smith-Schuster was at just 16.7%. Mac Jones was 20th in the rate of man coverage faced last season, so having a zone-beater could be more beneficial to the Patriots.
There's not much of a downfield element to Smith-Schuster's game — just 3% of his targets were over 20 air yards last season while 64% were between 1-10 air yards — but Jones has been the most comfortable in the short area and Smith-Schuster could provide a bit of a safety net there as the quarterback tries to get back on track in Year 3.
Update: This is our first real gap between the initial reported numbers of the contract and the real guaranteed numbers. Per Doug Kyed, Smith-Schuster's contract is a $25.5 million deal over three years with incentives to get up to the $33 million figure. It's a much cheaper deal than Meyers/Lazard with the upside to match.
Grade: B
Buccaneers Sign Baker Mayfield
Reported deal: One year/$4 million, up to $8.5 million
Honestly, there's not a whole lot to take away from the Baker Mayfield signing. The contract is just for one year and a base of $4 million that can get up to $8.5 million with incentives. Mike White just signed to be the backup in Miami for $4 million per year. Taylor Heinicke signed for two years and $14 million in Atlanta. This is not a bet on Baker Mayfield.
But it continues to put a spotlight on the current trajectory of the Buccaneers. There is still talent in place, especially on offense with Mike Evans and Chris Godwin at receiver. Of course, there is the question of whether Mayfield will be able to take advantage of those weapons should both receivers remain on the roster. The quarterback wass a disaster in Carolina and while he improved during his stint with the Rams, it still wasn't great. He improved from a clean pocket — a stable metric — but was significantly worse under pressure to cancel that out.
Baker Mayfield Performance By Team, 2022
data per TruMedia
| Team | Dropbacks | EPA/Play | Success Rate | aDOT | PA% | Clean Pocket EPA/P | Under Pressure EPA/P |
| --- | --- | --- | --- | --- | --- | --- | --- |
| Panthers | 223 | -0.20 | 33.6% | 6.39 | 26.2% | -0.10 | -0.36 |
| Rams | 152 | -0.08 | 37.3% | 7.40 | 38.0% | 0.25 | -0.72 |
It's also expected Mayfield will compete with Kyle Trask for the starting job, which will be the saddest sentence written in this post. Mayfield could fit with new offensive coordinator Dave Canales, but again, we know Mayfield's upside and it's not anything that will take this offense to another level.
There is also enough talent spread throughout the roster that this isn't going to be a tank in a way that could set the Buccaneers up for a top-two pick in the 2024 draft with USC's Caleb Williams or UNC's Drake Maye coming out.
The Buccaneers are in a bit of a no man's land going from the Brady era to whatever is next and Mayfield as the quarterback is about as good of a physical representation of that struggle as the Buccaneers could find for 2023.
Grade: ¯\_(ツ)_/¯
Arden Key Signs With Titans
Reported deal: Three years/$21 million with $13 million guaranteed
Few players have elevated their game over the past few seasons more than Key. There were signs of an impactful pass rusher early in his career with the Raiders — he had 11 quarterbacks hits in two of his first three seasons — but rarely did those plays end in sacks (just three over his first three years). Then he had a breakout 17-hit, 6.5-sack season under Kris Kocurek with the 49ers in 2021 and that continued last season with the Jaguars.
Among 104 players with at least 300 pass rush snaps, Key ranked 14th in pressure rate during the 2022 season. He also had one of the highest pressure rates within 2.5 seconds of the snap.
Even though Key is only 240 pounds, his 6-foot-5 frame has allowed him to line up all over the defensive line. That is going to be a fun way to move pieces around on a Tennessee defensive line that will feature Jeffery Simmons, Denico Autry, and Harold Landry when healthy. The Titans' offense needs some work, but there are promising young pieces in place on defense.
Key is a similar player to Ebukam — efficient pressure in a rotational role looking for more playing time — and Key got a little less per year with a bit more guaranteed. It's a solid signing for the Titans, a team that needs help on the edge, with upside over the next three seasons.
Grade: B+
Lions Sign David Montgomery
Reported deal: Three years/$18 million with $11 guaranteed
Montgomery wasn't the star of the Chicago running game last season and he wasn't the team's most efficient back but Montgomery can provide value as an every-down rusher and will go to an improved run-blocking offensive line in Detroit.
There is not much of a difference efficiency-wise between Montgomery and Jamaal Williams, who was Detroit's lead back and led the league in rushing touchdowns last season.
Davis Montgomery vs Jamaal Williams, 2022
data per TruMedia
| Player | Attempts | YPC | 10+ Yards | Yds Before Contact/att | Yds After Contact/att |
| --- | --- | --- | --- | --- | --- |
| David Montgomery | 201 | 4.0 | 8.5% | 1.09 | 2.9 |
| Jamaal Williams | 262 | 4.1 | 8.4% | 1.29 | 2.78 |
Montgomery was also a good short-yardage back last season with a 75% success rate on carries with one or two yards to go. Williams was at 73.5%. Montgomery also had more total EPA on those plays than Williams despite less than half the attempts (24 to 49) and Williams's 13 touchdowns to Montgomery's two.
Detroit could have gone with a cheaper option, perhaps in the middle rounds of the draft, but $6 million per year isn't breaking the bank for a running back who will turn 26 years old in June. The Lions' run game is diverse and important to the offense so it's not a surprise to see them spend on a back. There could have been better ways to go about adding to the backfield but there are also worse ways to do it.
Grade: C+
Colts Sign Samson Ebukam
Reported deal: Three years/$24 million with $10.75 million guaranteed 
Throughout Ebukam's career, he's been an efficient pass rusher and that efficiency has mostly kept up as he's increased his role on defense. He started out as a part-time rotational rusher with the Rams and then continued to see more playing time over the past two seasons with the 49ers.
Ebukam hasn't put up high sack numbers — he had three straight seasons of 4.5 sacks before a career-high five in 2022 — but he puts pressure on the quarterback. Last season, Ebukam was 28th in pressure rate among defenders with at least 300 pass rush snaps. With a pressure rate over 10% in each of the past three seasons, he's continued to show he'll be able to keep up this type of play with a bigger role.
The Colts will need another pass rusher with Yannick Ngakoue also a free agent. Ngakoue converted more pressure into sacks last season but Ebukam's pressure rate was higher while he ceded some sacks to others along a stacked 49ers defensive line. Ebukam will only turn 28 years old in September and $8 million per year is a great deal for his upside.
Grade: B+
Falcons Re-Sign Kaleb McGary
Reported deal: Three years/$34.5 million
We don't yet have the guarantees for the McGary contract and typically we wouldn't write up a signing before those but considering how short this deal is, we can work off the three-year number. At $34.5 million, McGary's three-year cash flow would be tied for ninth among right tackles with Rob Havenstein's extension signed last offseason. That's a fair deal given McGary was expected to be a highly-saught tackle because he was young and on the market. 
There is a slight disconnect between McGary's perception as a run blocker and some advanced metrics for this past season. Among 71 qualified tackles, McGary was 67th in blown block rate on the ground, per Sports Info Solutions. He also wasn't a great pass blocker — 27th in blown block rate on pass snaps and 23rd on non-play-action pass snaps.
Still, McGary looked smoother run blocking and that helped in Atlanta's run-heavy offense. No team ran outside zone more often than the Falcons at 57.1% of their rushing attempts — the next highest was 40.6% — and McGary has the movement skills on the outside.
With these contract details, it's clear McGary was not viewed as one of the top-blocking tackles but there also isn't as big of a gap between him and Mike McGlinchey as their two contracts would indicate.
Grade: B-
James Bradberry Re-Signs With The Eagles
Reported deal: Three years/$38 million with $20 million guaranteed
Of the many defensive players the Eagles had hitting free agency, Bradberry felt like the least likely to return. He came in on a modest one-year deal, played like an All-Pro, and helped the Eagles reach the Super Bowl. Bradberry said he had offers for more to go elsewhere, but Philadelphia's offer was close enough that he chose to stay.
Last season, Bradberry was first among outside corners in adjusted yards allowed per coverage snap. He excelled in the Eagles' zone coverage and was third among all defenders with 17 passes defensed.
This contract is just above the average of what the Buccaneers gave to Jamel Dean and it's in the range of contracts handed out the past few offseasons to the likes of Charvrious Ward and Adoree Jackson. Two years ago, Jackson was released by the Titans and still got a three-year/$39 million contract from the Giants. There's been a bit of a market correction this offseason for cornerbacks, so these deals aren't hitting the top of the market like they have in past years.
The $38 million for Bradberry over three years would rank 15th among cornerbacks in three-year cash, per Over The Cap. He slides in between Dean and Donte Jackson of the Carolina Panthers, who signed a three-year/$35.2 million extension in March of last season.
Bradberry will turn 30 years old in August so his age plays a part, but even his "down" year with the Giants in 2021 could be considered better than most for the corners around him in pay.
Philadelphia's secondary is still in flux. Darius Slay was granted permission to seek a trade with the Eagles likely offering him less than he'd want on an extension. Chauncey Gardner-Johnson also remains a free agent.
Still, getting Bradberry back is a win for the Eagles and the fit should work nicely with new defensive coordinator Sean Desai. It can occasionally be a curse to run it back with free agents that were not expected to return but this isn't a back-breaking deal and even a slight downtick in performance would bring value with this contract. It's a welcome surprise and a win for the Eagles.
Grade: B+
Cowboys Trade For Stephon Gilmore
Reported deal: Gilmore for a 2023 fifth-round compensatory pick
Toward the end of last season, the Cowboys didn't have a lot of depth at cornerback outside of Trevon Diggs. Because of that, opponents just threw at anyone who wasn't Diggs and they typically found success. The Cowboys figured some things out as Donovan Wilson played a bigger role around the slot, but there was still a hole at outside corner opposite Diggs.
Gilmore will turn 33 years old in September but he still remains a quality outside cornerback. Last season with the Colts, he ranked 26th among 87 qualified outside corners in adjusted yards allowed per coverage snap. Gilmore was targeted quite often but still managed to keep good coverage numbers on a per-snap basis.
His presence alone will take away the easy button opposing offenses had to avoid Diggs in coverage. Among those 87 outside corners, Diggs saw the eighth-lowest rate of targets per coverage snap. Part of that stems from Diggs's reputation in coverage but the quality of the other corners certainly had an impact.
There is only one year at just under $10 million. That's a reasonable exchange for a late fifth-round pick. Even if Gilmore just repeats his 2022 production, that would be positive value for the Cowboys.
Dallas was sixth in EPA per dropback last season but that was mostly on the back of a league-leading pressure rate. Now the secondary can join in, which could open up more options for Dan Quinn.
Grade: B
Allen Lazard Goes To The Jets
Reported deal: Four years/$44 million with $22 million guaranteed
The first official roster move in the pursuit of Aaron Rodgers has come but even without the Rodgers of it all, Lazard could be a good fit with the Jets and the offense they want to run. Lazard is a bigger receiver who can line up across the formation, block, and produce as a receiver. His receiving production improved last season without Davante Adams but he'll be able to rely more on efficiency in an offense with Garrett Wilson as the No, 1.
In the wide-zone type system, Lazard can play in tight splits, which allows for good blocking angles on run plays and sets routes up off play-action. Last season, Lazard lined up inline on 6.6% of his snaps, which was the highest among wide receivers. Ben Skowronek of the Rams was next at 4.4%. 
Lazard is a bit redundant to Corey Davis, who will probably be released. Moving on from Davis would open up $10.5 million for the Jets with 2023 as the final year of his contract. As receivers, Lazard and Davis have been about even over the past two seasons. Lazard has an advantage in man coverage and his rate of scoring plays.
Allen Lazard vs Corey Davis, 2021-2022
data per TruMedia
| Player | Routes | YPRR | aDOT | 1D/Target | Targets | Yards | TD |
| --- | --- | --- | --- | --- | --- | --- | --- |
| Allen Lazard | 914 | 1.42 | 11.85 | 45.6% | 160 | 1301 | 14 |
| Corey Davis | 678 | 1.52 | 13.22 | 41.5% | 123 | 1028 | 6 |
Last season, Lazard was a productive intermediate and deep receiver even without much natural separation. Should Rodgers come along, that trust and chemistry in the contested situations will be a plus. That's mostly what this is about but Lazard still presents value independent of the quarterback. 
Grade: B-
Raiders Trade Darren Waller To The Giants
Reported deal: Waller for a 2023 third-round pick (No. 100)
With the signing of the Jakobi Meyers, there were questions about how all the pieces would fit in Las Vegas. The easiest place to go was a Hunter Renfrow trade (all of this is in the section below) but it turns out Waller was the piece on the way out.
With the receiving market not particularly impressive (also see the Jakobi Meyers writeup), the Giants got creative to bring in an upgrade for the receiving crops. When on the field, Waller has been one of the better receiving tight ends in the league. Over the past three years, he's fourth among tight ends in yards per route run (1.96) behind George Kittle, Travis Kelce, and Mark Andrews.
However, the production has dropped a bit of late and Waller has appeared in just 18 games over the past two seasons after back-to-back 1,000-plus-yard receiving seasons in 2019 and 2020. Waller will turn 31 years old in September and comes with the injury risk.
But the Giants aren't making a significant investment. After the trade, Waller's contract comes out to four years and about $51.6 million with just over $1.2 million per-game roster bonuses each year. Nothing outside of the upcoming 2023 season is guaranteed, which would cost the Giants just under $13 million. Without the bonuses, that's right around the contract extension Dawson Knox signed in September. If Waller fails to stay healthy, the Giants could move on after the season.
At about $12 million per year, Waller is still sitting near the top of the tight end market but that salary is much further down the line for what a wide receiver would cost, so the Giants are targeting a bit of an inefficiency with tight end contracts. The Giants get a higher quality of pass catcher than they were likely to get anywhere else and they aren't tied to a long-term commitment. It's a flier worth the risk.
Waller can serve multiple roles as a receiving option. He spent 54% of his snaps in the slot last season but in the previous two, he was inline for 60% of his snaps. There are a number of ways the Giants could use Waller with the creativity of Brian Daboll and Mike Kafka. Waller's 2020 season saw success from a relatively lower aDOT than the past two years, which would fit into what the Giants did with Daniel Jones last season. Waller is unlikely to see 32% of his targets come on passes of 20 or more air yards like he did last season.
For the Raiders, this is a disconnect between player and new coaching staff. Last offseason, Las Vegas signed Waller to this contract that averaged $17 million per year with $50.725 million over the first three years. Both of those marks were the most expensive for a tight end by a fairly wide margin.
Just a year later, the Raiders have taken the lump and shipped him off for just a third-round pick. The Raiders do open up $11.4 million in 2023 with the trade but that's basically just a break-even with the Meyers signing. This could lead to a return for Foster Moreau, who is also a free agent, but that is not guaranteed. 
Grade: B for Giants, C for Raiders
Jakobi Meyers To The Raiders
Reported deal: Three years/$33 million with $21 million guaranteed
The first domino of the wide receiver market falls. Given the state of the free agent market and the upcoming draft class, there were some questions about what the top deals at the position would look like. Meyers was at the top of the market and could have been in line for a Christian Kirk-like bump in salary because of it, but this is a fair deal for a receiver of Meyers's quality in free agency.
Meyers doesn't have flashy raw rumbers but his 1.91 yards per route run were 24th among 108 wide receivers with at least 200 routes run in 2022. He's a solid possession receiver who spent 60% of his snaps in the slot last season. He's the type of body that could work well with Jimmy Garoppolo. He was 28th overall in ESPN's advanced tracking metrics for receivers this past season.

This brings into question the status of Hunter Renfrow, who has been the team's top slot receiver.  The Raiders were 17th in 11 personnel last season and also had one of the highest rates of 21 personnel. Las Vegas is likely to run a ton of two wide receiver sets again, which would signal Meyers over Renfrow on the field with Davante Adams. Renfrow also has a $4.3 million roster bonus due on March 17.
It's also possible for the Raiders to keep all three. Meyers has been used more in the slot over the past two seasons but he's been more productive on a per-route basis on the outside.
Jakobi Meyers By Alignment, 2021-2022
data per TruMedia
| Slot | Routes | YPRR | Target/Route | aDOT |
| --- | --- | --- | --- | --- |
| Yes | 650 | 1.54 | 21.2% | 9.57 |
| No | 304 | 2.19 | 27.6% | 10.12 |
Meyers might not be a significant upgrade in talent at the position and the Raiders still need some speed — though that might be wasted with the current quarterback in place — but it's not a massive overpay to bring in a player the coaching staff knows how to use. The Raiders could do much worse than an Adams-Meyers-Waller receiver trio.
More importantly, this could set the tone for the rest of the receiver market. With Meyers not getting an outlandish deal, it would be hard for the other available receiver to get anything that would signal an overpay. That could help a run at the position get started.
Grade: B-
Browns Sign Dalvin Tomlinson
Reported deal: Four years/$57 million with $27.5 million guaranteed
After finishing the season 31st in EPA per play against the run, the Browns just needed size on the defensive line. For as good as they are rushing the passer, the past versions of this Cleveland line have traded size for speed and pass rush ability. Tomlinson at least brings a big presence to put in the middle of the line, which should help open up more gaps for those undersized rushers.
On his own, Tomlinson is not flashy. He did tie a career-high with 10 quarterback hits in just 13 games but he's not coming for his pass rush ability. 16.5% of his run defense snaps last season resulted in a tackle, which is a solid number but not among the highest at the position.
This is a deal to bring in a known quantity, even if that's mostly just good quality but it was a position of need. The Browns might have overpaid a bit just to have that safety net, but Tomlinson also isn't likely to lose his value.
Grade: C
Dre'Mont Jones Signs With Seahawks
Reported deal: Three years/$51.53 million with $35 million over first two years
Seattle had a bit of a problem last season up the middle. The team tried out a few different things but couldn't sustain consistent production. Jones represents a player the Seahawks can place across the defensive line with versatility in alignment and play against both the run and pass.
Jones was sixth among defensive tackles in pass rush win rate last season, per ESPN, and finished the season with 6.5 sacks on 10 quarterback hits. He was also tied for 17th among al;l defensive linemen in run stuffs — tackles against the run for negative or no yards. The Seahawks were 26th in EPA per play against the run in 2022. With a young secondary, adding pieces to the defensive line should help improve the defense for the 2023 season and beyond.
Grade: B
Buccaneers Re-Sign Jamel Dean
Reported deal: Four years/$52 million with $24.5 million guaranteed
It seemed like the Bucs were going to be in a position cap wise that would make it tough to bring Dean back. Dean has been the team's best corner over the past few seasons and it looked likely he would be priced out of Tampa Bay's range. The Buccaneers still don't have a ton of flexibility but were able to bring Dean back for a deal that's less on average than what they gave Carlton Davis last season. 
By three-year cash, Dean is getting below recent contracts given to Adoreè Jackson and Charvarious Ward over the past two offseasons. His low first-year cap hit of just $4.3 million will allow Tampa Bay to fit this deal in while working with some more constraints this season.
Dean was 14th among outside corners in adjusted yards allowed per coverage snap this past season after it was in the top 15 in 2021. He'll turn 27 years old in November, so there is still youth there, and he's proven to be a good corner over a multi-year stretch.
Tampa Bay is still bringing back players to keep most of this roster together, though it will be with a significant downgrade at quarterback. That brings into question what the 2023 Buccaneers are trying to be but at least Dean is a young quality corner they were able to bring back on a relatively affordable deal.
Grade: B
Broncos Sign Zach Allen
Reported deal: Three years/$45.75 million with $32.5 million guaranteed
Allen had a breakout season in 2022 but the impact was on the way in 2021. Allen is a bit of a tweener who can play some outside but provides plus production when he moves inside. His pressure rate wasn't overly impressive at 8.5% but his plays were impactful.
Cardinals pass rushers didn't get a ton of time to create pressure because opponents got the ball out in 2.56 seconds on average, the quickest time to throw against a defense in 2022.
Allen had a quarterback hit on 3.1% of his pass rush snaps, which ranked in the top 20 among defensive linemen last season. When he couldn't get to the quarterback, he was still a disruptive force with eight passes batted at the line of scrimmage, which tied with Carlos Dunlap for the league lead.
Last season he spent a little more time on the outside of the line and the Cardinals tried to figure out pass rushers, but it wouldn't be surprising to see him play more inside in Denver — or at least more on the end of odd-man fronts. Either way, the over $15 million per year is quite an investment, though it doesn't include much beyond Year 2. Allen has been a plus run defender with a tackle on 16% of his run snaps each of the past two seasons. 
There might not be a lot of room for surplus value with this deal, though the Broncos don't appear to be in market inefficiency mode this offseason.
Grade: C+
Vonn Bell To The Panthers
Reported deal: Three years/$22.5 million with $13 million guaranteed
Bell was a sneaky impactful signing for the Bengals three seasons ago and could be that again for the Panthers. With the Bengals, Bell was a versatile piece that moved around the defense. He played more in the box in his first two seasons and split his time between the box and deep while the Bengals used more two-high coverages in 2022.
With the Panthers, Bell could be a fun complement to Jeremy Chinn and Xavier Woods. Chinn is the athletic hybrid linebacker-safety who developed in 2022 and Woods has been able to hold up in deep coverage throughout his career. Bell can be on the field and support either or both should the Panthers throw out some three-safety looks under Ejiro Evero.
As a deep coverage defender in 2022, Bell matched his career high with eight passes defensed and picked off four passes after having two career interceptions prior. He's not going to be a star but at $7.5 million per year, it put him around the Marcus Maye contract last season and just ahead of Jordan Whitehead. That's a fine spot to take. Even on his third NFL contract, Bell is just 28 years old.
Grade: B-
Steelers Sign Patrick Peterson
Reported deal: Two years/$14 million with $5.85 million guaranteed
Last season, Peterson had a bit of a bounce back season at the age of 32. Peterson was fourth among outside corners in adjusted yards allowed per coverage snap and finished tied for sixth with 15 passes defensed.
For all the flaws of the Minnesota passing defense last season, one thing it did well was help the corners and not ask too much of them on their own. Peterson excelled in zone coverage on 78.4% of his coverage snaps. That was the 10th-highest rate among 118 defensive backs with at least 400 coverage snaps in 2022.
The Steelers, however, played the fifth-highest rate of man coverage in the league last season. That could be asking a lot of Peterson, who had as many DPIs and passes defensed in man coverage last season (two each).
Pittsburgh clearly is paying the soon-to-be 33-year-old to be a top shutdown man corner, yet it's hard to play a watered-down role in man coverage. Peterson still has some juice left, but how he fits into the Steelers' defense can determine how much upside comes on this cheap deal.
Grade: C+
Bobby Okereke Joins The Giants
Reported deal: Four years/$40 million with $22 million guaranteed
The run on linebackers continues as a team with arguably the biggest need at the spot jumped in near the top of the market. The Giants could have potentially swung on lesser deals like the ones for Long or Edwards and stacked up at the position but they went for one of the top names.
Okereke's deal isn't nearly as big as the Tremaine Edmunds contract — a player the Giants were connected to — but it also comes in above that next tier of linebackers who have gotten signed today. His deal puts him around the top 15 of linebackers, just below Matt Milano and even with D'Vondre Campbell, who got a fifth year on a contract last offseason.
This past season, Okereke was 30th among linebackers in yards allowed per coverage snap and was 38th the year before, so that's about where he could project to be going forward. 
Of course, there is upside here. The Giants need someone who can tackle in the middle of the field after they ranked 30th in EPA per play against the run last season and that's certainly a bright spot for Okereke. 21.1% of his run snaps resulted in a tackle, which was the 11th-highest rate among linebackers, though his rate of positive tackles ranked 31st among 56 qualified players at the position.
Okereke will turn 27 years old in July, so there are still prime years left, though the Giants might have paid a but of a premium based on the production and the market at the position to this point.
Grade: C
David Long Signs With the Dolphins
Reported deal: Two years/$11 million
Typically we'd at least wait for the guarantees to come in before writing up a contract, but all $11 million could be guaranteed in this deal and it would still look pretty good for the Dolphins. Long comes with injury concerns — he only played 12 games in 2022 and maxed out with 14 games played in each of his first two seasons when he wasn't a starter — but the downside already appears to be baked in.
Given the other contracts handed out to other off-ball linebackers, getting Long for $5.5 million per year is a risk well worth it. Long made the second team of my midseason All-Pro team at linebacker but didn't make the final cut after the missed time. Long is a plus coverage linebacker, who ranked 15th at the position in yards allowed per coverage snap in 2022.
65.1% of his tackles produced a positive play for the defense in 2022, which was the second-highest rate among 56 linebackers with at least 75 tackles. He's also been effective as a pass rusher with 18 pressures last season. That will help next to Jerome Baker and behind Christian Wilkins on a Miami defense that continues to add playmakers.
Grade: A-
Bears Add Nate Davis To Offensive Line
Reported deal: Three years/$30 million with $19.25 million guaranteed
Chicago was rumored to be in the tackle market with Mike McGlinchey, but the free agent they came away with helps the interior offensive line. Davis has been solid in a run-heavy play-action offense with the Titans, though that scheme helps pass blocking a bit more.
Davis ranked 36th among guards last season in blown block rate, though much of that came against the run. On non-play-action dropbacks, Davis was 19th in blown block rate among 60 qualified guards, per Sports Info Solutions.
The Chicago offensive line had a disconnect between early wins and late sustained success. The Bears ranked second in ESPN's pass block win rate, but that only counts the first 2.5 sacks after the snap. With Justin Fields, most plays were extended well beyond that. Davis has the ability to hold blocks late in the play and could serve as a boost there.
There are questions now about how the Bears will reshuffle along the line. Davis plays right guard, where Teven Jenkins moved and played well enough last season when he was on the field. The alignment of Jenkins, Davis, and Cody Whitehair could be a problem to be solved later and having too many linemen is not a problem, especially for this Chicago team.
Grade: B-
Browns Sign Obo Okoronkwo
Reported deal: three years/$19 million with $12.5 million guaranteed
Okoronkwo was a fun part-time player with the Rams with a high pressure rate, filling in around the other stars on that defense. Last offseason, Okoronkwo signed a one-year deal with the Texans, got more of a full-time role, and kept his efficiency the same.
Last season. Okoronkwo was 21st in pressure rate among 143 players with at least 250 snaps as a pass rusher. He's a solid player who can hold efficiency over a number of roles, which should be the perfect type of defender to place opposite Myles Garrett on the Cleveland defensive line.
Okoronkwo only had five sacks but part of that stemmed from quarterbacks getting the ball out when he created pressure. His average time to sack was 2.88 seconds, which was the sixth-fastest among 88 defenders with at least five sacks. Okoronkwo wasn't proficient overall in creating fast pressure but he was able to convert on the plays he did.
This deal and Okoronkwo's breakout also highlight some of the perils of a one-year deal from the team side. Typically we view those as low-risk fliers but the downside is that the player plays above the value of that deal and leaves for free agent at a much higher price. Had the Texans signed him to a two-year deal, they could have had a plus pass rusher at a value for a second year. Instead, he'll help the Browns with a nice raise over the $3.5 million he made last season.
Grade: B
Jessie Bates To The Falcons
Reported deal: Four years/$62.02 million with $23 million in Year 1
Few teams needed more help in the secondary than the Falcons and they went at the top of the safety market to get it. Last season, Atlanta ranked 29th in EPA per dropback overall. The Falcons saw the eighth-highest rate of deep passes against them and ranked 15th in EPA per play on those throws.
Bates is a true deep post safety and can help patrol the middle of the field. Last season, the Bengals were seventh in EPA per play on throws of 20 or more air yards against them. Cincinnati wasn't strictly a single-high defense, just 19th in single-high coverages last season, but Bates has shown the ability to play as the lone deep safety and has sideline-to-sideline range.
The Falcons were heavy in single-high coverages under Dean Pees in 2022 but hired new defensive coordinator Ryan Nielson away from the Saints, who played one of the lowest rates of single-high safeties in the league.
Bates should still be an upgrade over what Atlanta currently has but allowing him some free range in the defensive backfield could be where he's at his best. He'll excel in a split-safety system but to get the most out of paying the premium, allowing him to make the life of others in the secondary even easier.
The $23 million in Year 1 would be the fourth-highest at the position behind Derwin James, Minkah Fitzpatrick, and Jamal Adams. The $15.5 million average would slide in fifth with Harrison Smith also above him. 
Grade: B-
Bears Grab Tremaine Edmunds
Reported deal: four years/$72 million with $50 million guaranteed
With the signing of T.J. Edwards it looked like the Bears were going to stay away from the top of the off-ball linebacker market. One of the top selling points in our writeup of the Edwards signing is that the Bears didn't have to shop at the top of the market at the position. Then Chicago turned around and gave this deal to Edmunds.
We can start with the positives. Edmunds will only turn 25 years old in May and he's coming off the best season of his career. Edmunds was 17th among linebackers in yards allowed per coverage snap, per data from Sports Info Solutions. Part of the problem is that hasn't always been his career norm and it's tough to fully project Edmunds as a top-of-the-market player at linebacker.
In his career at Buffalo, Edmunds was also helped by the presence of Matt Milano. With Milano on the field over the past three seasons, 53.5% of Edmunds's tackles resulted in a positive EPA play for the defense while he made a tackle on 18% of his run defense snaps. Without Milano, Edmunds made a higher rate of tackles at 20% but just 46.5% of those tackles were a positive play for the defense.
Edwards can help there, but that's also part of the point. The Bears could have filled the depth at the position elsewhere while not spending so much — especially after trading away Roquan Smith. The Bears could say saving the few million difference between Edmunds and Smith plus the second-round pick is a net gain, but that might be a stretch. Smith can be a player who transforms what a defense can be. Edmunds has not shown that to this point in his career.
Grade: C-
Jawaan Taylor Replaces Orlando Brown With Chiefs
Reported deal: four years/$80 million with $60 million guaranteed
The Chiefs are playing some musical chairs with the tackle position. They lost right tackle Andrew Wylie to Washington and left tackle Orlando Brown does not appear likely to return. As a replacement, Kansas City signed former Jaguars right tackle Jawaan Taylor but reports indicate he'll slide over to be the left tackle in place of Brown. Taylor hasn't played left tackle in the NFL but did in college at Florida.
Taylor was a solid right tackle in 2022 who ranked third among all tackles in blown block rate per Sports Info Solutions.
Still, this is a bit of a projection for Taylor to slide back over at left tackle in a division with better pass rushers than he routinely saw in the AFC South. Considering Taylor a left tackle, his $20 million average would put him behind only Trent Williams, David Bahktiari, and Laremy Tunsil. That's a near top-of-the-market contract.
It helps that Taylor won't turn 26 years old until November but this still leaves the Chiefs with an unknown quantity at left tackle and a hole to fill on the right side. 
Grade: C
Raiders Sign Jimmy Garoppolo
Reported deal: three years/$67.5 million with $34 million guaranteed
Las Vegas always appeared to be the right match for Garoppolo given the way the quarterback market was expected to play out. Garoppolo has experience with Josh McDaniels during their time in New England and he could be a capable bridge while the Raiders figure out what's next at the position.
Garoppolo has always been a hyper-efficient quarterback — he was fourth in EPA per play in 2022 — but he comes as a specific type of player. He's won in the short middle of the field but when asking more of him, that's when the offense can get into trouble. 74.7% of Garoppolo's throws came within 10 yards of the line of scrimmage last season, which was the fifth-highest rate among quarterbacks. That could work well with Hunter Refrow and Darren Waller but might leave some meat on the bone when targeting Davante Adams, especially outside the numbers. He's Garoppolo's heat map from 2022: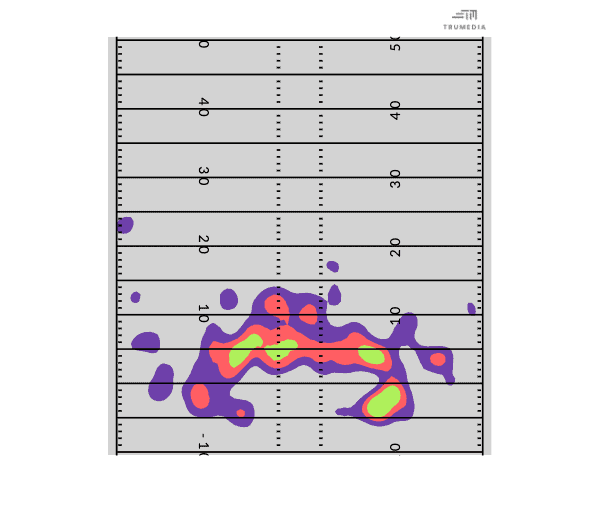 The Raiders know this, though, and he won't be expected to be more than he's shown throughout his career. The contract, which is effectively two years and $48.5 million, pays him as a true middle class quarterback.
Still, the Raiders are in a weird spot — especially in a division with Patrick Mahomes and Justin Herbert — but the Garoppolo signing could give them quarterback play at least at the level of Derek Carr last season and allows them flexibility to move in search of a quarterback of the future.
Grade: B
Mike McGlinchey To The Broncos
Reported deal: five years/$87.5 million with $50 million guaranteed
The Broncos have swung big on the offensive line. On the surface, it would appear Denver is hoping to build a wall in front of Russell Wilson but they've brought in two linemen who have excelled in the run game.
McGlinchey was fifth in run block win rate among tackles in 2022, per ESPN. He's improved as a run blocker throughout his career and the ability to move in the Shanahan wide-zone system has been a plus. That's also made his work as a pass blocker a little easier, though some work still needs to be done there to become a complete tackle.
Among 71 qualified tackles with at least 400 snaps last season, McGlinchy was 28th in blown block rate in the passing game per Sports Info Solutions. He was 15th on the ground.
The $17.5 million average puts him as a borderline top-5 right tackle in the league, which might be a stretch but that's what happens in free agency. McGlinchy could continue to develop as a pass blocker but the Broncos will get the best return on investment the more they allow him to use his ability in the run game.
Grade: C
Lions Sign Cam Sutton
Reported deal: three years/$33 million with $22.5 million guaranteed
The Lions ranked 30th in EPA per dropback last season overall and few teams needed more help in the secondary, especially the slot than the Lions. 
Cam Sutton ranked ninth among 87 outside cornerbacks in adjusted yards allowed per coverage snap in 2022. That wasn't a rate heavily influenced by crazy interception numbers, since Sutton only had one interception on the outside. Sutton was a ballhawk in 2015 with a career-high 15 passes defensed.
He has versatility that allows him to play in the slot but he was much better on the outside last season. Sutton was just average in adjusted yards allowed per coverage snap in 2021 but even regressing to that level of play would be a massive upgrade over what the Lions ran out for much of 2022.
He should also fit in with the Lions given the rate on man coverage he ran last season. 36.2% of his coverage snaps came in man coverage last season, per TruMedia, and the Lions ran man at the fifth-highest rate in the league last season at 38.4%.
Grade: B+
Patriots Re-Sign Jonathan Jones
Reported deal: two years/$20 million with $13 million guaranteed
Jones didn't have a great season for the Patriots, even as the defense as a whole finished first in EPA per dropback. Among 87 qualified outside corners, Jones ranked 57th in adjusted yards allowed per coverage snap, which accounts for touchdowns and interceptions. He was more impactful when playing the ball with a career-high 11 passes defensed and three forced fumbles.
Bringing Jones back on a short-term contract is a fine deal while New England continues to develop the other Joneses — Jack and Marcus in the secondary. This also won't stop New England from potentially looking for another corner in the draft. With the full details of the contract, the Patriots could still save $5 million in cap space if Jones is released after this season, one when he'll turn 30 years old in September.
Grade: C+
49ers Go Big With Javon Hargrave
Reported deal: four years/$80 million with $40 million guaranteed
The 49ers don't need Javon Hargrave, but man, is he fun to place on a line with Nick Bosa and Arik Armstead. Hargrave was third last season in pass rush win rate among defensive tackles. He had the same pressure rate as Chris Jones but had fewer hits and sacks because there were more players helping Hargrave out on the Philadelphia defensive line.
He'll find himself in a similar situation with the 49ers. He'll get another top interior player and the reigning Defensive Player of the Year on the edge. That will allow the 49ers to develop that second edge rusher — defensive line coach Kris Kocurek has been able to get career years out of a wide range of players at the position — whether that be Drake Jackson in his second year or someone else.
San Francisco was only 12th in pressure rate as a team last season and now that defense has the ability to push the pocket from every spot on the line. The average and guarantees place him as a fringe top-five interior defender and the figures are way less than what Washington just gave to Daron Payne. We're also likely to see a number of deals surpass this with the upcoming extensions at the position looming. Hargrave just turned 30 in February but should remain a plus-impact player. His value could be even more important on this stacked line as the San Francisco defense make a transition to Steve Wilks.
Grade: B+
Falcons Sign David Onyemata
Reported deal: three years/$35 million with $24.5 million guaranteed
The Falcons could use someone to pair next to Grady Jarrett, but over $11 million per year for the 30-year-old Onyemata might be rushing to the market at this position.
Onyemata represents the mid-tier of a fairly deep interior defensive line free agency class. He had five sacks but just 11 quarterback hits and few quick wins inside. He also wasn't a plus run defender so he gives just about a baseline of what you would hope an average interior defender brings. That type of return is going to be available later in free agency, likely for a cheaper price. Onyemata could be a nice role player but it's hard to see why the Falcons felt the need to strike now with this contract.
Grade: C-
Ben Powers Signs With The Broncos
Reported deal: four years/$52 million with $28.5 million guaranteed
Powers nearly snuck onto my 2022 All-Pro team at guard and was an honorable mention. He was one of three guards to rank in the top 10 of both pass block win rate and run block win rate, per ESPN.
Playing in Baltimore's blocking scheme is unique for how often the interior was asked to pull. No guard pulled more often than Powers in 2022, yet he was great at it. He probably won't pull as often with the Broncos — Sean Payton's blocking schemes haven't often pulled guards, though that number did increase in 2021.
Powers still is a high-upside signing for half the price of Lindstrom and the production might not be that far off.
Grade: B
Chris Lindstrom Re-signs with Falcons
Reported deal: five years/$105 million with $63 million fully guaranteed
At a $21 million annual average, Lindstrom's deal would top the $20 million given to Colts guard Quenton Nelson. The $63 million fully guaranteed also dwarfs what was given out to Nelson. Nelson got $60 million total guaranteed on his four-year deal signed last offseason.
Lindstrom played well in Atlanta's run-heavy scheme but there weren't a ton of underlying metrics that looked favorable. He wasn't in the top 10 guards by either pass block win rate or run block win rate, according to ESPN. Per Sports Info Solutins, Lindstrom was 25th among 71 guards with at least 400 snaps in blown block rate last season.
Still, there is a lot to like about how Lindstrom has developed, especially as a run blocker. That's going to continue to be necessary for this Atlanta offense. This is probably an overpay with how this tops the guard market, but retaining the 26-year-old guard is a good step for the Falcons and his best football could still be ahead of him.
Grade: C+
Bears Sign LB T.J. Edwards
Reported deal: Three years/$19.5 million with $12 million guaranteed
The linebacker market was expected to be deep so striking first could have come with some risks of overpaying, but the Bears got a solid deal here with Edwards. Last season, Edwards made strides in coverage with the Eagles and ranked third among linebackers in yards allowed per coverage snap. Edwards had 11 pressures, 10 tackles for loss, and seven pressures, close to a rangy linebacker tripe-double (Matt Milano was the only linebacker to pull that off in 2022).
Chicago needed bodies in the middle of this defense and the financial committment here is minimal given what could have happened had the Bears struck for the top of the market at the position. Edwards will turn 27 years old in August and this signing will not stop the Bears from being able to add more around him.
Grade: B
Falcons Trade For Jonnu Smith
Reported deal: Smith for a 2023 seventh-round pick
This trade was a salary dump for the Patriots, getting out of one of the big free agent signings from their spending spree two offseasons ago. Smith manages just 539 yards and one receiving touchdown in two years with New England.
His best seasons came under Arthur Smith with the Tennessee Titans, so there could be some optimism there. The Falcons used 12 personnel on 23.4% of their offensive snaps last season, which was the sixth-highest rate in the league. Smith has some experience in the backfield which could take the shape of the 21 personnel plays Atlanta ran 20.2% of the time.
Smith is reowrking his contract for the Falcons, so his salary should not be too high. There has been some concern about what this means for Kyle Pitts but that feels a little overblown. While Pitts didn't have the volume but his rate stats were there. He was targeted on more routes (28.5%) in 2022 than he was in 2021 (21.1%). Part of the problem was the rate of inaccurate targets shot up from 12.7% in 2021 to 28.8% in 2022.
Having Pitts and Smith on the field together could help the offense and shouldn't take away from the ideal role either should be expected to play.
Grade: B- for Falcons, C for Patriots
Washington Re-Signs Daron Payne
Reported deal: four years/$90 million with $60 million guaranteed
In a market that's going to see a number of top interior linemen get paid this offseason, Payne set the bar high. He had the leverage of the franchise tag, but Washington still rewarded him with the highest non-Aaron Donald contract at the position. His $55 million in fully guaranteed money eclipses Donald's, as does the $28 million signing bonus — though with an extra year on the deal.
Payne had a breakout season with 11.5 sacks, which ranked 12th in the league but his 20 quarterback hits ranked 25th. His 57.5% hit to sack conversion rate is well above his career norms as was his rate of pressures that turned into a sack — 23.5%. That figure was just 9.6% over the previous two seasons. Payne also didn't have a high pressure rate in 2022. His 9.6% pressure rate was the lowest among the 16 players with at least 10 sacks last season.
This contract comes with the Commanders already spening on Jonathan Allen and potential deals for Montez Sweat and Chase Young to come. That's a ton invested on the defensive line while there are other holes to fill on the roster. 
Grade: C
Dolphins trade for Jalen Ramsey
Reported deal: Ramsey for a 2023 third round pick and tight end Hunter Long
Signs of a Jalen Ramsey trade popped up over the past week as it looked like the Rams were trying to find ways to clear some money off the loaded 2023 books. Miami appeared to be one of the best landing spots, a team Ramsey wanted to play for, and a franchise aggressive enough to make the move.
In the deal, the next two years of Ramsey's contract were guaranteed, which brings him to cap hits of $17 million and $18.5 million over the next two season at age 29 and 30. Both of those figures — the age and contract — likely scared a few teams off and limited the return for Los Angeles.
The Dolphins will be making a bet that a new team and a more competitive atmosphere will boost the production that fell a bit from Ramsey in 2022. Among 87 cornerbacks with at least 145 coverage snaps on the outside, Ramsey ranked 59th in adjusted yards allowed per coverage snap. But in the slot, Ramsey ranked 15th among 43 qualified corners.
Even with some relative struggles in coverage, Ramsey was still a ball hawk. He had 18 passes defensed, which was second in the league. He can be over-aggressive and get beaten on some double moves, but that give and take could be something a defense has to live with. His good still vastly outweighs some of the losses.
This won't be an entirely new defense for Ramsey, either. He's played the past two seasons in a Vic Fangio-inspired scheme and now he'll play for the man himself.
Ramsey will likely continue to play inside more often with the Dolphins, which will allow Xavien Howard to stay outside more often. Howard had an up-and-down season in Miami and the Pro Bowl nod was tied more to his name than play. Howard was 37th in adjusted yards allowed per coverage snap among outside corneners but on the 193 coverage snaps he spent in the slot, he was the worst by a significant margin. UDFA Kader Kohou played admirably in the slot but Ramsey's presence should allow more movement across the board.
This is a needed upgrade for a Dolphins defense that ranked 26th in EPA per dropback last season. There are some talents on the defense that should make things easier for Fangio and the other defensive players around them.
For the Rams, this is the beginning of what could be a long process into the next iteration of the roster. Of the main pillars on the roster, Ramsey was really the only moveable piece for the 2023 season. The best the Rams could do on a post-June 1 trade of Matthew Stafford would be opening up $1.5 million in cap space as currently sontructured, per Over The Cap. The Rams could save $3.5 million with a Cooper Kupp trade while there is just $5 million left in guaranteed salary. But neither of those moves feel likely.
The Rams had a very small margin of error after the roster changes following the Super Bowl win. Nearly everything that could have went wrong did between offensive line injuries and misses on contracts like Allen Robinson's. This is now a spot where the Rams will have to thread a needle between staying somewhat competitive with this older core of players and making sure there are more options available for the future. 
Grade: A- for Dolphins, C+ for Rams
Pre-Free Agency
Geno Smith Re-Signs With Seattle
Lamar Jackson & The Non-Exclusive Franchise Tag