We have four fun teams and two great games on the slate for the AFC and NFC Championship Games. With so many aspects worth diving into, let's take a look at both matchups focusing on what to look for when each team has the ball. 
*all data is provided by TruMedia unless noted otherwise
NFC Championship Game: San Francisco 49ers at Philadelphia Eagles
When the Eagles have the Ball
The Eagles have built an offense around bullying opponents on the ground. With the league's best and deepest offensive line on top of a mobile quarterback that allows the team to play 11-on-11 in the run game, it's been difficult for opponents to match up with the Eagles on the ground.
No team this season has produced more EPA on the ground than the Eagles and it's not particularly close. Here's a look at the top 10 teams in total EPA produced from the run game: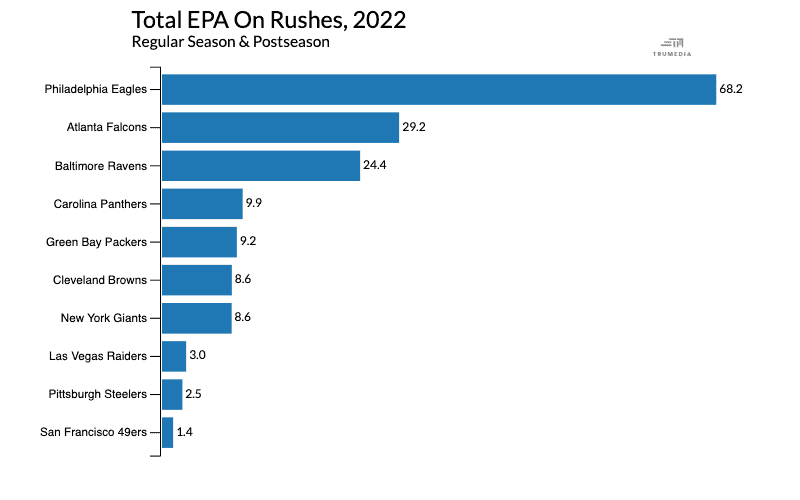 San Francisco's defense ranks second in EPA per play against the run this season but the 49ers aren't quite as strong on the interior, which could leave some opportunity for the Eagles to make gains on the ground.
Philadelphia is the best inside zone team in the league by EPA per play (0.16) and no team used inside zone more often on running back runs than the Eagles' 42.9%.
The 49ers rank fifth in EPA per play against running back runs on inside zone but most of the value comes from the second level. Fred Warner (31) led the team in tackles against inside zone and safety Talanoa Hufanga was second (22). No offensive line is better at manipulating angles and getting to the second level than the Eagles'.
San Francisco was also susceptible to quarterback scrambles this season — 20th in EPA per play — though the defense only allowed four rushes of 12 or more yards on scrambles. Against 27 designed quarterback runs, the 49ers ranked second in EPA per play. However, there weren't many mobile quarterback threats on the San Francisco schedule. The 49ers faced Justin Fields in Week 1 in the monsoon game and before his rushing was turned up by the Bears. In Week 6 against the Falcons, San Francisco allowed 35 yards and a touchdown on five designed runs from Marcus Mariota.
Still, that type of split can make sense because the 49ers are a disciplined defense with run fits but those scrambles can take advantage of an aggressive pass rush and leave open space for a quarterback to find. The ability of the linebackers — especially Warner — to carry tight ends and receivers down the field in coverage can also leave some space in the middle of the field that other defenses don't.
The Eagles aren't going to trick or confuse linebackers like they did against the New York Giants in the Divisional Round, but they can use the 49ers' linebackers' strengths against them in that area.
As a passer, Jalen Hurts has developed as a more patient thrower who has taken advantage of the middle of the field. We've seen many offenses ignore the middle of the field with Warner and company in coverage, which has created a pass funnel to the outside. The 49ers play the fourth-highest rate of zone coverage but the alignments still often leave their corners on an island deep down the field. Hurts has killed zone coverage between the numbers this season — 0.30 EPA per play and 10.48 yards per attempt — but that might not be the area the Eagles try to press in this game.
Because of how this defense is set up, we could see some more of what made Hurts flash in 2021 with deep throws down the sideline. The 49ers are 26th in EPA per play on throws of at least 20 air yards and also 26th when those throws are placed outside the numbers.
A.J. Brown leads the league in receiving yards on 20+ air yard throws outside the numbers with 452. He also tied for the league lead with five touchdowns on those receptions. Brown has a mix of speed and physicality that was often used to go over the middle of the field in Tennessee but has been unleashed down the field with the Eagles.
Brown has made multiple plays to fight off a defender in tight coverage and run for a long gain after the catch. No receiver had more yards per route run against press coverage (4.6), per Next Gen Stats. 49ers corner Charvarious Ward played the fifth-most press coverage snaps in the league during the 2022 season, per NGS.
The Eagles can also send DeVonta Smith deep — 15th in deep receiving yards during the regular season — and Quez Watkins has been used as a deep threat in the No. 3 role. Watkins was replaced by Zach Pascal against the Giants as the Eagles focused on the ground game but Watkins has three touchdowns on throws of 20 or more air yards, which tied for the eighth-most in the league.
When the 49ers have the ball
There is not a team with more formation versatility than the 49ers. So much of it can be done with the same personnel grouping. Since Christian McCaffrey was acquired, the 49ers have used 21 personnel on a league-high 36.2% of their plays. Over their two playoff games, that's been 46.5% while averaging 0.27 EPA per play from that grouping.
What makes the 49ers' 21 personnel so hard to defend is how they have the ability to move everyone around the formation. On one play, San Francisco could be in a traditional I-formation. The next, Deebo Samuel could be in the backfield with McCaffrey in the slot or out wide. Kyle Juszczyk could line up anywhere from H-back to the slot to outside. When the 49ers go empty from 21, everyone is a receiving threat.
It's not just the looks, it's the question of what defensive personnel should a team put on the field to counter it. Over the span with McCaffrey, defenses have gone 66.2% base and 32.1% nickel. Those decisions haven't really mattered to any meaningful extent. The Niners are averaging nearly the same EPA against the run and pass whether defenses have gone base or nickel.
49ers vs Base & Nickel From 21 Personnel Since Christian McCaffrey Trade
data per TruMedia
| Defensive Personnel | Run | Pass |
| --- | --- | --- |
| Base | 0.08 | 0.20 |
| Nickel | 0.09 | 0.22 |
The Eagles are 29th in EPA per play against 21 personnel, though they have faced the second-fewest plays from that personnel this season. Even that is a stretch because 16 of those plays come from the past two games against the Giants which featured two running backs and less of a traditional 21 personnel set.
Against non-Giants 21 personnel looks, the Eagles have countered with base 71.1% of the time.
Overall, the Eagles have been an effective defensive with four defensive backs on the field — fourth in EPA per play. But often that's a heavy pressure package look for Philadelphia. They have brought five or more pass rushers 53.2% of the time with four defensive backs on the field. That's not necessarily the strategy to use against San Francisco's 21 personnel when all five skill players can be out in the route.
The Eagles have also struggled against running back targets this season, 24th in EPA per play. McCaffrey clearly can cause a problem with his pass catching ability but so can Deebo Samuel. Now Samuel won't count in the stats as a running back pass, but it's in the same spirit when he's lined up in the backfield. Among 85 players with at least 50 routes from the backfield this season, Samuel ranks third in yards per route run (2.11). Samuel actually has more yards per route run on his snaps out of the backfield than he does when lined up in the slot or out wide (1.81) this season.
As an added element to that, McCaffrey has the third-highest yards per route run (2.7) among 259 players with at least 50 routes on the outside or in the slot.
That 21 personnel also helps control the pace of the game, which has allowed Brock Purdy to find open throws and make the most of them. Much of this game can come down to how in control Purdy will be when he drops back. Since he took over as a starter, Purdy is first in EPA per play from a clean pocket (0.45) but has been shaken up by pressure.
Philadelphia is second in pressure rate but no team has been more efficient at turning pressure into sacks. The Eagles lead the league in sack rate at 11.3%. Much of that comes from a fast get-off, which is the fifth-fastest in the league as a team, according to Next Gen Stats.
Purdy has gotten himself in and out of trouble against pressure across his starts this season. In the Wild Card game against Seattle, Purdy bailed from some clean pockets and created some pressure for himself but he was able to keep his eyes down the field and make some throws to open receivers. It ended up as a stellar performance against pressure statistically, even if the process to get there was a bit shaky. Purdy's inconsistency against pressure has also been a theme this season: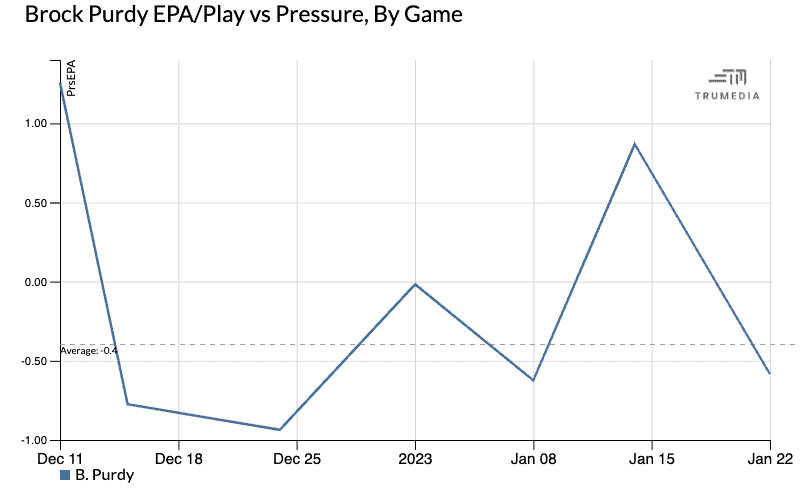 Purdy has only been inaccurate on 5.3% of his passes when not pressured while that's gone up to 17.6% when pressured. There have been some opportunities for takeaways that defenses haven't been able to take advantage of and those increase when he's under pressure. 
The 49ers have not yet dealt with a high turnover game from the quarterback. Philadelphia could make that tough. On the backend, the Eagles have the fifth-most passes defensed and a high rate of those have turned into interceptions.
Philadelphia could also give Purdy some looks he hasn't seen yet. Purdy only has 15 dropbacks against Quarters coverage this season but on those plays he was just 5-of-15 for 4.93 yards per attempt and -0.20 EPA per play. 10 of those plays were last week against the Cowboys as Dan Quinn threw a changeup at the rookie. The Eagles played the second-highest rate of Quarters in the league this season and were fourth in EPA per play when using it.
AFC Championship Game: Cincinnati Bengals at Kansas City Chiefs
When the Chiefs have the ball
It's challenging to do this without knowing the exact extent of Patrick Mahomes's high ankle sprain. We can get all the optimistic reports and videos from practice but until we see exactly how Mahomes can move, we won't know what can and can't be in Kansas City's arsenal on offense.
But here's the thing… it might not matter.
In the first half of the Divisional Round game against the Jacksonville Jaguars, Mahomes averaged 0.29 EPA per play. When he returned in the second half, cleared hindered by his ankle injury, he averaged… 0.29 EPA per play. He had a higher yards per attempt mark in the second half (7.4) than he did in the first (5.6).
Of course, those were two very different versions of Mahomes in that game. In the first half, 56.3% of Mahomes's dropbacks finished in the pocket and he averaged 2.89 seconds to throw. In the second half, 93.8% of his dropbacks finished in the pocket with an average time to throw of just 2.43 seconds.
With questions are the ankle and Mahomes's mobility, the Bengals have a few ways they could try to attack the quarterback. Do they try to play aggressively early and blitz Mahomes? Will they instead lean harder into their Drop-8 looks and force Mahomes to sit in the pocket with an extra defender in coverage? The good news for the Bengals and how varied the defense can be from game to game under coordinator Lou Anarumo is that they'll likely try out all available options and find the right answer eventually.
The Jaguars tried to blitz Mahomes in the second half. He was blitzed on 43.8% of his dropbacks in the second half against Jacksonville and on those plays he went 5-of-7 for 46 yards and a touchdown, good for 0.45 EPA per play. His average time to throw against the blitz was 2.33 seconds.
Mahomes is no stranger to getting the ball out quickly when needed. 46.5% of his pass attempts between the regular season and playoffs have been under 2.5 seconds after the snap. Those are nearly identical rates over the past two seasons. On those plays, Mahomes averaged 0.31 EPA per play, behind only Jimmy Garoppolo. His efficiency barely changed whether it was against the blitz (0.29) or not (0.32). Mahomes is also the only quarterback in the league to not take a sack within 2.5 seconds of the snap this season.
The way to test Mahomes might be to not rush him but make him stay patient by waiting for things to develop when he may not be able to leave the pocket.
After Cincinnati threw a number of Drop-8 looks against Mahomes in last season's AFC Championship Game, defenses around the league tried to take note. Mahomes saw more snaps against Drop-8 than any quarterback in the league during the 2022 season. He mostly shredded those looks to the tune of 0.44 EPA per play and 10.12 yards per attempt. More importantly, his average time to throw was 3.11 with 28.5% of his dropbacks lasting four seconds or more.
In the regular season meeting between these two teams, the Bengals used Drop-8 on five Mahomes dropbacks. On those plays, Mahomes averaged -0.73 EPA per play and 1.5 yards per attempt. His average time to throw was 4.6 seconds with four of the five dropbacks lasting four or more seconds. Even those weren't a true test of the strategy. Two of those dropbacks were inside the Cincinnati 10-yard line with space already condensed, another incompletion was on a deep throw of 55 air yards on a third-and-20, and his one completion was a screen.
If the Chiefs do need to rely on a screen game for Mahomes to get the ball out quickly, they do have the master in Andy Reid. Kansas City was sixth in EPA per play and second in total EPA on running back screens this season and fourth in EPA per play and second in total EPA on wide receiver and tight end screens. Cincinnati's defense was 24th in EPA per play against screens in the regular season and 32nd on screens off play-action, though that sample is just 15 plays.
Kansas City also has a few options to test the Cincinnati defense. The Chiefs have done damage with heavier personnel this season. No team used 12 personnel more than Kansas City with only Seattle and Tennessee using 13 personnel more often. The Chiefs were third in EPA per play with two or more tight ends on the field. Cincinnati was first in EPA per play against plays with two or more tight ends on the field — third in EPA per dropbacks and seventh in EPA per rush.
But they also have the ability to spread teams out and force the defense to go lighter.
The Chiefs averaged 0.52 EPA per play when the defense had six or more defensive backs on the field. 78.7% of those snaps came in 11 personnel. The Bengals were one of the league's worst teams with dime or lighter personnel, 21st in EPA per play. Against Kansas City in the first meeting, Cincinnati used six or more defensive backs on seven plays with a 37.5% success rate and -1.40 EPA per play.
When the Bengals have the ball
Playing two-high coverages was supposed to be what slowed the Cincinnati offense down. It worked in 2021 and even at the start of the 2022 season Joe Burrow struggled against those coverages. But over the course of the season, Burrow has been better playing against those coverages with the middle of the field open.
Joe Burrow vs Middle of the Field Open & Closed Coverages, 2022
data per TruMedia
| Post-Snap Coverage | % of Plays | EPA/Play | Comp% | aDOT | YPA | Comp of 10+ | YAC% |
| --- | --- | --- | --- | --- | --- | --- | --- |
| Open | 54.5% | 0.13 | 71.1% | 5.93 | 7.18 | 41% | 49.3% |
| Closed | 41.9% | 0.06 | 65.6% | 7.86 | 7.75 | 46% | 47.6% |
No defense used middle of the field open coverages more than the Chiefs, who did so 64.8% of the time across the regular season and playoffs. Kansas City hasn't been the most efficient defense with those coverages, though. The Chiefs rank 25th in EPA per dropback in Cover-2 and 20th in Quarters. There's not a lot of disguise on the back end. The Chiefs can come with some blitzes and change the look along the line and in the front-7 but they used the fifth-highest rate of two-high shells pre-snap, per Sports Info Solutions, and often kept those safeties deep after the snap.
When these teams met earlier in the season, Kansas City used a two-high coverage on two-thirds of plays. On those plays, Burrow went 18-of-20 to average 9.75 yards per attempt and 0.53 EPA per play.
There was a lot of taking advantage of the holes in the Chiefs' zones to get that production, especially in the intermediate area where Burrow completed seven of his eight pass attempts. Burrow threw 25.8% of his passes to the intermediate level of the field (11-19 air yards), his second-highest rate in a game this season.
Pressing Bengals receivers at the line didn't completely slow them down, either. The Chiefs allowed four catches, 74 yards, and a touchdown in press coverage, according to Next Gen Stats, though most of that damage was done against Joshua Williams, who had to play a bigger role in that meeting and only played 5% of the defensive snaps against the Jaguars.
While the Bengals were able to take advantage of the Chiefs' zones and off coverage, Cincinnati receivers have been better against press this season. Ja'Marr Chase and Tee Higgins both averaging 2.5 yards per route run against press, per Next Gen Stats, while Chase is at 2.0 and Higgins 1.7 against off coverage.
Both excel at body control and have been able to turn contested opportunities into completions. 42.6% of Chase's targets against press have been into a tight window (a yard or fewer of separation) while 38.2% of Higgins's have.
Everything about the Bengals' offense has been built around getting the ball out quickly. Burrow has become his own sixth man in protection, using that short time to throw in order to help protect him and the offensive line. Against the Bills in the Divisional Round, Burrow averaged 2.4 seconds to throw with 52.6% of his throws within 2.5 seconds. 59.2% of his throws between the regular season and playoffs have been within 2.5 seconds and only Tom Brady has a higher rate.
Getting the ball out that quickly has mostly eliminated the consistent threat of pressure. Burrow was pressured on just 22.2% of his dropbacks against the Chiefs in the first meeting. Kansas City's average time to pressure was 2.9 seconds in that game, which relied on making Burrow hold onto the ball. 
Burrow has been able to control the line of scrimmage and still make the most of his passing opportunities even if the explosive plays have not come as often or in the same way. Just 8.2% of Burrow's passes have traveled at least 20 air yards this season, which is the third-lowest rate behind Daniel Jones and Matt Ryan.
Few players were able to be more efficient in the short area this season — Burrow was fifth in EPA on throws 10 yards and in — and that's an area where the Chiefs have struggled. Kansas City ranks 22nd in EPA per play on throws within 10 yards of the line of scrimmage. The Chiefs are 30th in EPA per play against running back passes to that depth, an area where Cincinnati can take advantage of Kansas City's linebackers in coverage.
This is one area where Burrow has become more patient and deliberate. Last season, 18.7% of Burrow's passes went to running backs. This year that is up to 22.3% as he has been more willing to take a check-down. Against the Chiefs, that could become a legitimate weapon in the passing game.