With 42 seconds remaining in the first half of the Cincinnati Bengals' Week 1 game against the Minnesota Vikings, the Bengals faced a first-and-10 from midfield. Ja'Marr Chase lined up just outside the numbers and ran a go route against Vikings cornerback Bashaud Breeland.
As soon as Chase got even with Breeland, Joe Burrow released the ball and hit Chase in stride for a 50-yard touchdown.
The play was both a sign of things to come in 2021 (Burrow led the league in deep touchdown passes with 11) and was a stark turnaround from Cincinnati's deep passing game in 2020. As a rookie, Burrow struggled to connect on deep passes consistently.
He finished just 9-of-46 (19.6%) on pass attempts of at least 20 air yards in 2020 and averaged -0.14 EPA per dropback on those throws. The completions primarily relied on back shoulder throws and without leading receivers down the field, he had just one deep touchdown all season.
There were no such problems in 2021. Burrow completed 27-of-62 deep passes (43.5%) and averaged 0.77 EPA per dropback on those throws, That efficiency was behind only Tua Tagovailoa, who only threw deep 29 times last season.
Burrow's deep passing jump from Year 1 to Year 2 was the biggest we've seen since at least 2013.
Biggest Deep Passing EPA/Att From Year 1 to Year 2 since 2013
| Player | Year 1 | Year 2 | Diff. |
| --- | --- | --- | --- |
| Joe Burrow | -0.14 | 0.77 | 0.91 |
| Marcus Mariota | -0.10 | 0.68 | 0.78 |
| Tua Tagovailoa | 0.15 | 0.85 | 0.70 |
| Derek Carr | 0.05 | 0.67 | 0.665 |
| Carson Wentz | 0.22 | 0.75 | 0.53 |
Efficiency on deep passing isn't the most stable metric and in order to have a big jump in production, there mostly had to be a lack of it in Year 1. That was an extreme case for Burrow during his rookie season, which jumped all the way to the other extreme in Year 2.
Burrow doesn't have the league's strongest arm and doesn't come close to the Justin Herbert/Josh Allen/Patrick Mahomes tier in that category, but he might be the most accurate in the league (his 83% on-target rate was first among quarterbacks in 2021, per Sports Info Solutions) and his processing both pre- and post-snap allows him to go to the right spot nearly every time.
Picking those spots clearly played a significant role in Burrow's success during the 2021 season. When defenses showed single-high coverage, that was a green light to let it rip.
Against single-high coverages, Burrow had the fifth-highest average depth of target with the league's highest EPA per dropback and yards per attempt. There was a fundamental difference in process between how Burrow attacked single-high and two-high coverages:
Joe Burrow vs Type of Coverage
data per TruMedia
| Coverage Type | EPA/DB | aDOT | At/Behind LoS | 1-10 % | 11-19 % | 20+ % |
| --- | --- | --- | --- | --- | --- | --- |
| Single-High | 0.25 (1) | 9.25 (5) | 17% | 49.4% | 19% | 14.6% |
| Two-High | 0.08 (13) | 6.87 (22) | 23.6% | 55% | 11.4 | 11.4% |
Opposing defenses also caught on. Before the Bengals' bye in Week 10, Burrow faced Cover-1 or Cover-3 on over half of his dropbacks (51.5%). That dropped to 42.9% from Week 11 on.
Burrow and the Bengals basically threw opposing defenses out of Cover-1, trying to play man coverage with a single-high safety. Before the bye, Burrow saw Cover-1 on 25.6% of his dropbacks, which was the eighth-highest rate in that span.
After the bye, that dropped to 13.2%, the lowest rate in the league from Week 11 on.
The Bengals also know this and it's likely how defenses will look to approach Cincinnati's offense in 2022. Burrow told reporters as much earlier in the offseason.
"We just got to be more consistent, not rely on those big plays as much," Burrow said. "Teams are gonna be playing two-high and making us check the ball down and all that, so we gotta be able to sustain drives and run the ball and take what the defense gives us, all the way up and down the field, and then take those opportunities when they present themselves."
Few teams relied on the big play through the air more than the Bengals last season (second). But as an overall offense, Cincinnati was just 12th. By success rate (the percentage of plays that produced positive EPA), the Bengals ranked 19th.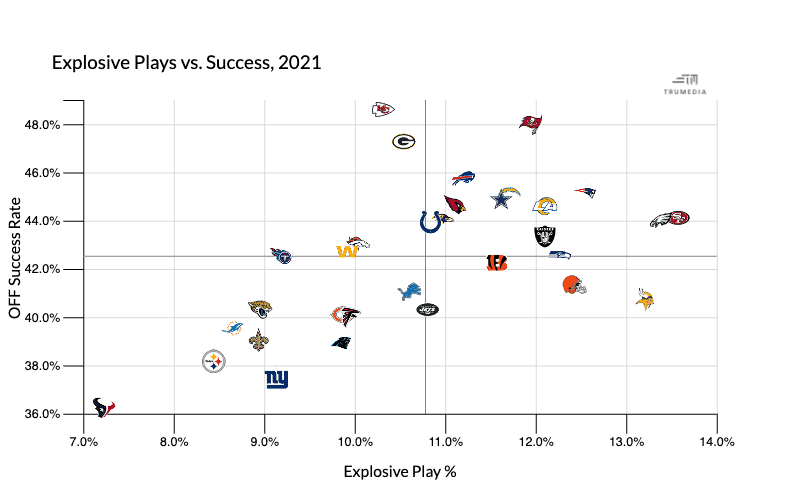 While both offenses and defenses have made it a priority to create and stop explosive plays, respectively, play-to-play success is going to matter just as much. If we take a look at what has correlated with points per game over the past five seasons, explosive plays peaked in 2019 while success rate had its highest mark since 2018 last season.
Correlation to points per game, 2017-2018
data per TruMedia
| Year | Success Rate | Explosive Plays |
| --- | --- | --- |
| 2021 | .71 | .39 |
| 2020 | .67 | .33 |
| 2019 | .63 | .50 |
| 2018 | .72 | .49 |
| 2017 | .56 | .34 |
Of course, the best teams can do both and don't rely on just one or the other. The Bengals' 2022 might have to look a bit like the Chiefs' 2021 if teams really do sell out to stop the explosive pass. In 2020, Kansas City tied for first in both success rate and explosive play rate, but while the Chiefs didn't have the same rate of explosives in 2021, they still ranked first in success rate.
This also isn't necessarily going to be something new for the Bengals. They started to make the necessary adjustments over the second half of the season when defenses started to tip their hands.
There is a difference between defenses showing a two-high shell then rotating down to a single-high coverage, which includes most of the discourse around the two-high structure, and those defenses that have actually sat in two-high coverages.
We've gotten some indication that defenses will be inclined to lean toward the latter. We've discussed how the Chiefs could shift to rely more on shorter passes and yards after the catch to sustain success on offense. The Bengals could be fit to make a similar change if needed.
Last year when Burrow faced two-high coverages, he was 22nd in aDOT but third in yards per attempt. That's partly due to 58.7% of his passing yards coming after the catch, which was the highest rate in the league against two-high. That rate was just 46.4% against single-high (16th).
The Bengals did more to work the short and intermediate middle of the field when those areas were open. You can see some of the increased usage in the passing plots from before and after Cincinnati's bye.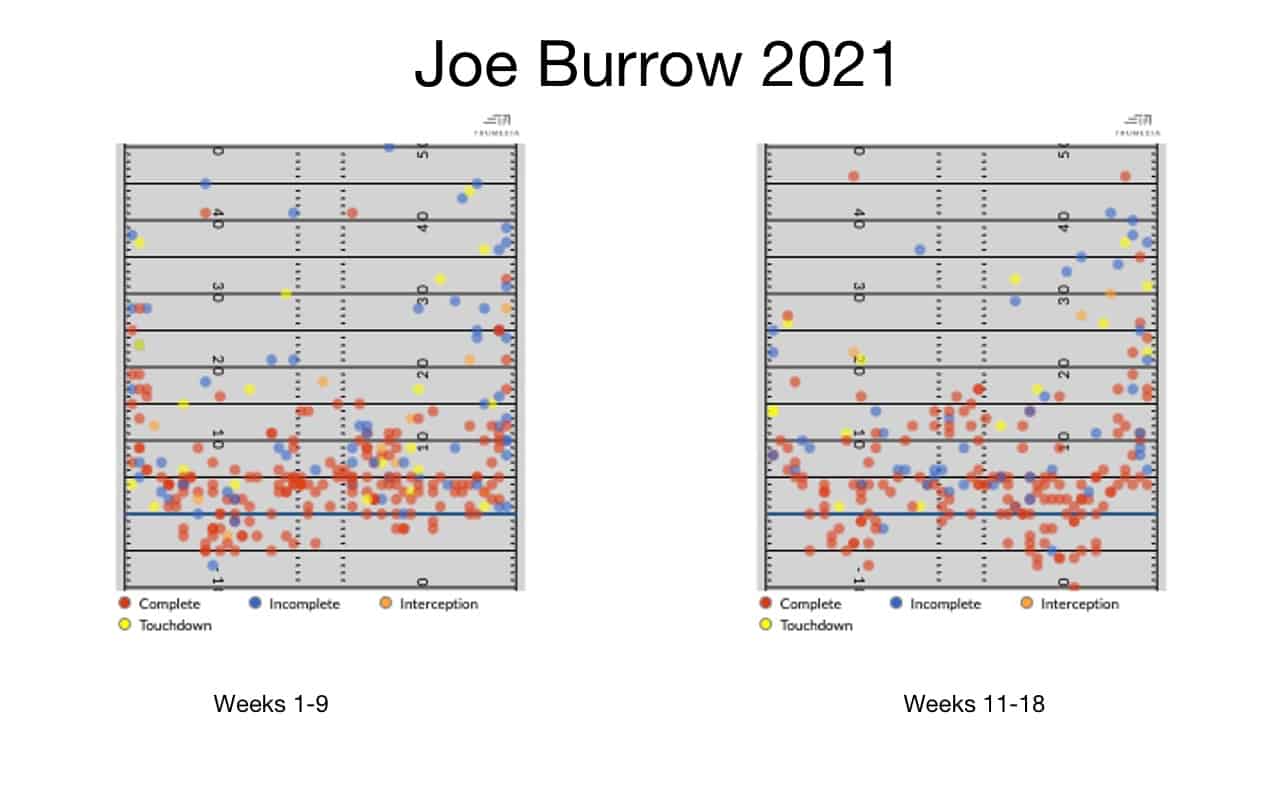 Because the Bengals were deep at receiver, they were able to mix and match who the top target would be. After the bye, Tee Higgins took a bigger role in the offense and worked that middle of the field area.
Just because the offense worked shorter throws doesn't mean the explosive plays were gone completely.
In Week 15 against the San Francisco 49ers, the Bengals started with Higgins isolated to the left side of the offense. Before the snap, Cinncinnati sent Tyler Boyd in motion, which occupied the outside corner to Higgins's side. Higgins was then able to sneak behind the linebacker who was drawn in by Joe Mixon coming out of the backfield. It left a wide-open space for Higgins to work.
The next week against the Denver Broncos, the Bengals had Higgins on the outside of the trips side of an empty formation. Cincinnati sent the two inside receivers on vertical routes as Higgins broke inside.
As the routes were passed off by the corners, the exchange gave Higgins enough time to have the advantage on the inside to turn up the field after the catch for a gain of 17.
With the increased rate of zone coverage around the league and opposing defenses scared off of playing man against the Bengals, Burrow saw one of the highest rates of zone coverage over the second half of the season, third-most at 76%. Cincinnati used that to create those open spaces which allowed the talented receiver group to create more yards on shorter throws.
All that was needed was just a little space. In Week 17 against the Chiefs, Chase took a quick out to the house for 72 yards after he was matched up on a safety from the slot.
Chase was also one of the best yards after the catch receivers in the league. After his aDOT dropped from 13.16 to 11.93 after the bye, his yards after the catch average went up from 7.16 to 9.08. As highlighted above, Chase only needs a little bit of space to make something happen. His 4.4 yards after the catch per reception over expectation over the full season was second only to Deebo Samuel, per Next Gen Stats.
So much of the Bengals' success throughout the season came from hitting those explosive plays against single-high, but how Cincinnati played over the back half of the season actually worked a bit better. Burrow (0.25) was second behind Aaron Rodgers (0.34) in EPA per dropback from Week 11 to the end of the season.
Picking apart defenses with those shorter throws might take some more patience than ripping go balls down the sideline but those types of throws could play just as big of a part in the offensive efficiency going forward.
There are a number of ways the Bengals can win on offense and we saw a number of them in 2021. We also saw the groundwork laid for some of the adjustments that might be needed on a larger scale. How much the Bengals lean into those and how successful they can be in doing it might shape how close Cincinnati can come to repeating, or surpassing, its 2021 production.