The quarterback carousel moves quickly and not exactly linearly. We went from a huge Russell Wilson trade and fast-tracked right to a desperate team trading for Carson Wentz.
It was reported that early in the offseason, the Washington Commanders called every team in the NFL to inquire about quarterback availability. Washington also reportedly had an offer on the table for Russell Wilson before the former Seahawks quarterback chose the Broncos.
Washington, in need of a quarterback, flipped its sights to the next tier of available veteran quarterbacks and landed on Wentz. Wentz was a part of this round of the carousel last season when the Indianapolis Colts traded a 2021 third-round pick and a conditional 2022 second-round pick that became a first due to snap count incentives.
After an up-and-down year in Indianapolis, Wentz will now head to Washington in exchange for two third-round picks and a pick swap in the second round. Like the future pick in last year's trade, the 2023 third-round pick can turn into a second-round pick if Wentz plays at least 70% of the offensive snaps in 2022.
That we're already here with Wentz just over a year after the trade to Indianapolis highlights the current state of Wentz and the overall quarterback market. While the Seahawks downplayed any interest in trading Wilson during media availability at the NFL Combine, there was little doubt left that the Colts were ready to move on from their quarterback.
On the field, Wentz's full body of work was mostly fine. Per TruMedia, Wentz finished 20th in EPA per dropback (-0.01). At times, in ideal situations, Wentz looked like a capable starting quarterback, but the problem was the rate of bad games and how often those pulled the Colts down. Wentz tied for the third-most games among quarterbacks with -0.10 EPA per dropback or worse in 2021 (eight), including games of -0.14 and -0.28 in the final two weeks of the season with a playoff berth on the line.
Washington has lived that high variance game at quarterback and in a sense has embraced it. The plan going into last season was to live with the rollercoaster of Ryan Fitzpatrick before a hip subluxation forced him out for the season in Week 1. Taylor Heinicke then took over and he was the epitome of high variance quarterback play. There were a few highlight plays but Heinicke was right behind Wentz with seven games of -0.10 EPA per dropback or worse and his overall -0.08 EPA per dropback on the season ranked 28th among quarterbacks.
The overall level of play between the 2021 versions of Heinicke and Wentz wasn't all that different. The two played the same amount (575 dropbacks for Wentz and 571 for Heinicke) and had nearly identical figures in average depth of target and yards per attempt. The biggest difference came in touchdowns, interceptions, and sacks.
Carson Wentz vs Taylor Heinicke, 2021
data provided by TruMedia
| Player | EPA/Dropback | Comp% | aDOT | YPA | PA% | TD% | INT% | Sack% |
| --- | --- | --- | --- | --- | --- | --- | --- | --- |
| Carson Wentz | -0.01 | 62.4% | 7.67 | 6.91 | 33.3% | 5.2% | 1.4% | 5.8% |
| Taylor Heinicke | -0.08 | 65.0% | 7.62 | 6.92 | 32.8% | 4.0% | 2.0% | 7.1% |
Looking closer at how these two quarterbacks attacked the field, there is not much that separates them: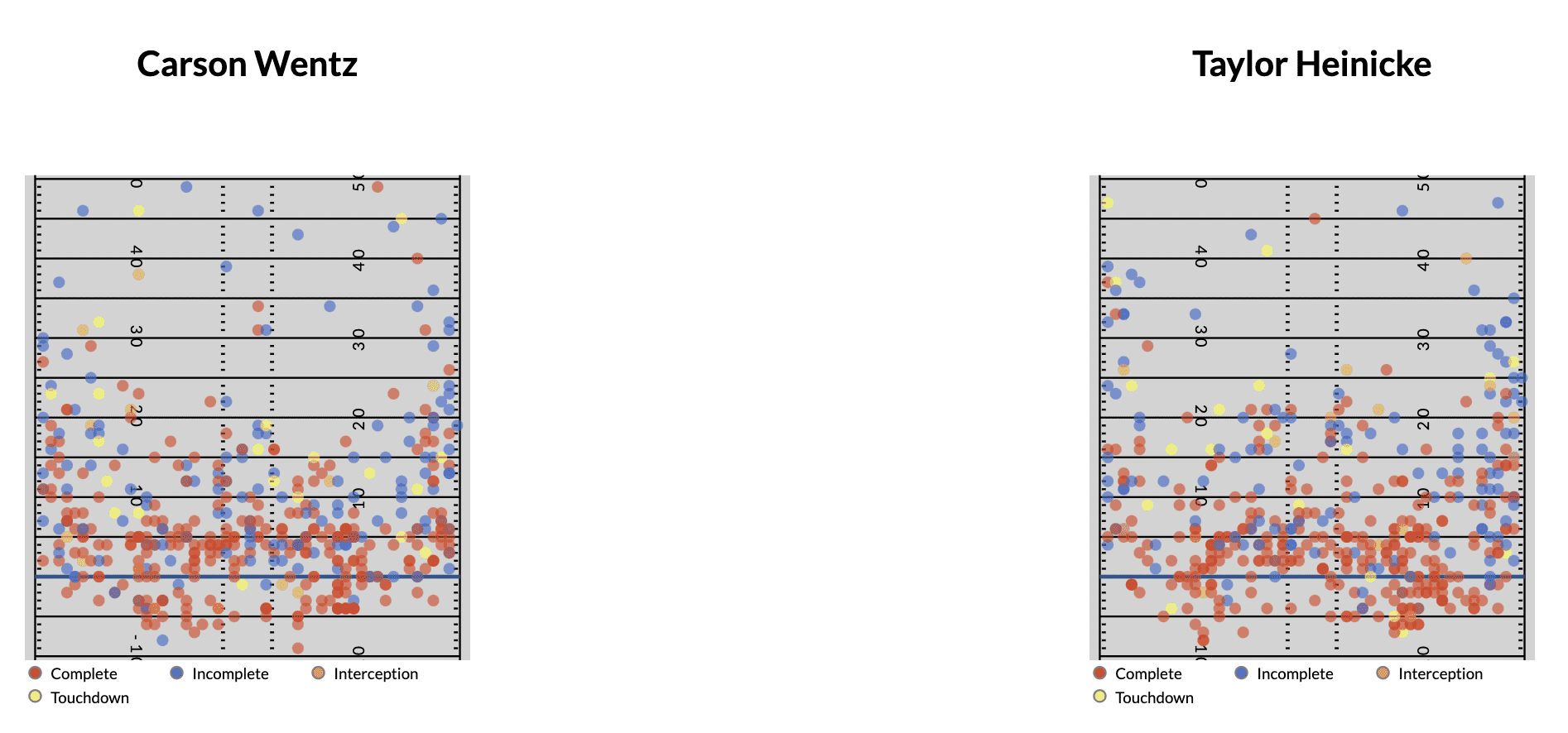 With this trade, Washington will take on all of Wentz's salary, which includes a $28.3 million cap hit with $15 million guaranteed for 2022. There are no guarantees in 2023 and beyond, which gives the Commanders an out, but if that's necessary, the team is giving up draft capital for a one-year potential fix at the position. Either way, it's hard to view Wentz as a long-term solution which caps the potential value of this trade.
Per Over The Cap, Washington now has just $5 million in cap space with Wentz under contract. Plenty of money can (and will) be moved around but it's not as if the Commanders will be heavily active in adding more talent to the roster.
After going 7-10 in 2021, Washington could believe even slightly better quarterback play could put the team in a place to compete for at least a Wild Card spot in an open NFC but that record is probably overselling what the Commanders were last season. Washington finished with the fifth-worst point differential in the conference (-99) and had a 5-4 record in one-score games.
The Commanders are still third in the NFC East to win the division (+450) behind the Cowboys and Eagles, per BetMGM, and they're tied for 10th in odds to win the conference. It's hard to see exactly how this significantly moves the needle for Washington in the short or long term. This feels like a move to make a move at quarterback and as we saw last season with Wentz and Sam Darnold, those types of transactions rarely look good in hindsight.
Perhaps the worst-case scenario for Washington is what happened to Indianapolis  — Wentz is fine and plays well enough to hit the snap count incentives but he's not able to lead the team to the playoffs, forcing the team to think about the next step at the position. However 2022 plays out, it would not be surprising to see Washingon with a different starting quarterback in 2023.
That brings us to the Colts, who will be looking for a new Day 1 starter at quarterback for the sixth-straight season.
Trading Wentz opens up $28 million in cap space and now the Colts have nearly $70 million in available space to spend this offseason. Indianapolis is not a stranger to massive cap space, but in the past general manager Chris Ballard has been hesitant to spend it all. With some needs along the offensive line, wide receiver, and tight end, the Colts have the chance to rework much of the offense. Outside of Jonathan Taylor, Michael Pittman, Quenton Nelson, and Ryan Kelly, Indianapolis doesn't have much of a foundation currently under contract.
The Colts now find themselves in a quarterback market that was barren enough for them to get two third-round picks for Wentz. Because of last year's trade, Indianapolis doesn't have a first-round pick to offer for another quarterback, which would limit the outside options, and might put them behind a number of other teams that could be looking for a 2022 starter.
Jimmy Garoppolo is now the biggest name on the market and he could be similar to Wentz in variance. Garoppolo effectively ran the Shanahan offense with a heavy dose of throws to the short middle area of the field, but things fell apart when he needed to do more out of structure. For the Colts specifically, they could be ok with some ups-and-downs, given it appears Wentz's relationships inside the building were the tipping point for his departure more than his actual play.
But given Garoppolo is now clearly the top option and the Colts wouldn't be alone in trade talks, it's worth wondering if Indianapolis would have enough to get a deal done.
Garoppolo only has one year remaining on his deal and would count for about $26 million on the cap. That would be about a wash for Wentz, but it would cost more for Indianapolis to trade for Garoppolo than what they got back from Washingon.
Another trade option could be Baltimore's Tyler Huntley, who was just tendered as an exclusive rights free agent. Huntley had some flashes when he filled in for Lamar Jackson and could serve as a much cheaper swing at the position. Huntley was an underrated college quarterback and could even add to a quarterback run game, adding another element with Jonathan Taylor behind a good offensive line.
Huntley just turned 24 years old and would barely cost anything on the cap and maybe it takes that extra third-round pick Washington sent over to get a deal done.
Hitting the free agent market brings in a lot of other questions and uncertainty. Mitchell Trubisky is rumored to be a $10 million signing and that doesn't make a ton of sense for anyone, really.
Jameis Winston might be the best option on the market but he's coming off a torn ACL. While he played well in his short stint with the New Orleans Saints, it's questionable if Winston's playstyle fits Frank Reich or the Indianapolis receiving corps.
The idea of Marcus Mariota always overshadows the reality of Marcus Mariota — though the idea could fit in nicely. The same could be said for Cam Newton.
Indianapolis does find itself in an interesting spot with a roster filled with enough talent and cap space to contend for a playoff spot. BetMGM odds have the Colts second (+140) barely behind the Tennessee Titans (+100) to win the AFC South — and that's currently without a quarterback.
It's unlikely the Colts find themselves a long-term solution at the position this offseason but that awareness might be the key to getting through it. Another short-term fix isn't what Indianapolis would have hoped, but trying to force an answer — and paying up for doing so — is what got us here in the first place.