We're still a month away from the official start of the 2021 NFL season, but that hasn't stopped teams from making blockbuster deals prior to the new year. And with the Rams and Lions swapping their quarterbacks (and some draft picks) and the Eagles sending Carson Wentz to Indianapolis, not one of the 22 quarterbacks selected in the first round of the NFL Draft between the years of 2009 and 2016 are employed by the franchise that selected them.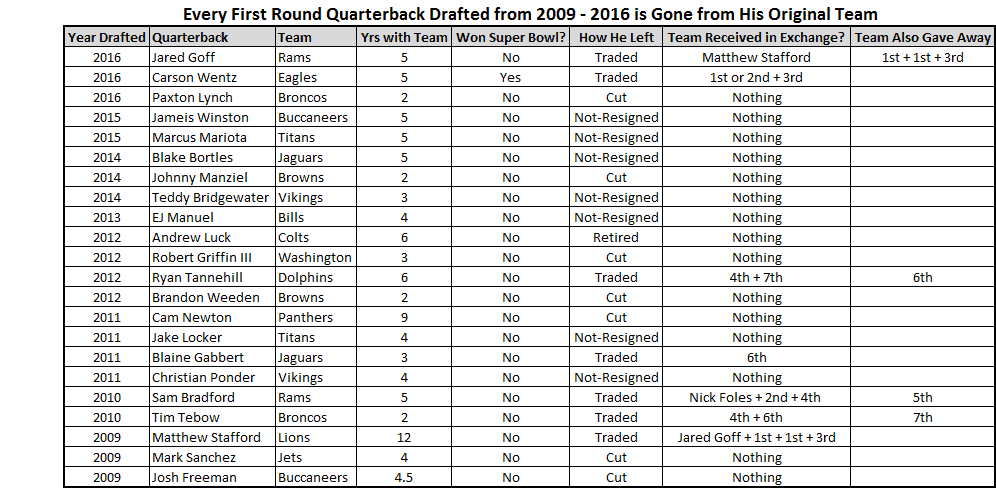 Drafting a quarterback in the first round usually signals a team's belief that he can one day lead the franchise to a Super Bowl. Despite this, only five of these quarterbacks competed in a Conference Championship Game and just Jared Goff and Cam Newton have Super Bowl experience on their resume. However, Wentz is the only quarterback on this list that has a Super Bowl ring, but he missed the entire postseason after tearing his ACL in Week 14 of 2017.
While it's true some teams may miss on a draft pick from time-to-time, this group is different. Not only did six different teams fail to find a true franchise quarterback despite two different guys in this time-span, 15 of the 22 were either cut or simply left unsigned after their rookie contract ran out.
The Broncos got a fourth- and sixth-round pick from the Jets for Tim Tebow, but later cut Paxton Lynch after just four starts in two seasons. That's two first-round picks that resulted in a single playoff win and just two late-round picks. The Cleveland Browns weren't so lucky with Brandon Weeden and Johnny Manziel, both of whom were cut. Meanwhile, the Rams used first-round picks on Sam Bradford and Jared Goff, only to turn around and trade them for veteran quarterbacks after five years.
The return on investment on just about all of these picks is somewhat horrendous, save for two. Matthew Stafford turned into a pair of first-round picks, a second-round pick, and Jared Goff, but the Lions wasted 12 years on a quarterback that could only produce three playoff appearances and zero playoff wins.
Once again, Wentz stands out in this category. Not only is he the only player on this list to win the Super Bowl with the team that drafted him, but what the Eagles got from the Colts in their proposed agreement is far better than the other five teams who were able to find a trade partner for their quarterback. So despite Wentz's disastrous 2020 season, Philadelphia still managed to collect arguably the most valuable haul in any of these trades, all while taking a $33 million dead cap hit for 2021.
But was Wentz actually the best pick of this era? Newton certainly has more accolades, including an MVP, but he came up short in the Panthers' trip to Super Bowl 50 and was cut following shoulder surgery in 2019. Andrew Luck made four Pro Bowls and won four playoff games, but never advanced to the Super Bowl and left the Colts desperate for a quarterback after suddenly retiring during the 2019 preseason. Stafford has longevity over Wentz, but not much success to show for it.
In hindsight, the biggest issue with Wentz will always be his record-breaking contract extension. Perhaps signing a quarterback coming off season-ending knee and back injuries to a four-year/$128 million extension two full seasons before he was eligible for free agency wasn't the most prudent decision. But Howie Roseman's ability to put a team around Wentz and his rookie contract led to the Eagles winning Super Bowl 52 and his conviction to move on from Wentz now, while he still has some value, is what stands out the most.
However, despite the draft haul, it's hard to argue with some of the success other teams have had after simply letting their quarterback leave following their rookie deal. Tampa Bay signed Tom Brady after letting Jameis Winston leave, Kirk Cousins signed a big contract to become a Viking following the departure of Teddy Bridgewater and the Titans' refusal to commit to Marcus Mariota let them sign Ryan Tannehill to a contract extension following his resurgence in 2019. Obviously, each situation is different, but Brady won the Super Bowl in his first year with the Bucs, Tannehill has started in four playoff games in the last two years and even Cousins has commanded a top-10 scoring offense since arriving in Minnesota.
But what is truly better, earning draft capital or having financial flexibility? Knowing what we know about quarterbacks on their rookie contracts, earning a potential first-round pick, and another shot at a cheap franchise quarterback, is far superior, even if it comes with one year of cap hell.