The NFL used to fear the college spread quarterback. With the concepts in the spread offense so wide open, the theory was quarterbacks from those systems would not translate to the pro game where windows to throw are much tighter. But lately, as passing has been more efficient than ever across the league, teams are moving away from the fear and embracing both spread concepts and quarterbacks, either fully or mixing in those ideas with more traditional West Coast principles for a Spread Coast hybrid.
In all of those cases, the goal is to create spacing to provide open throws and pick up added value. To help those quarterbacks adjust to NFL coverages, some of the league's smarter play-callers have worked to let their quarterbacks continue to throw downfield while decreasing the need for tight window throws.
Look no further than what the Kansas City Chiefs did with Patrick Mahomes. Coming out of Texas Tech, Mahomes was viewed as a special passer, but the biggest concern was his tendency to force throws into windows he had no right trying to hit. A balancing act was going to be needed from his pro coaching staff to allow Mahomes to have the ability to make those big plays while limiting the amount of damage he could do on turnover-worthy passes.
Of course, Mahomes landed with Andy Reid who perfectly schemed up an offense to take advantage of Mahomes strengths and limited his weaknesses, as overblown as they were. (For his reputation as a "gunslinger," Mahomes only had a 1.7 percent interception rate during his final college season).
What the Chiefs did in 2018 was basically take away the possibility of Mahomes making an ill-advised throw into tight coverage by nearly eliminating those throws altogether. During the regular season, only 11 percent of Mahomes's passes were considered "aggressive" into tight windows, described by the NFL's Next Gen Stats as one yard or fewer of separation, which was the lowest rate among full-time starters.
But where the Chiefs really excelled was by not letting that put a cap on Mahomes's strength of ripping the ball down the field. His 9.1 Intended Air Yards per pass ranked as the sixth-highest in the league. The combination of open throws and deep passes paid off. Mahomes led the league in just about every quarterback metric imaginable during his first season as a starter and came away as the NFL MVP.
Another example of this philosophy and the impact on quarterback performance can be found with the Los Angeles Rams and Jared Goff. During Goff's disastrous rookie season, he threw into tight coverage at the highest rate in the league (25.9 percent) and threw the third-shortest average pass (7.5 yards), all of which resulted in a league-worst 4.3 Adjusted Yards per attempt (which weights touchdowns and interceptions with yards per attempt).
Then came Sean McVay. In 2017, Goff threw into tight coverage on just 14.3 percent of his passes with average Intended Air Yards of 8.1 and was second in the league with 8.5 AY/A. In 2018, Goff's second season with McVay, Goff threw into a tight window on 14.7 percent of his attempts with an average depth of target of 8.7. He again finished the season with 8.5 AY/A, though that ranked seventh in the league.
Don't Force It
This aversion to tight windows is also the way the NFL is trending.
In 2016, the first year Next Gen Stats was publicly available, quarterbacks threw into tight coverage 19.3 percent of the time on average. During the 2017 season, that percentage dropped to 17.7 percent and in 2018 that dropped to 15.9 percent.
The shift has made the biggest impact on those who throw into tight coverage most often. This past season just two of 34 qualified quarterbacks (5.9 percent) have thrown into tight coverage on 20 percent or more of their passing attempts — the NFL defines qualified by 15 passes times the number of weeks, divided by two. In 2017, that number was nine of 41 qualified quarterbacks (22 percent). Nearly half the league threw into tight coverage that often in 2016 with 18 of 39 qualified quarterbacks (46.2 percent) at 20 percent or higher.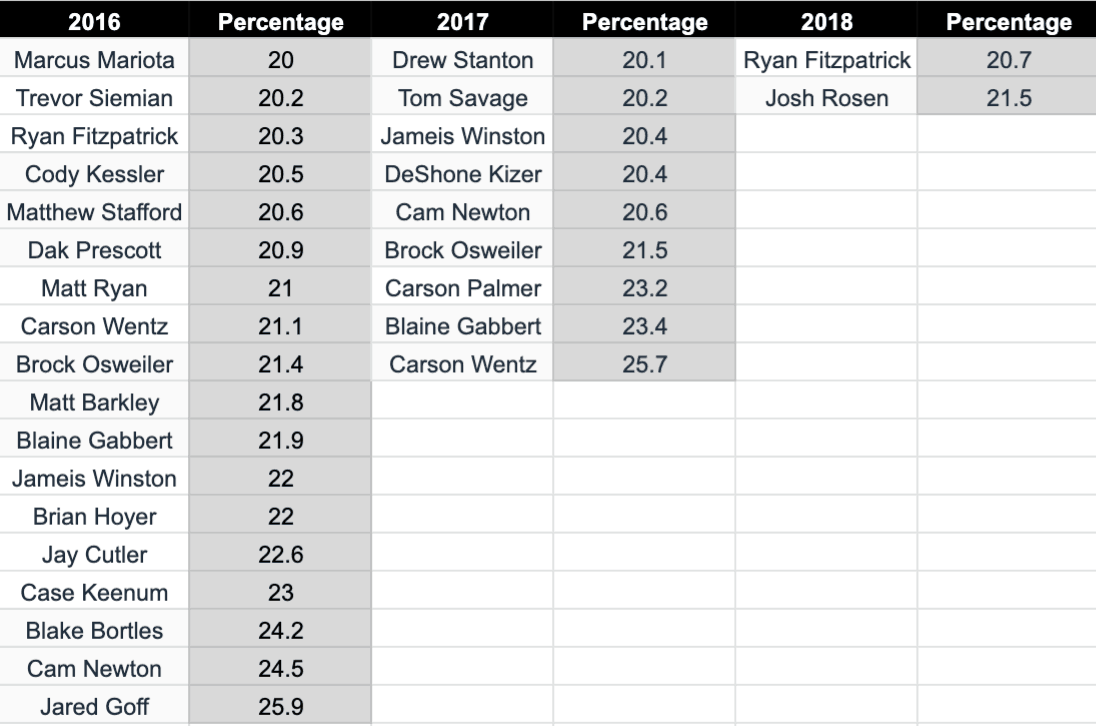 Part of this goes along with the rise in shorter passes around the league. During the 2016 season, the average pass among qualified quarterbacks traveled 8.9 yards in the air past the line of scrimmage, per NGS. That dropped to 8.3 in 2017 and then 8.1 in 2018. At the receiver level, there's a negative correlation between the amount of separation gained and average depth of target, meaning on average more separation happens closer to the line of scrimmage.
There are quarterbacks who have used this risk-averse strategy to throw short to open receivers. Derek Carr could be the poster boy for this, with 12.5 percent of his throws into tight coverage (third-fewest) and an average pass only 6.3 yards past the line of scrimmage (lowest among qualified quarterbacks) in 2018.
This is where the biggest disconnect between philosophy and production lies. Last season 70.6 percent of NFL passes were thrown within 10 yards of the line of scrimmage, per Sports Info Solutions. But nearly 200 percent of the league's passing value by EPA came on throws that traveled further than 10 yards down the field.
Teams totaled minus-897.7 Expected Points Added on those attempts, despite 70 percent of throws going to that area and just nine teams finished the 2018 season with positive EPA on throws within 10 yards of the line. The real value — and where teams were able to separate themselves — comes in the intermediate and deep areas of the field.
Of course, the opposite extreme can be just as troublesome. In Tampa Bay, Jameis Winston and Ryan Fitzpatrick ranked first and third in Intended Air Yards and the second and fifth-highest rates of throws into tight coverage. Fitzpatrick had the highest interception rate in the league and Winson was third.
Tight window throws, expectedly, have a small margin for error. Over the past three seasons, Aggressiveness has a negative correlation with completion percentage, touchdown rate, and yards per attempt as well as a positive correlation with interception rate. It's the only passing Next Gen Stat with negative results across the board.
There's more to good passing than avoiding tight window throws, but it is a trend and a clear path to better passing, especially when it's still combined with shots down the field. It's why the balance of downfield throws and limiting the risk of a defender making the play has been so successful for offenses like the Rams and Chiefs. It increases the probability of a completion while also raising the potential of a big play.
Mahomes and Goff both spent their college days in spread-heavy systems, but both were responsible for pre- and post-snap reads while on the field. Comfortability with those responsibilities makes it even easier for players like Goff and Mahomes to find the open receiver in the progression.
It also helps if there is a roster in place that can aid this schematic philosophy in both places. The Rams and Chiefs ranked first and third in ESPN's Pass Block Win Rate metric, which gives each team the time to develop these routes down the field. Both teams also have receivers who excel at route running and getting open down the field.
Embracing Open Throws
The circumstances are important, but the execution needs to be there too. In Buffalo, the Bills allowed Josh Allen to let the ball fly and have worked to get receivers open — Allen has the ninth-lowest rate of throws into tight coverage (12.6 percent) and the second-highest Intended Air Yards (10.8) in the league — but between Allen's inaccuracy and the Bills' lack of talent along the offensive line and at receiver, that strategy has not yet produced positive results. No quarterback last season has a bigger gap between his Intended Air Yards and Completed Air Yards (5.2) than Allen — a disconnect in game plan and execution. With that in mind, the Bills spent the offseason making improvements at offensive line and wide receiver, but the biggest question mark remains the quarterback.
Opening up passing lanes was a part of Baker Mayfield's improvement in Cleveland after the firing of Hue Jackson. From Weeks 4-8 under Jackson and Todd Haley, Mayfield averaged 8.9 Intended Air Yards and threw into tight coverage on 18.4 percent of his attempts.
From Weeks 9-17, Mayfield has only thrown a little deeper (9 Intended Air Yards) but cut down tight window throws to 14.7 percent. The change was more apparent after the Week 11 bye with 9.5 IAY and a tight throw percentage of 14.4.
Now Mayfield has more weapons in the passing game with the addition of Odell Beckham and an offensive coordinator in Todd Monken who oversaw a vertical offense in Tampa Bay last season to go with Freddie Kitchens at head coach. 
There are two passers with differing levels of questions who could benefit from a more open offense. Mitchell Trubisky had the fourth-highest rate of throws into tight windows despite an offensive head coach in Matt Nagy. Year 2 in the system could bring on changes.
Then there is Dak Prescott who had the third-highest rate of throws into tight windows last season (19.9 percent). Prescott, who is on the final year of his rookie deal will have a new offensive system this season under Kellen Moore. Prescott also had a significant split over the second half of the season with the addition of Amari Cooper.
Prescott threw into a tight window on just 13.8 percent of attempts from Week 9 through the end of the regular season. That includes a Week 11 game with a 31.3 percent rate. He eclipsed 16 percent one other time (16.1 percent in Week 12) over the second half of the season. 
2019 Impact
As the NFL increasingly embraces college concepts, spread ideas like scheming up open throws have made their way to the pros. That some of the most successful teams in the league are taking full advantage of that should only lead to a wider implementation for quarterbacks around the league. Some teams could make a wild switch in this philosophy — think how different the Arizona Cardinals will look this season with Kyler Murray and Kliff Kingsbury opposed to what the offense looked like in 2018.
Offenses are still a step or two ahead of defenses in the modern NFL and the ability to adapt and advance at a quicker rate has helped. Throws into tight coverage will continue to be phased out of the best offenses. It might not be a revolutionary idea, but while some other offenses in the league are still debating whether the run needs to be established, it's been a big part of moving offenses forward and a step forward in the current passing revolution.