Cincinnati Bengals head coach Zac Taylor came from the coaching tree of Los Angeles Rams head coach Sean McVay, but as those two teams prepare to meet in the Super Bowl, there are not a ton of similarities between the two offenses.
One commonality between the two offenses is how often they use empty formations. Including the playoffs, Matthew Stafford (29.1%) and Joe Burrow (23.7%) have the two highest rates of dropbacks in empty formations per TruMedia/PFF, but even those have completely different philosophies behind them.
There are a number of reasons for an offense to go empty and all of them put a ton of responsibility on the quarterback. Ideally, whatever the end goal, the pre-snap look forces the defense to declare its intentions. More aggressive defenses can try to disguise coverages, but the margin for error is much smaller when there are five receivers spread out in the formation.
For processors like Stafford and Burrow, that's an advantage to know the best options to go with the ball. But that's about where the similarities stop between how these two passers work to get the most out of those looks.
Matthew Stafford & Joe Burrow in Empty, 2021
data per TruMedia/PFF
| Player | Empty% | EPA/DB | aDOT | YPA | At/Behind Line | Short | Intermediate | Deep | Att > 2.5sec |
| --- | --- | --- | --- | --- | --- | --- | --- | --- | --- |
| Matthew Stafford | 29.1% | 0.17 | 9.64 | 8.27 | 12.6% | 53% | 19.2% | 15.2% | 54% |
| Joe Burrow | 23.7% | -0.03 | 7.44 | 7.99 | 18.7% | 59.3% | 12% | 10% | 65.3% |
For the Rams, the empty sets have worked to stress defenses both horizontally and vertically. The vertical aspect has been a significant addition to the offense and was immediately a highlight for why the upgrade was necessary over Jared Goff.
Stafford has used empty to set up some big plays down the field with some chunk gains through the air.  His 9.64 aDOT from empty is nearly three yards higher than Goff's during the 2019-2020 seasons (6.95). Goff's use of empty created some open throws across the middle of the field, which is where so many of his throws went.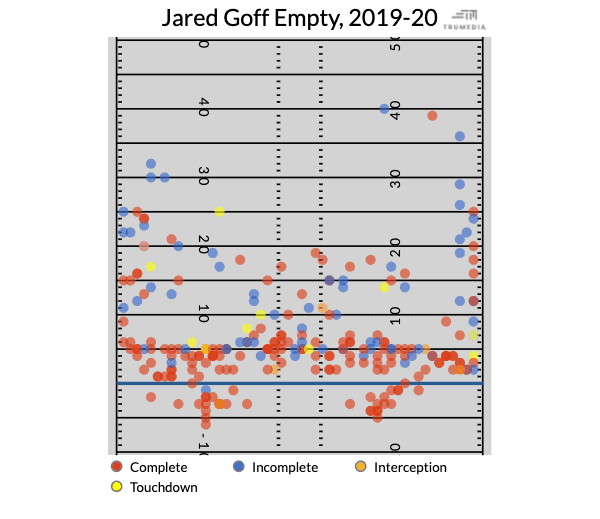 In 2021, Stafford had more completions of 20+ air yards out of empty (13) than Goff did in his previous two seasons with the Rams (nine). The itch for McVay to open this up started when John Wolford filled in for Goff last season and was able to push the ball down the field with more success in his limited time. That was enough to push McVay into that upgrade, which came with Stafford, who has spent the entire season getting more out of those deeper throws.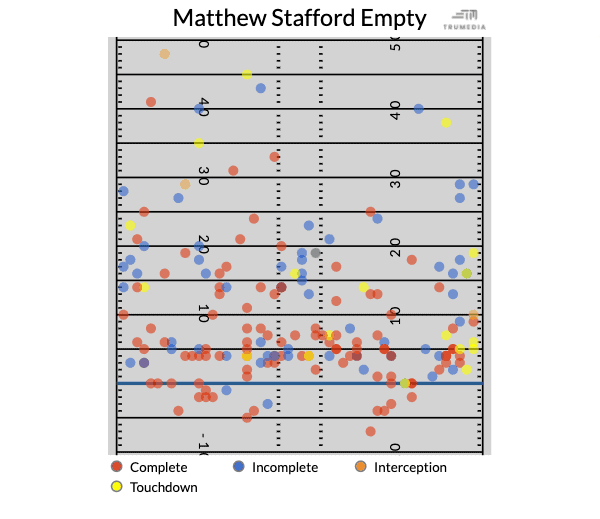 The trust is there for Stafford to hang in the pocket and make a play, which is what has allowed the Rams to go downfield more often. Just 54% of Stafford's pass attempts from empty have come within 2.5 seconds after the snap. The league average this season was 63.3%  Setting up those plays down the field has the Rams in a completely different stratosphere than other NFL offenses. Stafford has more completions from empty that traveled 11 or more air yards than all but one quarterback had attempted in 2021. He also has nine touchdowns on those throws, which is more than the net two quarterbacks combined (four each).
It helps, of course, when Cooper Kupp is on the receiving end of those passes. Overall, Kupp has a 36% target share when the Rams are in empty, which is the third-highest rate among receivers behind DK Metcalf and D.J. Moore. Kupp's 3.48 yards per route run from empty are behind only Davante Adams.
Everything sets up for the Rams to develop openings down the field. One of the most dangerous pieces is getting Kupp to break outside after setting up with an inside release. Kupp is quick and powerful enough to fight through any contact before he makes a break.
Combine Stafford's willingness to go deep and Kupp's ability to set up his route with a vertical stem and defenders have little chance of being successful. Below is Kupp setting up an out against the San Francisco 49ers in the regular season finale.
Kupp was the middle receiver on the trips side and was pressed off the line. He rode the contact all the way up the field before he made his break for a 30-yard gain on a third-and-6.
Against the Tampa Bay Buccaneers in the Divisional Round, Kupp got through the initial contact off the line and had the defender trailing before falling down as Kupp made his break. That went for 20 yards on a second-and-11.
Joe Burrow has always loved the idea of empty and getting five receivers out in a route going back to his time at LSU. It allows the quarterback to process quickly and have multiple options to throw the ball. With the Bengals, it serves an additional purpose for covering up for a lackluster offensive line. With a five-man protection, Burrow can be responsible for recongizing extra rushers — something he has excelled at doing — and knowing where the hot route and holes in coverage should be on a given play.
Cincinnati's purpose is to get the ball out quickly and keep the ball moving. Burrow has a 72% completion percentage from empty in 2021, but only 22% of his pass attempts have traveled more than 10 yards past the line of scrimmage.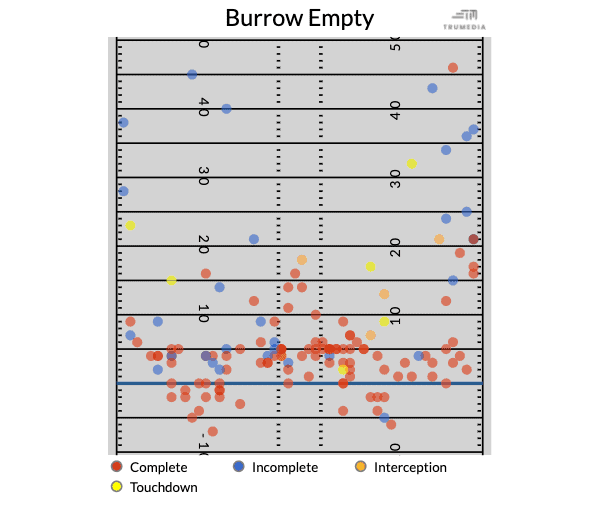 Despite the will to get the ball out quickly and the plan to hide the offensive line, Burrow has produced negative EPA from empty this season, playoffs included, because of the number of sacks taken. On a per sack basis, the value lost is not relatively bad (his -1.4 EPA per dropback lost to sacks is the sixth-best among quarterbacks but that's still a lot), his 16 sacks from empty lead the league because of the volume.
We've all seen Burrow magically avoid defenders, but these sacks aren't all on the offensive line. In fact, Burrow is just around average in pressure rate faced in empty but he has one of the higher sack rates.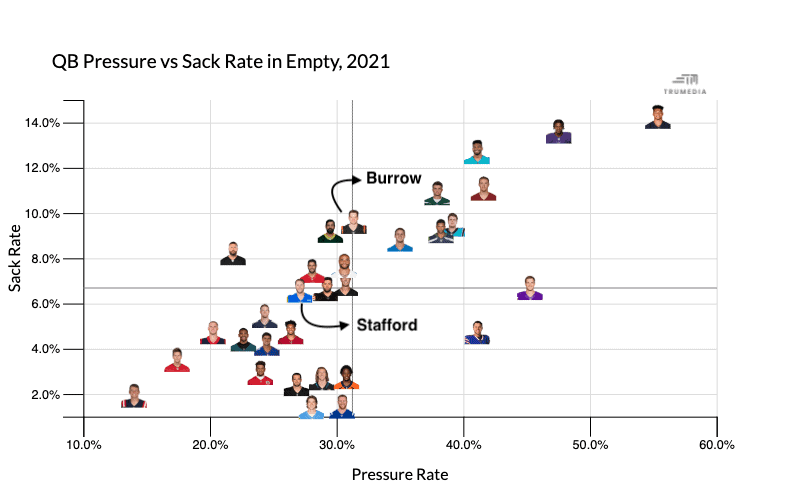 A ton of value is also lost on early downs, especially first down when the Bengals are trying to get the ball out quickly. On first down, Burrow has averaged -0.23 EPA per dropback. There is a bit of a disconnect for production there. Burrow has tried more down the field which hasn't connected as much and only 31% of his completions have ended with a first down or touchdown.
Joe Burrow Empty Splits By Down, 2021
data per TruMedia
| Down | EPA/DB | Dropbacks | Comp% | aDOT | YPA | At/Behind Line | Short | Intermediate | Deep |
| --- | --- | --- | --- | --- | --- | --- | --- | --- | --- |
| First | -0.23 | 45 | 70.7% | 8.02 | 6.49 | 12.2% | 68.3% | 7.3% | 12.2% |
| Second | -0.05 | 56 | 69.2% | 5.27 | 8.21 | 26.9% | 57.7% | 9.6% | 5.8% |
| Third | 0.09 | 66 | 76.4% | 8.56 | 8.89 | 14.5% | 56.4% | 18.2% | 10.9% |
While the Bengals favor going empty, the passing offense has been more productive without it. Burrow has the third-highest EPA per dropback (0.46) on plays with six pass protectors. (Stafford is first at 0.64.) Cincinnati has also gone away from empty when pressure is imminent.
Against Kansas, Cincinnati abandoned empty and used it for just 7.1% of Burrow's dropbacks and 4.3% after halftime. The Rams can bring pressure from all over, but have two stars in Aaron Donald and Von Miller. The Bengals could choose to go empty and hope Burrow can get the ball out quickly, but it might be more beneficial if the offense keeps another blocker in protection, which could give the quarterback just a little more time to get a pass off.
We're going to see a ton of empty in this Super Bowl matchup, but outside of the quarterbacks standing alone in the backfield, not much else will be the same. One team will focus on creating big plays while the other will hope for limiting the bad ones. The offense that comes closest to its goal could have the upper hand in this matchup.