We all know the memes of the Los Angeles Rams and draft picks. General manager Les Snead is even aware of it. Trading away first-round picks for star players has been a Rams strategy since they traded up to select Jared Goff in 2016. The Rams have not possessed a first-round pick since then and after the trade for Matthew Stafford, they won't until at least 2024.
With other additions, the likes of Von Miller and Odell Beckham, the Rams' "all-in" approach has also been billed as a stars-and-scrubs type of roster construction, but that's not quite true. A number of key Rams players have been homegrown from draft picks outside of the first round.
Since 2017, the Rams have drafted 14 players that have reached a career Weighted Approximate Value (wAV) outside of the first round, according to Pro Football Reference. That number is tied with the Indianapolis Colts for the league-lead.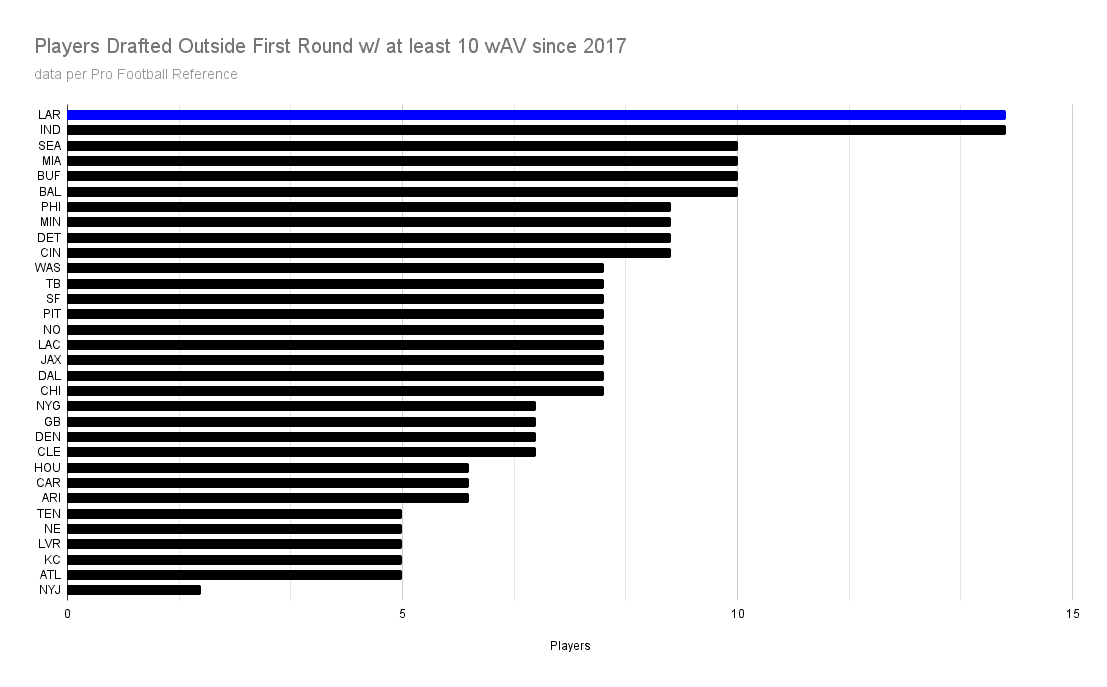 Approximate Value might not be the best metric for a draft success, and it is reliant on playing time but even though the Rams, more than most teams, need these types of players to hit — there has to be some level of skill in both drafting and from the players on the field.
For example, the New York Jets would also desperately love any late-round draft picks to hit and they're all the way down at the bottom with just two players.
Any long-term draft analysis will prove teams are not better than others at drafting players sustained periods of time, but the Rams have clearly done something right.
The team has been able to identify players who can fit into specific roles and the responsibilities of those roles are made easier by, say, getting to play on the same defense as Aaron Donald and Jalen Ramsey. With all of those stars, the Rams don't need a late-round corner to come in and defend No. 1 receivers like some other teams might be desperate to do.
Even this strategy has gained more stars for the Rams, which has made life even easier for other late-round picks to fill in around them. As the Rams get ready to play in the Super Bowl, here's a look at a few of the contributors that were selected outside of the first round since they last made a Day 1 selection.
2017
Second round: Cooper Kupp (pick 69)
So this certainly isn't a bad place to start. Kupp was the Rams' first pick in the draft following Jared Goff and he's been an integral part of the offense since. Integral even undersells the impact Kupp had in 2021, a year that will likely end with him named Offensive Player of the Year.
Including the playoffs, Kupp has a 31.9% target share, which leads the league, along with 3.17 yards per route run, 223 targets, 170 receptions, 2,333 receiving yards, 103 first downs, and 20 receiving touchdowns.
The Rams' 2017 class also included players who were productive and have already left in free agency, including Gerald Everett (pick 44) and John Johnson (pick 91).
2018
Third round: Joseph Noteboom (89)
Fourth round: Brian Allen (111)
Fifth round: Ogbonnia Okoronkwo (160)
Sixth round: Sebastian Joseph-Day (195)
Noteboom was a starter for two seasons before he served as a backup and spot starter throughout 2021. He started two games in the regular season and filled in for Andrew Whitworth in the Divisional Round game against the Tampa Bay Buccaneers. At worst, Noteboom provided solid depth as a swing lineman who was able to fill in when needed for just $1.2 million on the final year of his rookie contract.
Brian Allen lost half of the 2019 season to a knee injury, one that lingered enough to also keep him out of the 2020 season completely. Allen stepped back in as the starting center for 2021 and has started every game. Allen's highs have been good, though there has been a bit of an uneven streak between them.
Among 40 centers with at least 250 snaps played on the season, Allen ranked 37th in blown block rate, per Sports Info Solutions. Those blown blocks have mostly shown up in the run game, which has not been as detrimental to the offense.
Allen's position gives more intrigue for the 2022 season as his contract is set to expire, giving the Rams the option to pay for an extension or search elsewhere for a cheaper center — this may be the give and take of the current roster building strategy.
Okoronkwo has played as a situational pass rusher who can also drop back into coverage over the past three seasons. He has just 4.5 career sacks but finished 2021 with two forced fumbles and six quarterback hits.
His spot on the roster is an example of some of the Rams' dealing with draft picks. The Rams' fifth-round pick was sent to the Denver Broncos in exchange for Aqib Talib in March and then during the draft, the Rams traded with Denver again to get that pick back, trading two sixth-round picks.
Most of the Rams's draft day trades have been to gain more picks, but even this trade up provided surplus value, per the Football Perspective AV chart. The Rams got back the 160th pick (2.3 AV) for the 183rd and 217th picks (1.7 combined AV). That swap then technically turned the price of the Talib trade to two sixth-rounders, an overall win for the Rams.
The biggest win of this draft might have come in the sixth round with Sebastian Joseph-Day. Before a torn pec in Week 7, Joseph-Day was playing as one of the league's best run-stopping defensive linemen. The 310–pound lineman played a massive role in the middle of the Rams' ability to stop and fit the run with their light boxes. Sebastian-Day was designated to return from IR, has been practicing, and could come back to the field in time for the Super Bowl.
2019
Second round: Taylor Rapp (61)
Third round: David Long (79)
Fourth round: Greg Gaines (134)
Fifth round: David Edwards (169)
Seventh round: Nick Scott (243)
Rapp immediately came in and played a big part in the Rams' secondary. As a rookie, Rapp was more of a box safety (439 snaps per PFF) but after an injury-shortened 2020, he played most of his snaps as a deep safety in 2021 (529), while splitting his other snaps between the box (282) and lining up in the slot (271).
Rapp was also one of the Rams' first big swing at using their internal metrics opposed to more traditional numbers. Rapp ran a 4.78 40-yard dash at his pro day, but the Rams measured his game speed and instincts to be much quicker and in line with a starting-caliber safety.
With injuries at the position, seventh-round pick Nick Scott has stepped in and played 100% of the defensive snaps in all three of the Rams' playoff games after playing 36% of the defensive snaps in the regular season.
He's put up 12 tackles and three passes defensed, including a rangy interception in the Divisional Round against the Buccaneers.
David Long spent his first two seasons as a core special teamer and worked his way into the cornerback rotation in 2021, playing 47% of the defensive snaps. Among 92 cornerbacks with at least 300 coverage snaps this season, Long ranked 32nd in Adjusted Yards allowed per coverage snap. 
David Edwards has started 41-of-49 games since he was drafted. Edwards started two games at left guard in 2019 then finished the season at left guard and has played there since, though he did spend about half a game at left tackle this season when Andrew Whitworth was injured in Week 16.
Among 75 guards with at least 400 snaps in 2021, Edwards ranked 13th in Blown Block Rate, per SIS.
The Rams got a defensive line steal with Joseph-Day in the sixth round in 2018 and then followed that up with Greg Gaines in the fourth round of 2019. Gaines was productive in the rotation, but became a full-time player when Sebastian-Day got hurt midseason.
Since then, Gaines has exploded. He finished sixth among defensive tackles in EPSN's Run Stop Win Rate and ended the season with 13 quarterback hits.
2020
Second round: Cam Akers (52), Van Jefferson (57)
Sixth round: Jordan Fuller (199)
2021 was supposed to be a breakout season for Cam Akers, but a torn Achilles put that on hold. Akers's quick recovery and the Rams' willingness to give him the ball upon that return shows how much the team believes in the back.
The Rams have consistently reloaded at wide receiver and Van Jefferson was supposed to serve as depth heading into 2021 behind Kupp, Robert Woods, and DeSean Jackson. With injuries and a Jackson release, Jefferson spent time as the No. 2 and has settled back as a productive field-stretching No. 3 behind Odell Beckham in an 11 personnel-heavy offense.
Jordan Fuller might have been the steal of the draft at pick 199. That was even a bit of an overdraft, considering the Consensus Big Board put together by The Athletic had Fuller ranked at 235. If Rapp was the first dabble into relying on internal metrics and game speed to better evaluate prospects, Fuller was the poster child. He became a starter in Year 1 and was the defensive play-caller in Year 2 before he suffered a season-ending ankle injury in the regular season finale.
2021
Third round: Ernest Jones (103)
Fourth round: Robert Rochell (130)
Seventh round: Ben Skowronek (249)
Because the stars and the hits from previous classes, the Rams' 2021 rookie class hasn't needed to make an immediate impact, though that will need to be a key in how the future of the roster succeeds but there have already been contributors.
Ernest Jones worked his way into the starting lineup midway through the season before an injury knocked him out in Week 16. But he returned for the NFC Championship Game and immediately played 43% of the defensive snaps.
Robert Rochell also made his way into the starting lineup by midseason and was a significant piece of the secondary rotation, holding up well for a rookie corner, but an injury ended his season in Week 13.
When Robert Woods was injured, Ben Skowronek filled in while Odell Beckham was worked into the offense. Skowronek doesn't have a reception in the playoffs, but was on the field for 27% of the offensive snaps against the 49ers last week.

There is no guarantee this is a sustainable long-term plan for the Rams, but it's not as if things have been perfect along the way. Misses have been made in the process, but even as injuries hit the roster through 2021, there were capable depth pieces to fill in. The stars — Ramsey, Donald, Stafford, and Kupp — will also be around for a while. Contracts will start to become an issue with the 2018 class and the Beckham-Miller duo this offseason, but there are also ways to fit those under the cap.
The Rams don't hate draft picks. On the contrary, they've used them quite well. They're not even limiting the use either. Even though the Rams don't have a first- or second-round pick in 2022, they'll still have eight total picks.
Few teams have fully embraced and trusted their process more than the Rams have over the past few seasons and they built a team headed to the Super Bowl. This might seem like a Super Bowl-or-bust roster, but there are pieces in place that could continue to be built on in Los Angeles.