Preconceived notions or ready-made rules of thumb known as heuristics can lead to poor betting decisions. One such bias that can be seen in football is the overestimation of the significance of cold weather on point totals in the NFL.
The New England Patriots (10-6) play at the Buffalo Bills (10-6) on Saturday, January 15th at 8:15pm EST. This game is forecasted to be one of the coldest games played at Orchard Park, NY in the past 30 years.
The current forecast is clear of precipitation and wind is minimal, however, frigid temperatures below 5 degrees are expected.
Initial thoughts are that points will be difficult to score for both teams as the players battle the cold, however, this conclusion may not be accurate.
Is an Under bet for Saturday's game between the Bills and Patriots advisable based solely on the weather?
To look at the effect of the weather on scoring, we compiled a list of the games played at 20 degrees or lower. 
It's important to note that you don't want to take such studies too far into the past for a variety of reasons. You will likely hear many people quote data that includes games played in the 70s, 80s and 90s. The game of football was fundamentally different then. Scoring has increased dramatically and that's a function of three primary factors. Rules changes, more passing and more aggressiveness on 4th downs. 
Before the 2010 season, the NFL issued major rules changes to improve the safety of QBs in the pocket and receivers on routes.  Going back to the 90s and even early 2000s is less relevant now. As a result of those rules changes, pass rates for teams exploded since passing became significantly easier and more efficient. 
Finally, teams are more aggressive now. A 4th & 2 at midfield in 1990 meant a punt. A 4th & 2 at midfield in the playoffs in 2021 means a go-for-it situation. And whether the team converts or does not convert, it still will result in more points scored on average than a punt would have.
As a result, it's more of a priority to look at more recent games rather than looking historically at the coldest games.
This is why we captured the 40 most recent games played in extreme cold — any game with temperatures of 20 degrees or colder.
The over/under results in cold weather are surprising and indicate that bettors and sportsbooks are over adjusting totals based on cold weather alone.
Since 2009, 40 games have been played in weather colder than 20 degrees: 
Surprising most bettors, the Over has hit in 58% of the games.
The average line in these games is set at 42.4 points and games have finished with an average of 43.6 points scored, 1.2 points on average above the linemakers total.
Additionally, games that are even colder, at sub-15 degree temperatures, have gone over the total in 10 of 17 games (59% over).
This may be stunning to some, because you've heard the mainstream narrative: cold games go under.
They will tell you that players are frozen solid in these extreme cold temperatures and they cannot throw the ball, catch a pass or kick a field goal because the ball is too hard and they are too cold.
The ball may be hard and they may be cold, but the overs are still hitting.
A much bigger factor than just temperature is wind. Wind is more of a factor on totals than anything else. Currently in Buffalo on Saturday night, they are calling for 6 degree temperatures at kickoff, 0% precipitation and winds of 4 mph.
When we cross referenced wind speed in these cold weather games, it appears that wind is more likely to hamper scoring in these cold games:
Exactly half of the games have been played with winds more than 10 mph, with the over hitting at 55% or 11-of-20 games.
In these 20 games, the average line is set at 41.9, and games finish with exactly 1 point below the total, with 40.9 points scored.
As the wind increases in these cold-weather games, the scoring continues to decrease, as can be seen in games with more than 15 mph of wind the over hits in only 3-of-8 games.
In these eight games, the average line is set at 39.25 with games finishing with an average of 31.75 points, an average of 7.5 points below the total.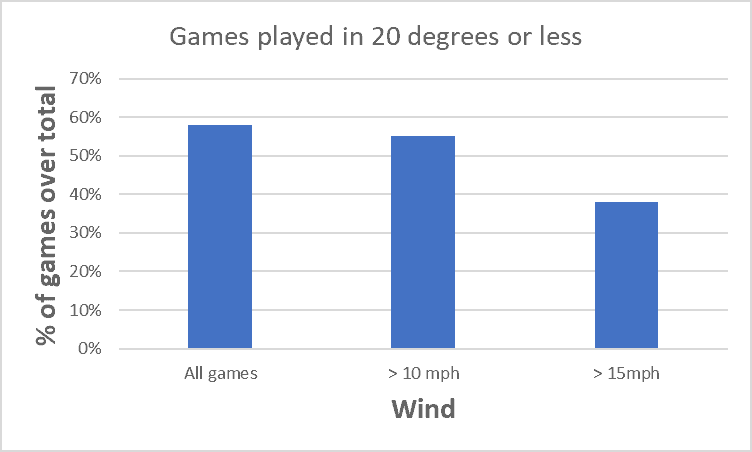 When it comes to betting on NFL games, don't make the common error of jumping to an incorrect conclusion. This Saturday's Patriots vs Bills game is going to be cold, but as of now the forecast has minimal wind and an overreaction to the weather could occur with this total.
Best of luck this weekend and enjoy the game from your warm couch and if you think both offenses could exploit weaknesses on the other side of the ball, don't be afraid to fire an over bet just because of the weather.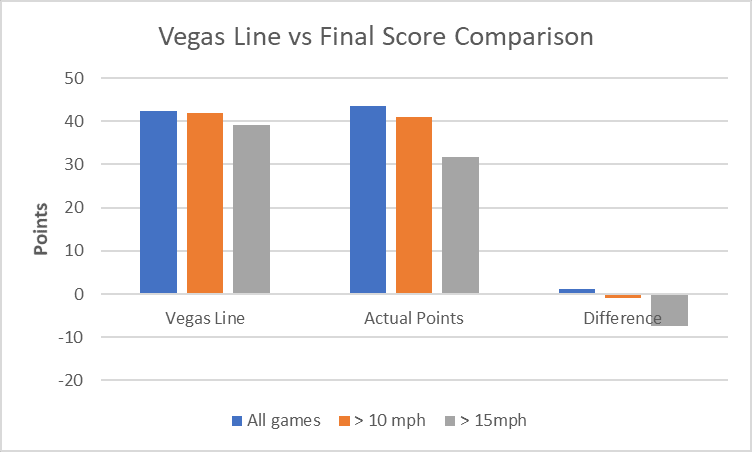 Last 40 games played (since 2009) in Temperatures of 20 Degrees or Colder
| Date | Home | Visitor | Week | Result | O/U | Points Scored | OU Result | Temp | Wind (MPH) |
| --- | --- | --- | --- | --- | --- | --- | --- | --- | --- |
| 1/10/16 | MIN | SEA | 18 | L 9-10 | 40 | 19 | under | -6 | 12 |
| 12/18/16 | KAN | TEN | 15 | L 17-19 | 43 | 36 | under | 1 | 5 |
| 1/5/14 | GNB | SFO | 18 | L 20-23 | 46.5 | 43 | under | 5 | 10 |
| 12/9/13 | CHI | DAL | 14 | W 45-28 | 49 | 73 | over | 8 | 14 |
| 12/8/13 | GNB | ATL | 14 | W 22-21 | 47 | 43 | under | 9 | 6 |
| 12/23/17 | GNB | MIN | 16 | L 0-16 | 41 | 16 | under | 10 | 6 |
| 1/2/22 | GNB | MIN | 17 | W 37-10 | 42.5 | 47 | over | 11 | 9 |
| 12/15/19 | GNB | CHI | 15 | W 21-13 | 40 | 34 | under | 11 | 7 |
| 12/31/17 | PIT | CLE | 17 | W 28-24 | 38.5 | 52 | over | 11 | 3 |
| 12/18/16 | CHI | GNB | 15 | L 27-30 | 40 | 57 | over | 11 | 12 |
| 11/30/14 | MIN | CAR | 13 | W 31-13 | 41.5 | 44 | over | 12 | 17 |
| 1/3/10 | BUF | IND | 17 | W 30-7 | 32 | 37 | over | 12 | 12 |
| 12/31/17 | NWE | NYJ | 17 | W 26-6 | 43.5 | 32 | under | 13 | 14 |
| 12/27/15 | MIN | NYG | 16 | W 49-17 | 44.5 | 66 | over | 13 | 8 |
| 1/12/13 | DEN | BAL | 19 | L 35-38 | 44.5 | 73 | over | 13 | 8 |
| 10/25/20 | DEN | KAN | 7 | L 16-43 | 46 | 59 | over | 14 | 11 |
| 1/8/17 | GNB | NYG | 18 | W 38-13 | 46.5 | 51 | over | 14 | 7 |
| 12/28/14 | MIN | CHI | 17 | W 13-9 | 46.5 | 22 | under | 15 | 0 |
| 12/10/09 | CLE | PIT | 14 | W 13-6 | 34.5 | 19 | under | 15 | 25 |
| 12/31/17 | NYG | WAS | 17 | W 18-10 | 41 | 28 | under | 16 | 16 |
| 12/28/15 | DEN | CIN | 16 | W 20-17 | 39.5 | 37 | under | 16 | 6 |
| 1/3/10 | CLE | JAX | 17 | W 23-17 | 35 | 40 | over | 16 | 20 |
| 12/31/17 | DEN | KAN | 17 | L 24-27 | 37.5 | 51 | over | 17 | 4 |
| 1/8/17 | PIT | MIA | 18 | W 30-12 | 47.5 | 42 | under | 17 | 16 |
| 1/23/11 | PIT | NYJ | 20 | W 24-19 | 38 | 43 | over | 17 | 10 |
| 1/14/18 | PIT | JAX | 19 | L 42-45 | 40.5 | 87 | over | 18 | 2 |
| 12/18/16 | DEN | NWE | 15 | L 3-16 | 43 | 19 | under | 18 | 9 |
| 12/8/13 | DEN | TEN | 14 | W 51-28 | 49.5 | 79 | over | 18 | 5 |
| 12/27/09 | GNB | SEA | 16 | W 48-10 | 43.5 | 58 | over | 18 | 5 |
| 1/20/19 | KAN | NWE | 20 | L 31-37 | 56 | 68 | over | 19 | 14 |
| 12/31/17 | PHI | DAL | 17 | L 0-6 | 41 | 6 | under | 19 | 17 |
| 12/31/17 | BAL | CIN | 17 | L 27-31 | 40 | 58 | over | 19 | 12 |
| 11/24/13 | GNB | MIN | 12 | T 26-26 | 44.5 | 52 | over | 19 | 10 |
| 1/2/11 | GNB | CHI | 17 | W 10-3 | 43.5 | 13 | under | 19 | 14 |
| 12/26/10 | KAN | TEN | 16 | W 34-14 | 42.5 | 48 | over | 19 | 7 |
| 1/10/15 | NWE | BAL | 19 | W 35-31 | 47.5 | 66 | over | 20 | 12 |
| 11/24/13 | CLE | PIT | 12 | L 11-27 | 40 | 38 | under | 20 | 31 |
| 1/23/11 | CHI | GNB | 20 | L 14-21 | 42.5 | 35 | under | 20 | 14 |
| 1/10/10 | NWE | BAL | 18 | L 14-33 | 44 | 47 | over | 20 | 12 |
| 1/3/10 | NYJ | CIN | 17 | W 37-0 | 33.5 | 37 | over | 20 | 17 |