Every NFL offseason, Warren Sharp releases his Football Preview Book, which uses expert analysis to break down all 32 teams through in-depth team chapters that are both data driven and actionable.
One of the most popular sections from each team chapter is the Sharp Football team's write-up on why to bet the Over or Under for a given team.
Packers Win Total Over/Under Odds:
How many games will the Packers win this season?
The Packer sare predicted to win 11.5 games in 2022, based on Vegas Odds.
Why You Should Bet the Over: Packers Win Total in 2022
#1 Reason to bet the Over:
The Packers led the league in EPA/DB in consecutive years, while Aaron Rodgers has led all quarterbacks in EPA + CPOE in both years.
Intuitively the loss of Davante Adams would give cause for concern, however, Rodgers has not had a drop-off in play with Adams off the field as his EPA/DB has been 0.25 with Adams off the field vs 0.23 with Adams on the field in the past two seasons with the Packers going 3-0 in games without Adams.
#2 Reason to bet Over:
Head coach Matt LaFleur has won 13 games in each of his first three seasons and finished first in 2020 and third in 2021 in fourth down aggressiveness. The Packers are likely to have a coaching advantage early in the season as four of the first five opponents have rookie head coaches. 
#3 Reason to bet Over:
Last year the Packers finished last in the league with -57.66 EPA on special teams, allowing a negative differential of 7.96 yards/KR and 4.8 yards/PR.
The hiring of experienced special-teams coordinator Rich Bisaccia positive regression should be expected in kick return stats in 2022. The Packers also finished last in field goals made over expectation and are due for positive regression.
» Bet the Packers Win Total Over 
Why You Should Bet the Under: Packers Win Total in 2022
#1 Reason to bet the Under:
Green Bay is last in net rest edge in 2022 with 12 fewer rest days than opponents, playing five games in which their opponent has more days of rest vs. two games in which the opponent has less rest. The Packers play the Buffalo Bills and Dallas Cowboys coming off a bye and play opponents with an extra day of rest in Weeks 16 and 17.  

#2 Reason to bet the Under:
The Packers' salary cap allocated to the quarterback and dead cap combined is up 8.3% from 2021. The salary cap squeeze played a role in the Adams trade.
The roster is no doubt worse without Adams and adjusting the offense for a couple of games vs an entire season will be more difficult for an offense that relied on moving the ball methodically and efficiently. 
#3 Reason to bet the Under:
In 2021, the Packers were the largest Pythagorean overperformers. The Packers finished with 13 wins and overachieved by 3.2 wins and finished 5-1 in games decided by a field goal or less. Aided by the third-best turnover margin, the Packers could see regression in close games in 2022.
» Bet the Packers Win Total Under
Green Bay Packers Strength of Schedule:
The Packers are ranked #15 out of all 32 teams for NFL Strength of Schedule, giving them a close to average schedule for the 2022 NFL season.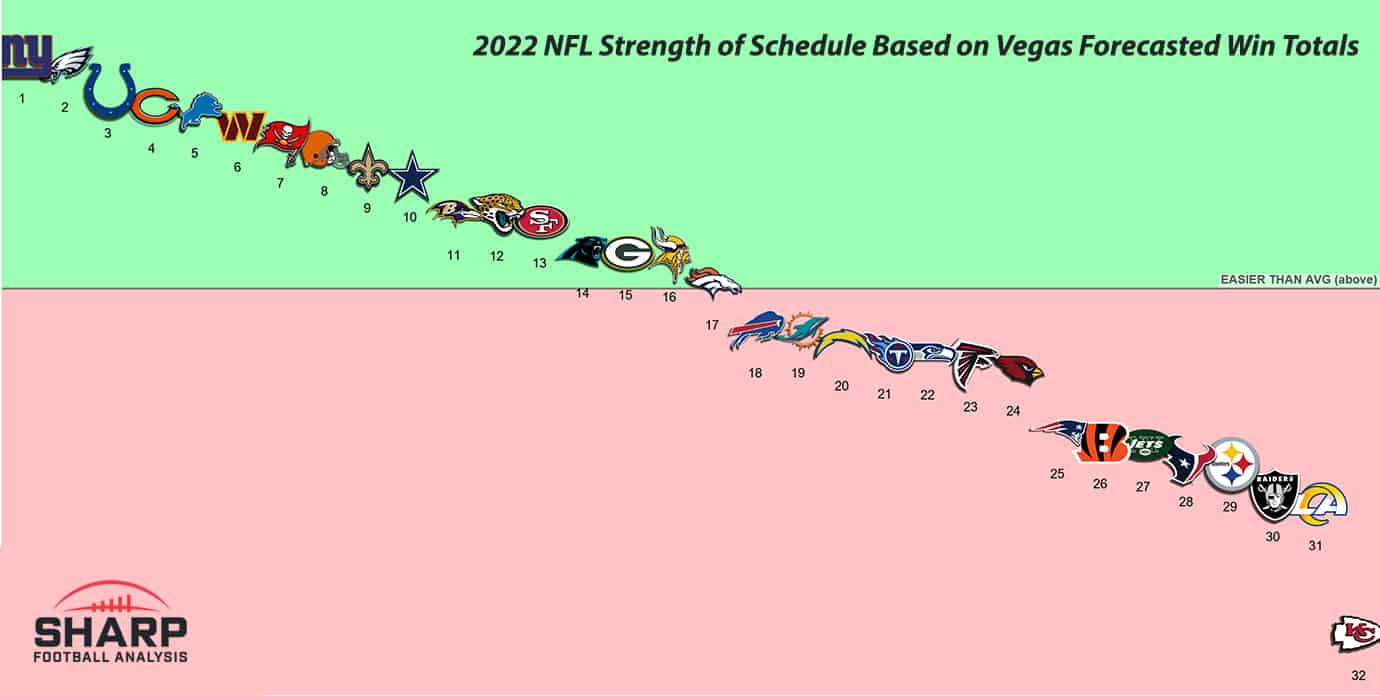 For full team chapters, including a dozen more visuals & info-graphics, defensive breakdown, and detailed Fantasy football implications pick up a copy of Warren Sharp's new '2022 Football Preview' book
All betting lines provided by BetMGM Sportsbook.