Every NFL offseason, Warren Sharp releases his Football Preview Book, which uses expert analysis to break down all 32 teams through in-depth team chapters that are both data driven and actionable.
One of the most popular sections from each team chapter is the Sharp Football team's write-up on why to bet the Over or Under for a given team.
Steelers Win Total Over/Under Odds:
How many games will the Steelers win this season?
The Steelers are predicted to win 7.5 games in 2022, based on Vegas Odds.
Why You Should Bet the Over: Steelers Win Total in 2022
#1 Reason to bet the Over:
Whether Mitch Trubisky or Kenny Pickett starts at quarterback for the offense neither will be a downgrade from last year. Roethlisberger clearly lacked the ability to move the ball downfield and the offense was very predictable with short passes.
The Steelers' passing attack was seventh-lowest in EPA/DB and sixth-worst in overall success rate including third worst on first downs and when targeting wide receivers.  With solid depth at receiver, this passing offense is likely to take a step forward in 2022.
#2 Reason to bet Over:
Mike Tomlin continues to get the most out of his team year after year. Despite the quarterback inabilities the Steelers made the playoffs and continued Tomlin's streak of 15 consecutive seasons without a losing record.
The Steelers also added Brian Flores to the defensive coaching staff. Tomlin appears to be a coach that players respect and play hard for and that should continue in 2022.
#3 Reason to bet Over:
The offensive line is the clear weakness of the team and quarterback Ben Roethlisberger did himself no favors in lining up in shotgun and rarely using pre-snap motion or play-action. The offense will benefit from a significant increase in pre-snap motion and play-action passes as well as a quarterback with increased mobility. 
» Bet the Steelers Win Total Over 
Why You Should Bet the Under: Steelers Win Total in 2022
#1 Reason to bet the Under:
The Steelers were benefactors of a great record in close games in 2022 which will be difficult to repeat. In games decided by a field goal or less the Steelers were 4-0-1 and 8-2-1 in one-score games.
Regression can be expected in both defensive third down efficiency and field goal luck. Chris Boswell ranked fifth, making 3.3 field goals over expectation and the defense finished seventh-best in third down over expectation.
#2 Reason to bet the Under:
The Steelers, for the second consecutive year, play the fourth-most difficult schedule. Adding to the difficulty in 2022 is an extra road game for the AFC team, which has two short week road games. All three division opponents are projected to win nine or more games.
#3 Reason to bet the Under:
The offensive line, which was a problem last year, is likely to be a problem this year as well. The offensive line finished 31st in Pass Block Win Rate, 30th in Run Block Win Rate, and 28th in adjusted line yards.
Despite the clear struggles on the offensive line only minor upgrades were made in free agency. Regardless of who plays at quarterback quick decision-making will be required.
» Bet the Steelers Win Total Under 
Pittsburgh Steelers Strength of Schedule:
The Steelers are ranked #29 out of all 32 teams for NFL Strength of Schedule, giving them the fourth hardest schedule for the 2022 NFL season.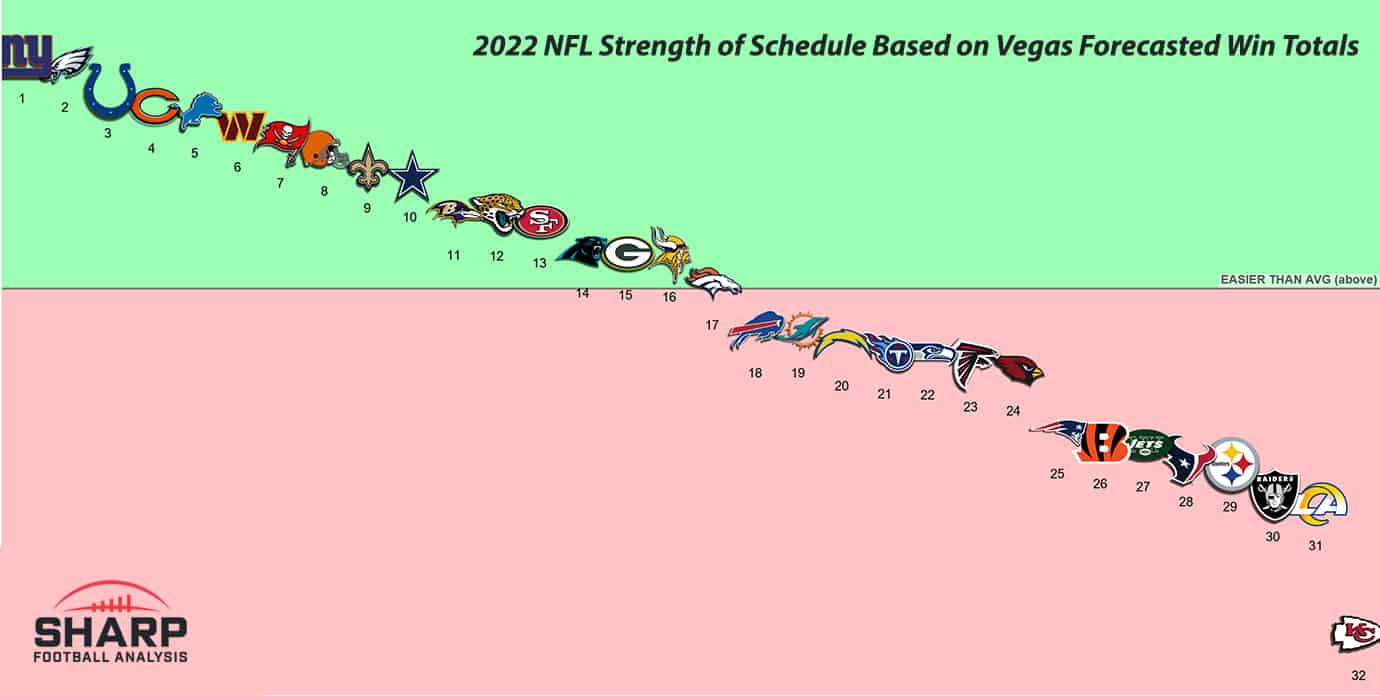 For full team chapters, including a dozen more visuals & info-graphics, defensive breakdown, and detailed Fantasy football implications pick up a copy of Warren Sharp's new '2022 Football Preview' book
All betting lines provided by BetMGM Sportsbook.