Every NFL offseason, Warren Sharp releases his Football Preview Book, which uses expert analysis to break down all 32 teams through in-depth team chapters that are both data driven and actionable.
One of the most popular sections from each team chapter is the Sharp Football team's write-up on why to bet the Over or Under for a given team.
Titans Win Total Over/Under Odds:
How many games will the Titans win this season?
The Titans are predicted to win 9.5 games in 2022, based on Vegas Odds.
Why You Should Bet the Over: Titans Win Total in 2022
#1 Reason to bet the Over:
Although the Titans finished with the fifth-least adjusted games lost on offense, the offense was impacted by the loss of Derek Henry, A.J. Brown, and Julio Jones.
The latter two are no longer on the Titans but the defenses adjusting to stop Derek Henry has the biggest impact on this offense.
Ryan Tannehill averaged 0.18 EPA/DB with Henry on the field vs. -0.04 EPA/DB without him.
Defenses accounting for Derek Henry is overwhelmingly important for the passing offense.
#2 Reason to bet Over:
Head coach Mike Vrabel finds ways to win games.
In his four years as a head coach, Vrabel has won at least nine games every year and has a regular season record of 41-24.
Last year, the Titans finished with 12 wins despite a negative turnover differential.
The Titans are also due for better fumble luck as the defense forced 20 fumbles recovering five, 3.3 recoveries less than expected.
#3 Reason to bet Over:
The Titans are 8-0 in games with more than seven days rest under head coach Mike Vrabel.
From Week 7 onward, the Titans have three games with over a week to prepare including two divisional games.
» Bet the Titans Win Total Over 
Why You Should Bet the Under: Titans Win Total in 2022
#1 Reason to bet the Under:
Ryan Tannehill carries the largest cap hit in the league with an increase of $27.5 million from last year.
Even after leading the AFC in wins, the front office hasn't given a vote of confidence to the current roster as elite wide receiver A.J. Brown was traded and Tannehill's contract has not been restructured as management is not sacrificing future cap room for immediate spending.
#2 Reason to bet the Under:
A 6-1 record in games decided by less than three points will be difficult to sustain.
The Titans' offense was ninth-best in red zone efficiency, scoring with a 62.5% touchdown rate.
The defense was fourth allowing a 51.7% touchdown rate. The +10.8% red zone differential is likely to regress in 2022.
#3 Reason to bet the Under:
Derek Henry is entering the season as a 28-year-old coming off a Jones fracture.
With over 1,500 carries under his belt, Henry has shown signs of slowing down as his explosive play rate has decreased every year, dropping to 8% in 2021.
Henry provides value to the offense, but the Titans continue to run the ball on first down at the league's highest rate and decreased the use of play-action minimizing the edge provided to the passing game.
» Bet the Titans Win Total Under 
Tennessee Titans Strength of Schedule:
The Titans are ranked #21 out of all 32 teams for NFL Strength of Schedule, giving them the 12th most difficult schedule for the 2022 NFL season.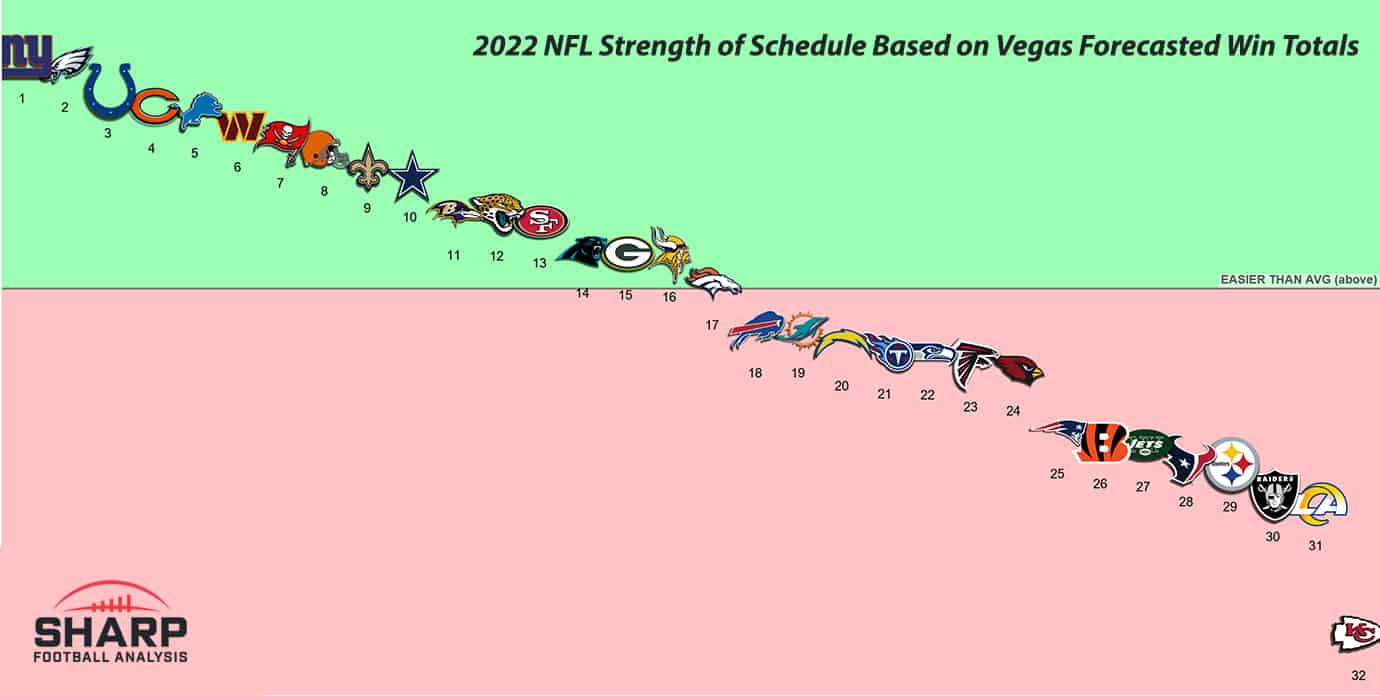 For full team chapters, including a dozen more visuals & info-graphics, defensive breakdown, and detailed Fantasy football implications pick up a copy of Warren Sharp's new '2022 Football Preview' book
All betting lines provided by BetMGM Sportsbook.