Warren Sharp's new book, 2022 Football Preview, is now available for purchase.
At over 500 pages, this book is filled with all of the things this franchise has delivered last 7 NFL seasons.
It's jam-packed with insights and analysis into players, coaches, teams and philosophies with one goal in mind: to get you prepared for the 2022 NFL season by delivering the smartest information in the fastest, most direct way possible for optimal reviewing and retention.
dedicated chapters for all 32 NFL teams,

fantasy football player predictions, profiles and rankings,

Vegas odds with forecasted wins and lines for all 2022 games,

reason to bet over/under win totals & analysis of futures betting market,

rankings of every positional unit on every team,

deep dive into the impact of every team's rookie draft class,

plus strategic advice for coaches,

play-call analysis and team tendencies.

advanced stats and visuals like EPA, completion percentage over expectation and 2500+ offensive & defensive heat maps
» You can pre-order the book today, with a limited 15% Early-bird discount.
Want to read a free team chapter before you buy?
In preparation for the official book release, we're also offering a 16-page FREE preview chapter featuring the Baltimore Ravens, so you can see firsthand what the book offers.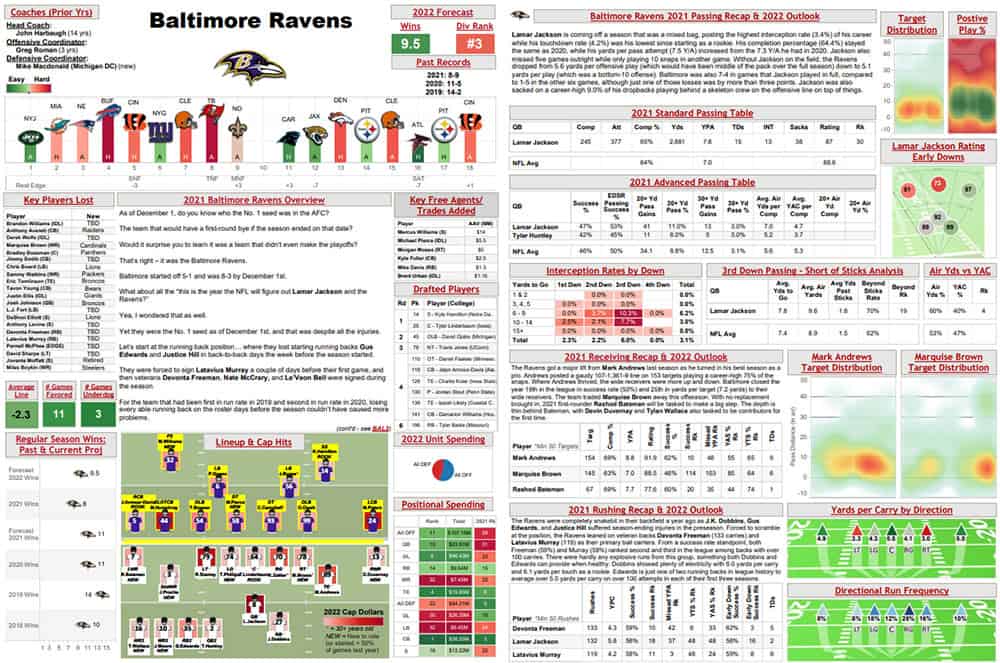 What are you waiting for?
Find out why pro bettors, linemakers and pro-DFS players view this NFL season preview as indispensable. It's a must have if you want to bet on the 2022 Pro Football season.
» Download the free chapter today
» Buy & Read the book today!