Tom Brady officially* retired at age 45 after his 23rd season in the NFL. There is going to be plenty written about Brady's career and how incredible it was. Some of those pieces were even written last year when Brady first announced his retirement before he came back for one more season with the Buccaneers. Even while Brady's production was down in 2022, he still kept a streak of never finishing a full season with negative EPA. Here are Brady's EPA per play figures through his career, including the postseason and excluding his 2008 season with only 11 pass attempts, according to TruMedia.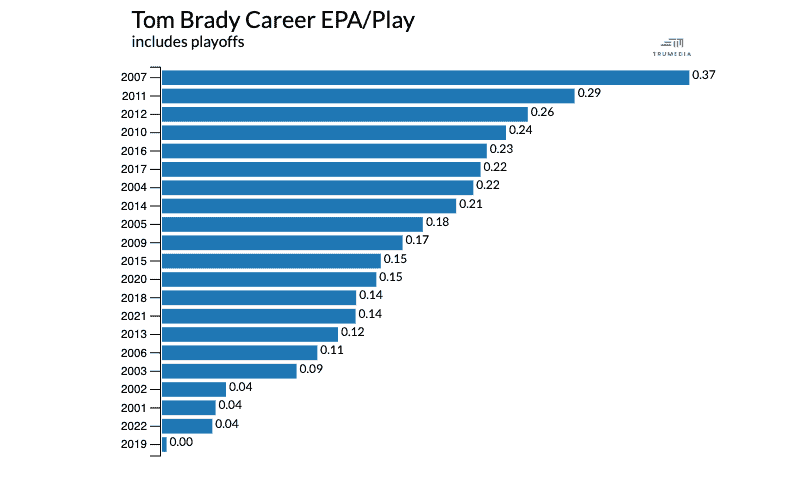 But instead of focusing on Brady's past, let's shift to what a Brady-less future means and the immediate impact his retirement could have on a number of quarterback-needy teams.
Tampa Bay Buccaneers
Once Brady announced his unretirement last offseason, the Buccaneers made a push to keep the band together for at least one more run. That included bringing back a few free agents who were expected to leave or at least test the market last offseason. Chris Godwin wasn't going anywhere with the franchise tag that eventually led to an extension but cornerback Carlton Davis and center Ryan Jensen were brought back once Brady returned.
As it stands at this moment, the Buccaneers are $55 million over the 2023 salary cap, according to Over The Cap. That figure is not quite as bad as it seems. Brady currently counts for a $35 million cap hit because of the acceleration of his signing bonus from four void years at the end of his contract. But as Jason Fitzgerald points out, Brady will likely sign a reworked contract that can free up over $23 million for 2023, though it would still leave $24 million as a dead cap hit in 2024. Drew Brees did something similar with the New Orleans Saints when he retired. Brees counted for just over $11 million on the Saints' salary cap in each of the past two seasons.
The Buccaneers are exactly in cap hell but it does leave them with a veteran roster that might not be in a place to completely tank or rebuild. By snap-weighted age compiled by Bill Barnwell, Tampa Bay had the second-oldest roster in the league during the 2022 season. Some of having the oldest offense certainly stems from having a 46-year-old quarterback, but the Buccaneers also had the ninth-oldest defense in the league.
Some of the recent veteran contracts given out by Tampa Bay to take advantage of that final Brady window included multiple void years to lower the immediate cap hits for the 2022 season. Because of that, the Buccaneers would not gain any cap room from traditional pre-June 1 releases of players such as Julio Jones and Akiem Hicks.
Tampa Bay also restructured deals for the likes of Shaq Barrett, Vita Vea, and Mike Evans, among others to push money into future years. Trading or releasing Evans would only open up $2.3 million for 2023. The Bucs would lose just over $1 million in cap space by trading or releasing Barrett, who will turn 31 years old in 2023 and played just eight games in 2022.
Godwin could be the tipping point for where the Buccaneers envision themselves as a team in the future. He could be the most promising trade chip and Tampa Bay would open up $8.75 million in cap space with a trade but a majority of his remaining money comes from a $20 million salary in 2023 and $18.5 million in 2024. Both of those figures could easily be restructured to a signing bonus and pushed out through the two void years already on Godwin's deal in 2025 and 2026. 
The Buccaneers are close to Saints territory where money can be pushed around but it also starts to come with the opportunity cost for players who can't be brought in because of the financial situation. Pending free agent Jamel Dean is the biggest example. Dean has been Tampa Bay's best cornerback but after the deal given out to Carlton Davis last offseason, it's unlikely Dean would be brought back on a contract close to what he could get on the open market.
At this point, we haven't even gotten to what the Buccaneers might do at quarterback. The only quarterback on the roster right now is 2021 second-round pick Kyle Trask. Backup Blaine Gabbert is a pending free agent.
The Buccaneers also have the 19th overall pick in the draft, which could put them in range to move up for a quarterback should they choose. A Gabbert/rookie tandem could make sense for the first stage of a rebuild but as the Buccaneers proved in 2022, the NFC South is a winnable division.
With a veteran roster and quarterback questions for every other team in the division, the Buccaneers could be tempted to pursue a more consistent veteran option. Derek Carr could be in play by trade or if he hits the open market. 
We also don't yet know who the offensive coordinator for the Buccaneers will be. That hire could also influence the direction Tampa Bay goes at quarterback.
Las Vegas Raiders
Brady was rumored as a potential Raiders quarterback to reunite with former offensive coordinator and current Las Vegas head coach Josh McDaniels. A divorce from Derek Carr feels imminent and that decision should be the next quarterback domino to fall.
Carr's $32.5 million base salary for 2023 and $7.5 million of his 2024 base salary will be guaranteed on February 15, three days after the Super Bowl. Should the Raiders release him before that date, they would open up $29.25 million in cap space for the 2023 season.
But with a release, the Raiders would get nothing in return. While Carr can be frustrating at times for a quarterback, he still finished the year 15th in EPA per play, according to TruMedia, and 32-year-old above-average quarterbacks just don't hit free agency all that often. Should Carr be a free agent, there would be multiple teams interested.
That could push the Raiders to attempt to find a trade partner, but Carr has a no-trade clause and has not yet been given permission to talk to other teams to seek a trade. We've seen trades happen around this time before — the Matthew Stafford trade to the Rams was agreed upon the week before the Super Bowl — but with teams still looking for head coaches and offensive coordinators, the landscape of the league is still unsettled.
Carr won't be in a rush to get anything done and he'd have more freedom and options as a free agent. The Raiders would likely want to know if they could have a trade in place before Carr's salary guarantees. In a trade, the full salary would transfer to the acquiring team but if the Raiders hold Carr through the February 15 deadline and then can't find a trade partner suitable for Carr, they would be on the hook for $40.4 million in guaranteed salary over the next two seasons and at that point, it would cost the Raiders more to cut him than keep him for 2023 prior to June 1. That would be quite a risk for the Raiders.
This is a situation the Raiders would be in with or without Brady but now there is one fewer outside option.
Las Vegas has the seventh overall pick, which puts them in range for one of the rookies in this upcoming quarterback class. But the Raiders also had an older offense in 2022 — 10th by snap-weighted age — and the unit was ninth during the regular season in EPA per play.
Jimmy Garoppolo could be in play here with a brief history under McDaniels during his time in New England. However, the Raiders offense and the Garoppolo offense did not have much overlap in 2022. Las Vegas was 25th in play-action rate and nearly half of Davante Adams's production came outside the numbers, while Garoppolo has done most of his damage in the middle of the field.
Of course, there would be adjustments and this pairing wouldn't happen if there were too many philosophical differences, but the fit might not be as obvious as connecting dots of a former player-coach relationship.
Another former Patriot, Jacoby Brissett, could be another bridge option. While filling in for the first half of the season with the Cleveland Browns, Brissett ranked 10th among quarterbacks in EPA per play with the eighth-highest average depth of target. That could fit better with some of the vertical elements McDaniels added to the Las Vegas offense in 2022.
San Francisco 49ers
Brady's hometown team, the San Francisco 49ers, was also a popular projected landing spot. With Garoppolo's contract expiring, two young injured quarterbacks, and the way the 2022 season ended for San Francisco, Brady's presence could have been a welcome addition.
Now the 49ers are likely to go into camp with Trey Lance and Brock Purdy, a situation Kyle Shanahan told reporters he would be comfortable with. Lance recently said he would be 100% for offseason activities, but Purdy's timeline for a torn UCL is still up in the air.
San Francisco traded up for Lance in the 2021 draft and he entered the 2022 season as the starter before a dislocated ankle ended his season in Week 2. A second surgery was needed, but Lance's timeline appears to be clear for offseason activity.
Lance's lone full start was a Week 1 game in a downpour against the Chicago Bears. He only completed 46.4% of his passes and averaged -0.11 EPA per play with most of his value coming on the ground. Lance had nine designed rushes for 39 yards and another four scrambles for 15 yards. He also had some throws that flashed his potential down the field.
The first start was rough, but also was in less than ideal conditions. It's unclear if Lance would improve throughout the season but the surrounding cast certainly did. We haven't seen Lance in the Christian McCaffrey offense and that could still be hell for opposing defenses. We saw how much stress the 49ers' 21 personnel put on defenses and Lance would add an 11-on-11 element with the quarterback having to be accounted for in the run game.
It makes sense, not just for the resources already put into acquiring Lance, but the full idea of the Lance offense never had the opportunity to materialize. Lance still offers the highest upside for this offense.
Should Lance still struggle as a passer, we've already seen Purdy with the ability to take advantage of openings created by the scheme and skill talent on offense.