In addition to all our detailed fantasy football breakdowns here at Sharp Football Analysis, you can also do your own research using our NFL Stats and Visualized Data tools. 
To help you out, each week we'll use these tools to highlight a few potential DFS stacks and value plays you may want to target for the upcoming slate of games.
All references to DFS salaries and scoring will refer to DraftKings. All betting spreads and totals are from BetMGM.
DFS TARGET: LAS VEGAS RAIDERS RUNNING BACK JOSH JACOBS
In my player props recommendations, I discussed in detail how the Cincinnati Bengals defensive scheme forced Derek Carr into a more conservative passing attack in their previous matchup. That approach led to seven targets for Josh Jacobs ($6,500), and a similar workload in the passing game should be expected this week. 
The Raiders weren't the only team to increase their usage of running backs in the passing game against Cincinnati, as the Bengals defense tends to let teams dink and dunk their way down the field, while taking away the deep ball. 
Opponents targeted running backs on 24% of pass attempts against Cincinnati this season.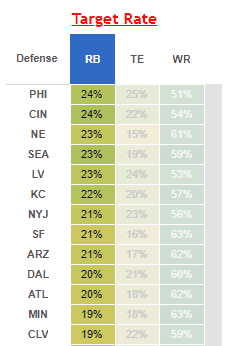 Jacobs only posted 11.1 fantasy points against Cincinnati in Week 11, but it's worth gambling on his upside with an expected heavy usage rate in the passing game. 
Before rostering Jacobs, however, be sure to monitor his injury status, as he's been limited in practices due to a rib injury. 
DFS TARGET: PITTSBURGH STEELERS RUNNING BACK NAJEE HARRIS
The Pittsburgh Steelers are 12.5-point underdogs against the Kansas City Chiefs, but that shouldn't deter us from rostering Najee Harris ($6,600), who has enough production in the passing game to be valuable regardless of the game script. 
When these teams met in Week 16, Harris posted a respectable 16.0 fantasy points despite being kept out of the end zone. 
In the passing game, Harris should see his usual usage (he averages 5.5 targets per game) and should have success against a Chiefs defense that ranked 27th in success rate allowed on targets to running backs.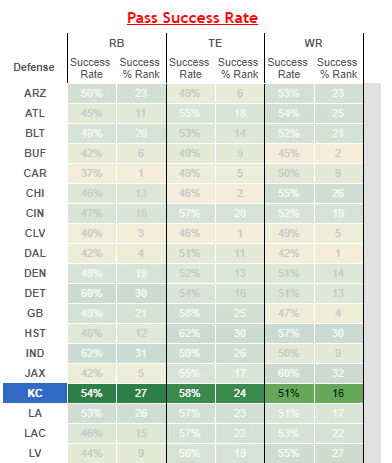 In their last matchup, Harris also averaged 4.9 yards per carry on the ground, and he should be able to find room to run against the Chiefs defense. 
Pittsburgh's run formations tend create light boxes for Harris 一 47% of his carries occurred with six or fewer men in the box, according to TruMedia/PFF. 
That trend bodes well for his success on the ground, as Kansas City allows 6.5 yards per carry with six or fewer men in the box, the second worst rate in the league. 
DFS TARGET: TAMPA BAY BUCCANEERS TIGHT END ROB GRONKOWSKI
Rob Gronkowski ($6,400) carries the second highest salary at his position on the slate, but he's still worth rostering given his expected usage against the Philadelphia Eagles. 
Gronk has been an explosive weapon in Tampa Bay Buccaneers passing attack this year, and his usage has only grown in the absence of Chris Godwin. Only his counterpart on the other side, Dallas Goedert, has produced a higher explosive play rate among tight ends this season.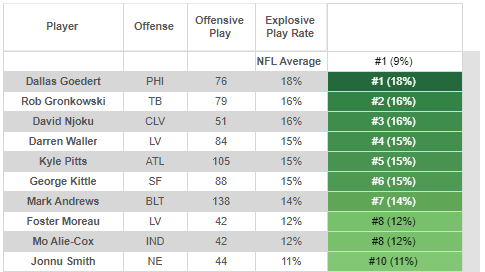 Tampa has played two games since Godwin went on the IR. And in his absence, Gronk has helped replace Godwin in the downfield passing game, with a team-high six targets at 15 or more yards downfield. 
The Eagles defense struggles to contain the downfield passing game, allowing a 51.5% completion rate on throws 15 or more yards downfield (ranked 30th), according to TruMedia. Philly also allows a 61.9% completion rate to tight ends at that distance.
Gronk has topped 20 fantasy points in each of the last two games without Godwin, and that's an attainable number again versus Philly.