Now that free agency, the NFL Draft, and the schedule release have all passed, we have our initial layout in place in team depth charts and strength of schedule. With that, we want to take a look at some players across the fantasy landscape that are either polarizing, over or undervalued, or just interesting topics of discussion and walk through some of the pros and cons of where those players are regarded in fantasy circles. Yesterday, we started off with Kenyan Drake. Today, we are taking a look at Austin Ekeler.  
Week 1 Age: 25.3
Contract: Signed through 2023 (potential out year after 2021)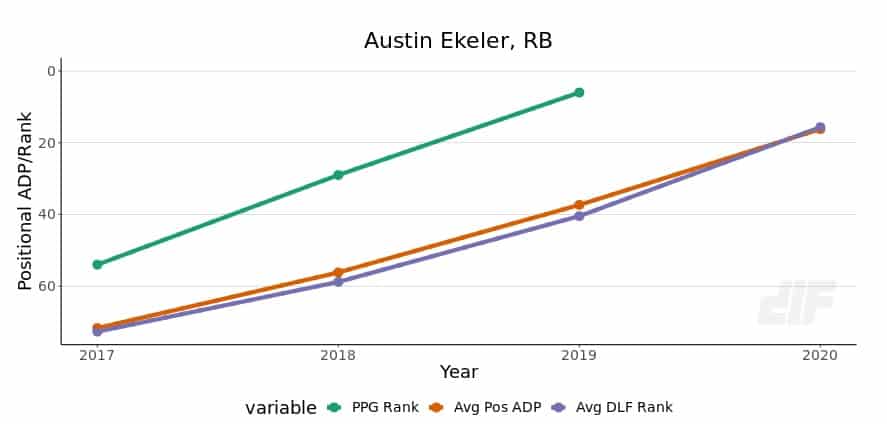 Using the Dynasty ADP tool available at Dynasty League Football, Ekeler has done nothing but climb in terms of draft cost. For good reason, as he has done nothing but massively outproduce his draft value for all three seasons of his career while now having a new contract and potentially even more opportunity with Melvin Gordon leaving the Chargers via free agency this offseason to join the Denver Broncos.
As an undrafted free agent out of Western State in 2017, Ekeler has been the RB24 in PPR points per game since entering the league on the strength of his receiving acumen. Since entering the league, Ekeler's 158 receptions rank sixth among all running backs while his 1,676 receiving yards have only been bested by Christian McCaffrey (2,523), Alvin Kamara (2,068), and James White (1,825) over that span.
A hyper-efficient target, Ekeler has averaged over 10.0 yards per catch in each of his first three NFL seasons. He is the first running back to do that on over 20 receptions per year since Kelvin Bryant over the 1986-1988 seasons. 
Ekeler has contributed and outproduced his cost all while sharing a backfield and largely playing as a complementary player, but his opportunities have done nothing but rise. Ekeler's touches have gone up from 74 to 145 to 224 over his three seasons in the league. Now with Gordon out of the picture, his splits with Gordon out of the lineup the past two seasons have added scintillation.
| Ekeler Splits | W/o Gordon | W/Gordon |
| --- | --- | --- |
| Games | 7 | 23 |
| Snaps/Gm | 46.3 | 27.5 |
| RuAtt/Gm | 13.7 | 6.2 |
| Tm Att% | 60.0% | 25.1% |
| Tgt/Gm | 6.4 | 5 |
| Tm Tgt% | 18.9% | 14.6% |
| Tm Tch% | 40.4% | 21.7% |
| YPC | 3.6 | 5.4 |
| Yd/Rec | 9.6 | 10.9 |
| PPR PPG | 20.8 | 14.4 |
We only have a seven-game sample here, but you can see the spike in volume for Ekeler with Gordon out of the lineup has been immense. Even with efficiency dips, opportunity is paramount as Ekeler's snaps per game and share of the team touches nearly double up. In those seven games, he averaged 20.8 PPR points per game and has been a top-12 scorer four times with just one week outside of the top-24 scorers at his position. 
All of that points to a high floor and a high ceiling as the feature back, but we do have some moving parts here upcoming for 2020 to account for.
The first, is just where does Ekeler's expected efficiency loss meet his expected volume increase?
Even for a consistently hyper-efficient player through three years, last year's 2019 campaign for Ekeler was bonkers. He averaged 9.2 yards per target after 7.7 through his first two seasons. He caught 85.2% of his targets after 75.0% through two seasons and had eight receiving touchdowns, the most by a running back in a season since Marshall Faulk in 2001.
After the catch, no player in the NFL last season had more yards created after the catch over expectation than Ekeler did per Hayden Winks of Rotoworld. All of this led to Ekeler scoring the second-most PPR receiving points ever in a season for a running back while actually scoring the most 0.5 PPR points through receiving for back in a single season.
The second is how much of a volume increase can we anticipate?
Ekeler's splits without Gordon have been sensational in terms of overall usage, but the Chargers were also limited with overall depth those weeks. The secondary backs Ekeler (5'10", 200 pounds) shared snaps with over that sample were Justin Jackson (6'0", 199 pounds) and Troymaine Pope (5'9", 205 pounds), two other backs who are in the same bucket as undersized options. Just two running backs over the past five seasons (McCaffrey in 2019 and Devonta Freeman in 2015) have weighed fewer than 210 pounds and finished the season top-10 in the league in running back touches. 
Going out and drafting Joshua Kelley (5'11, 212) adds a little more size to the backfield to take on more of the potential between the tackles runs and… potentially the money touches. For his career, Ekeler has converted 4-of-13 carries inside of the 5-yard line for touchdowns. Still, even in adding a bigger body, it is better for Ekeler that it was done via drafting an inexperienced player over a veteran. We do not know if Kelley is good enough to truly threaten Ekeler, but he is an added variable to consider.
The Chargers are also going through a transition phase in which they have moved on from long-running quarterback Philip Rivers for the combination of Tyrod Taylor potentially starting the season prior to handing the reins over to Justin Herbert, who the Chargers selected with the sixth overall pick in this year's draft.
Rivers has been a long-time fantasy-friendly quarterback in terms of peppering his running backs with opportunities in the passing game. Of active quarterbacks with at least 1,000 career pass attempts, Rivers has targeted his running backs 26.0% of the time, trailing only Drew Brees (27.4%) and Mitchell Trubisky (26.7%) of those passers.
Taylor targeted his running backs on 19.2%, 19.9%, 27.8%, and 15.9% of his targets over the 2015-2018 seasons. His spike year in targets came in 2017. LeSean McCoy led Buffalo in targets from Taylor that season (76). The context here is that the next leading targets for the team were Zay Jones, Charles Clay, and Deonte Thompson, while the 2020 Chargers still have Keenan Allen, Mike Williams, and Hunter Henry on the roster.
The college game is a little different, but Herbert target backs 13.7% and 10.6% of the time the past two seasons at Oregon. While Ekeler's receiving ability should increase the rate in which both 2020 quarterbacks have thrown to their running backs, the loss of Rivers should also decrease the rate in passing volume that goes to the backfield. 
Another element in play with the departure of Rivers is how this alters the team philosophy in general offensively. Prior to joining the Chargers as head coach in 2017, Anthony Lynn was the assistant head coach, offensive coordinator and running backs coach for the previous four seasons for the Jets and Bills. In those seasons working backwards, those teams ranked 30th, 30th, 25th, and 29th in overall passing plays run during the season. Those 30th ranked seasons came attached to Taylor as the starting quarterback. In Taylor's three years as primary starting quarterback, his teams have attempted 476, 474, and 465 passes. The Chargers have ranked 10th, 26th and 12th in passing volume the past three seasons under Lynn with Rivers, attempting 597, 512, and 583 passes.
In the offseason, the Chargers major acquisitions have been acquiring right guard Trai Turner in a trade, while signing right tackle Bryan Bulaga, cornerback Chris Harris, defensive tackle Linval Joseph and outside linebacker Nick Vigil in free agency. Game script ultimately drives passing volume and the Chargers just had a top-10 draft pick on their own merit, but the early signal here is to anticipate a team that is going to have a major reduction in passing output and play through their run game and defense. That transition can significantly impact the fantasy ceilings of the entire core of the offense, who all have had strong reliance predicated on their passing volume and efficiency.
All in all, there is a lot to take in on both sides here. When you look at some of the highlighted names in this piece when examining Ekeler's ceiling, you see names such as McCaffrey, Kamara, Faulk, and Freeman. That is the type of upside Ekeler possesses from a fantasy level. Also, unlike Kenyan Drake from yesterday, Ekeler does have a long term commitment from his organization. Those are all major pros to the sided of still paying the sticker price on Ekeler despite his enormous boost in market value. 
The other side is that there is sound process in moving a qualifying "undersized" back coming off a career season at what could potentially be his apex cost. One with added insecurities on the team level changing quarterbacks. Those two counterpoints leave a lot of variance for how owners in your league will view Ekeler from a buy and sell stance. 
I have Ekeler as a fringe RB1 in PPR formats for 2020. I have significant regression cooked into his projections, but his added receiving production through reduction of his 2019 totals still offers a lot at the position, while he still has that upside in his pocket should his splits without Gordon on the field hold water. But I am lower than the current market in Dynasty startup ADP by nearly a full round. 
In dynasty, every player has potential to be both a buy and sell at the same time. You just have to find the proper context in your league on which he is valued per owner. Startup ADP and cost are not going to be an exact market for you with team context a driving force in established leagues, but here are the buy and sell point suggestions using that as guideline pending which side you fall on. 
2020 Rookie Pick Value: Early Mid First (1.04-1.07)
RB Value Targets: Aaron Jones, Leonard Fournette, Kenyan Drake
WR Value Targets: Mike Evans, Allen Robinson, Cooper Kupp, Calvin Ridley
TE Value Targets: Mark Andrews