As a lead-up to the 2023 NFL draft, we've broken down the current depth chart of every NFL team and identified the biggest draft and team needs for the Tampa Bay Buccaneers.
You can find additional team-by-team draft needs articles and other draft content on our 2023 NFL Draft hub.
Who did the Buccaneers pick in the NFL Draft?
The Tampa Bay Buccaneers selected Calijah Kancey (DT, Pitt) with the 19th pick in the 2023 NFL Draft.
The Bucs added Cody Mauch (OL, North Dakota State) with the 48th pick.
Tampa Bay selected YaYa Diaby (EDGE, Louisville) with the 82nd pick.
Buccaneers Draft Needs: Top Positions of Need in 2023
Quarterback
Offensive Line
Defensive Back
What Picks do the Tampa Bay Buccaneers have in 2023?
The Tampa Bay Buccaneers have nine picks in the 2023 NFL Draft, including:
Round 1 (19)
Round 2 (50)
Round 3 (82)
Round 5 (153)
Round 5 (175)
Round 6 (179)
Round 6 (181)
Round 6 (196)
Round 7 (252)
Tampa Bay Buccaneers Draft Capital Stats
Our Sharp Draft Value Rank is a valuation of draft capital based on a combination of average performance delivered and average dollars earned on second contracts.
This is based on two public models: performance delivered based on draft slot (the AV model created by Chase Stuart) and contractual earnings in non-rookie deals based upon draft slot (the OTC model created by Brad Spielberger and Jason Fitzgerald).
Buccaneers Sharp Draft Value Rank: 19 of 32 teams
Buccaneers AV Model Draft Value Rank: 19 of 32 teams
Buccaneers OTC Model Draft Value Rank: 18 of 32 teams
Tampa Bay Buccaneers Draft Value vs Other Teams:
The Buccaneers' draft value is 9% lower than the league average of all 32 teams. 18 other teams have higher draft value entering the 2023 NFL Draft.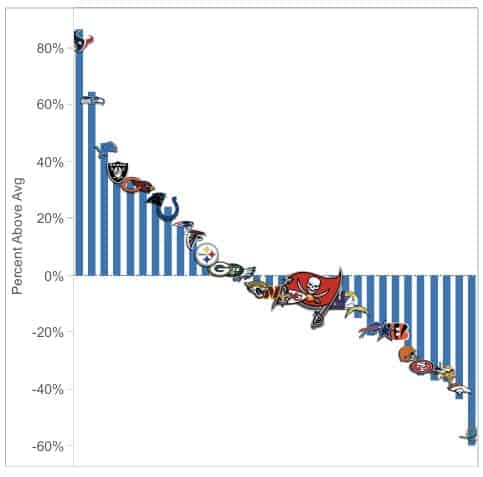 Tampa Bay Buccaneers Draft Prediction:
The Buccaneers are predicted to draft Anton Harrison (OT, Oklahoma) with their 1st round pick (#19 overall) according to the most recent mock draft from Ryan McCrystal.
Another mock draft expert, Brendan Donahue, also has the Buccaneers predicted to draft Anton Harrison (OT, Oklahoma) with their 1st round pick according to his most recent mock draft.
Tampa Bay Buccaneers Strength of Schedule, 2023
The Tampa Bay Buccaneers have the 13th easiest NFL strength of schedule for the 2023 NFL season.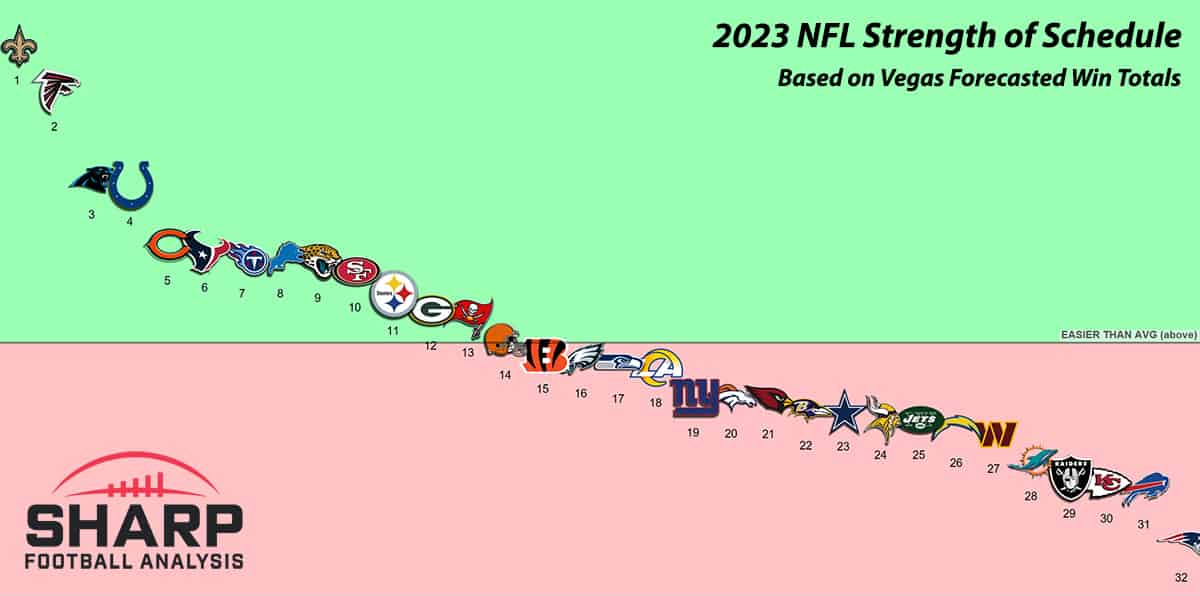 Tampa Bay Buccaneers Offense: Depth Chart, Analysis & Draft Needs
Rich Hribar breaks down the offensive depth chart by position for the Tampa Bay Buccaneers, identifying areas where the team could improve in the upcoming 2023 NFL Draft.
2022 Tampa Bay Buccaneers Offensive Rankings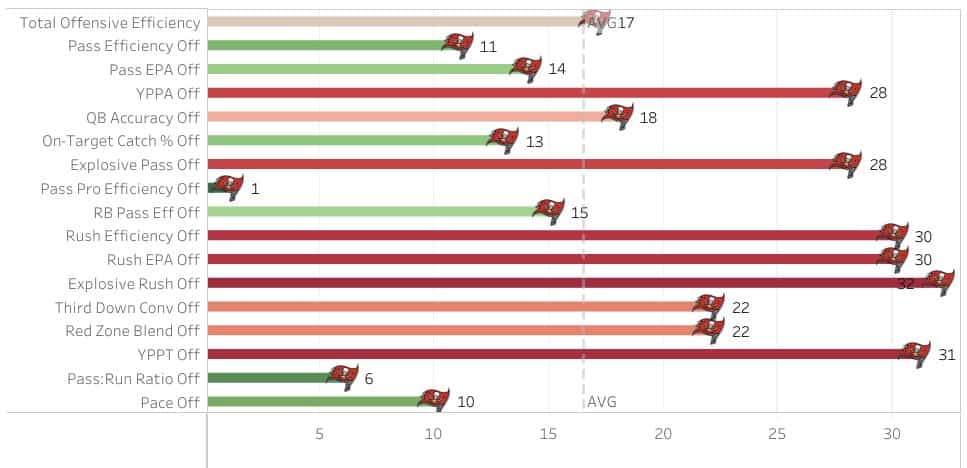 Quarterback Depth Chart, Buccaneers:
Baker Mayfield
Kyle Trask
With Tom Brady finally retiring, the Buccaneers are stuck in limbo at quarterback once again.
In an attempt to bridge the gap instead of a full tear down of this veteran roster, Tampa Bay brought in Baker Mayfield on a one-year deal to compete with Kyle Trask for the starting job.
Mayfield's deal is for $4 million guaranteed with up to another $4.5 million in incentives.
The former No. 1 overall pick in the 2018 draft has done nothing but step backward after his initial success as a rookie.
In 2022 with the Panthers and Rams, Mayfield was 31st among 33 qualifying passers in expected points added per dropback (-0.16), 30th in success rate (35.6%), and 29th in yards per pass attempt (6.5 Y/A).
If looking for a silver lining, at least Mayfield will be throwing to multiple viable wide receivers. All he had in 2022 was D.J. Moore for his stint with the Panthers before taking over a Los Angeles offense down Cooper Kupp.
The Bucs selected Kyle Trask in the second round of the 2021 draft.
While he has been buried behind Brady, it was extremely odd the organization let Blaine Gabbert in the game before him in Week 18 last season when there was a clear opportunity to finally give Trask some real action. Trask has thrown just nine passes in the NFL.
While Tampa Bay can certainly see what they have here in Trask, the signing of Mayfield and Trask's contractual commitment leave the door wide open for the team to potentially add another quarterback.
Running Back Depth Chart, Buccaneers:
Rachaad White
Chase Edmonds
Ke'Shawn Vaughn
Patrick Laird
Tampa Bay fielded one of the worst running games in the NFL last season.
Their running backs were:
29th in EPA per rush (-0.16)
Dead last in yards per carry (3.6 YPC)
Dead last in rate of carries for 10 or more yards (6.7%)
Dead last in yards created after contact per carry (2.37)
As part of their initial wave of releasing veteran players, the team cut Leonard Fournette. This seemingly gives the keys to the backfield over to Rachaad White, who the team selected in the third round (91st overall) a year ago.
Among 44 backs with 100 or more carries in 2022, White ranked:
38th in yards per carry (3.8 YPC)
33rd in EPA per rush (-0.11)
42nd in rate of runs for 10 or more yards (6.6%)
43rd in yards created after contact per carry (2.29)
The only back worse in terms of generating yards after contact per carry was Fournette. There is only room for improvement for White in year two.
White is the only back here signed beyond the 2023 season.
The Bucs still have Ke'Shawn Vaughn in the final season of his rookie deal while they added Chase Edmonds on a one-year contract.
Edmonds is coming off a disappointing 2022 season that saw him shelved, traded by the Dolphins, and closing out the season playing an ancillary role to Latavius Murray in Denver.
Edmonds was even worse than both Tampa backs last season, generating 2.24 yards after contact per carry on his 68 carries.
Edmonds did have success in his career prior to 2022 in a compartmentalized role, however, something Tampa Bay is hopeful he can be alongside White.
Contractual depth and a bigger body can be added here, but the Bucs do have larger holes to fill on this roster.
Wide Receiver Depth Chart, Buccaneers:
Mike Evans
Chris Godwin
Russell Gage
Kaylon Geiger
Deven Thompkins
For having good wide receivers, the Buccaneers are in a precarious spot at the position. Especially when factoring in their current state of immediate expectations.
Mike Evans will turn 30 prior to the season. He notched his ninth straight 1,000-yard season in 2022, but his days of being a front-end elite wideout could be closing.
Evans was targeted on 20.1% of his routes last season, which was 48th among all wide receivers to run 100 or more pass routes. His 1.75 yards per route run ranked 35th among the same group.
The Bucs can void the remaining three years of his contract after this season. If the team wanted to swerve into a rebuild, they could trade Evans after June 1st for $14.5 million in cap savings.
Chris Godwin set career highs in targets (142) and receptions (104) last season, but his performance was largely marred by returning early from ACL surgery and then suffering a hamstring injury in the season opener.
As a byproduct, Godwin averaged a career-low 9.8 yards per reception. His 5.5 air yards per target and 1.74 yards per route run were career lows by a wide margin. A fully healthy offseason should bring some added juice for Godwin.
Godwin still has two years remaining on his contract, carrying dead cap hits of $35 million in 2023 and $26.4 million in 2024.
Russell Gage never gained any traction in Tampa Bay last season while dealing with a plethora of injuries.
At the end of the season, Gage ended up catching 51-of-70 targets for 426 yards. His 8.4 yards per catch during the regular season ranked 136th among 142 qualifying wide receivers.
Gage already restructured his contract this offseason, and Tampa Bay can easily get out after 2023 at $2.2 million in dead cap space if necessary.
The depth here is non-existent with Scotty Miller leaving via free agency and Julio Jones no longer signed.
The Bucs do not have to press the issue on a front-end wideout, but they do need to start planning for the possibility neither Evans nor Gage are members of the team after this season.
Tight End Depth Chart, Buccaneers:
Cade Otton
Ko Kieft
Dominique Dafney
David Wells
Tampa Bay tight ends combined to catch 72 passes (18th) for 673 yards (24th) and four touchdowns (22nd) in 2022.
The team found a potential contributor in rookie Cade Otton, who caught 42-of-65 targets for 391 yards and two touchdowns in his first season.
His 9.3 yards per catch were 48th among tight ends while his 4.1 yards after the catch per reception sat 49th. There may not be much dynamism here, but Otton is going to get a larger role in 2023 with the release of veteran Cameron Brate.
The Bucs also selected Ko Kieft last season in the sixth round. Kieft only played 22% of the snaps and was used primarily as a blocker.
Tampa Bay has those two second-year players on rookie contracts through 2025 and exclusive rights after this season to David Wells.
They will likely give Otton and Kieft a runway to grow in 2023 while addressing other areas, but with no star power here in a potentially strong tight end class, adding talent on another rookie contract is still an option.
Offensive Line Depth Chart, Buccaneers:
LT: Brandon Walton/Justin Skule/Dylan Cook
LG: Luke Goedeke/Aaron Stinnie
C: Ryan Jensen/Robert Hainsey
RG: Nick Leverett/John Molchon
RT: Tristan Wirfs/Grant Hermanns/Michael Niese
We knew that the Tampa Bay offensive line could be a significant issue last summer, and that played out on the field in 2022.
Tom Brady's quick release and low depth of target saved the team from allowing a high pressure rate, but the Buccaneers closed the season ranked 25th in ESPN's pass block win rate metric (55%) and 31st in their run block win rate (69%).
The Bucs' most frequently used set of five offensive linemen last season was on the field for just 32.0% of the offensive snaps, which ranked 23rd in the league. They used four different combinations for 100 or more snaps.
Last offseason began with the retirement of Ali Marpet and a major injury to center Ryan Jensen, which set the team back. Tackles Tristan Wirfs and Donovan Smith missed four games each. Shaq Mason was the only member of the offensive line to appear in all 18 games.
Jensen is back and still signed for the next two seasons.
The team has Wirfs under contract for two more seasons after picking up his fifth-year option.
Wirfs is already one of the best tackles in the NFL. He has made the Pro Bowl the past two seasons while being a first- and second-team All-Pro in those seasons. He allowed pressure on just 0.9% of protection snaps in 2022, the lowest rate of all tackles.
With the release of Smith this spring, Wirfs could be moving over to the premier left tackle spot.
After Jensen and Wirfs is where things immediately get sketchy. The team has a clear hole at offensive tackle opposite wherever Wirfs plays in 2023.
The team released both Smith and Mason as part of their purge this spring.
They selected Luke Goedeke in the second round (57th overall) last season, and he started eight games as a rookie.
His 6.0% pressure rate allowed was the highest on the team last season and ranked 71st among 98 qualifying guards.
Nick Leverett should push to start at the other guard spot after starting 10 games in 2022. Leverett was much stronger in pass protection, allowing just 12 pressures (2.5% of protection snaps).
With Brady now gone, all of these pressure rates could drop off the table, however.
The other concern here is the running game. Both guards Goedeke and Leverett were below the fold in this area.
Leverett ranked 53rd among guards in running blocking grade at Pro Football Focus while Goedeke was 73rd.
Leverett is also only signed for this upcoming season.
There is not much contractual depth here. The only other linemen that the Bucs have signed beyond this season are Robert Hainsey and Grant Hermanns.
Tampa Bay Buccaneers Defense: Depth Chart, Analysis & Draft Needs
Dan Pizzuta breaks down the defensive depth chart by position for the Tampa Bay Buccaneers, identifying areas where the team could improve in the upcoming 2023 NFL Draft.
2022 Tampa Bay Buccaneers Defensive Rankings

Interior Defensive Line Depth Chart, Buccaneers:
Vita Vea
Logan Hall
Greg Gaines
Deadrin Senat
Willington Previlon
Patrick O'Connor
Mike Greene
Vita Vea has been a dominant force on the field, but injuries kept him to just 48% of the defensive snaps played over 14 games. However, he still set career highs with 6.5 sacks and 13 quarterback hits.
Logan Hall was a third-round pick in 2022 and got on the field for 35% of the defensive snaps. There should be hope his impact is felt a bit more in Year 2. Hall made a tackle on just 7.7% of his run snaps.
Greg Gaines should add a bit more to the run defense. Gaines has been a plus run defender with the Rams and adds a bit as a pass rush from the inside. He signed on just a one-year deal.
EDGE Depth Chart, Buccaneers:
Joe Tryon-Shoyinka
Shaq Barrett
Anthony Nelson
Cam Gill
Charles Snowden
Hamilcar Rashed
The Buccaneers were only 24th in pressure rate last season, per TruMedia. There were some issues on the edge.
Shaq Barrett only played in eight games and was on the field for 35% of the overall defensive snaps. He totaled just six quarterback hits in his time on the field — a hit on 0.9% of his pass rushes.
More concerning was that his six quarterback hits still ranked fourth on the team.
Joe Tryon-Shoyinka had an inconsistent season as the team's top pass rusher. While the pressure rate was fine, there was little done off of it.
Tryon-Shoyinka only converted 8.7% of his pressures and 28.6% of quarterback hits into sacks, both well below the league average rates.
Anthony Nelson stepped in while Barrett was out and also struggled to rush the passer. However, he was 10th among edge rushers in ESPN's run stop win rate.
There is depth needed here, and with Barrett entering his age-31 season, the Bucs could also be looking for a top-tier pass rusher.
Off-ball Linebacker Depth Chart, Buccaneers:
Lavonte David
Devin White
K.J. Britt
Ulysses Gilbert
J.J. Russell
At age 33, Lavonte David might not mean more to another team than he does to the Buccaneers, which is why bringing him back was a huge win for the Tampa Bay defense.
David remains one of the better all-around linebackers in the league. He was 16th in the league in tackles that produced a positive play for the defense.
David's presence opens things up for Devin White, which allows White to play more downhill.
White rushed the passer on 22% of his pass snaps in 2022 and led the team with 16 quarterback hits. With David back, White can stay in that role.
The plan is for those two to rarely leave the field. Both played 96% of the defensive snaps last season.
Cornerback Depth Chart, Buccaneers:
Jamel Dean
Carlton Davis
Dee Delaney
Zyon McCollum
Anthony Chesley
Duron Lowe
Don Gardner
Jamel Dean is one of the NFL's most underrated cornerbacks, and it was a surprise the Buccaneers were able to bring him back in free agency.
Dean ranked 14th in adjusted yards allowed per coverage snap among outside corners last season, his second-straight season among the top corners by that metric.
Carlton Davis was re-signed last offseason, but he had some struggles in 2022.
He ranked 73rd among outside corners in adjusted yards allowed per coverage snap and was one of the most targeted players on a per-snap basis.
That duo remains a reliable one, but there will be questions in the slot.
Sean Murphy-Bunting had played there, but he is now on the Titans. Safety Antoine Winfield was also often in the slot, but if he continues there, then there is an even bigger need at safety.
Safety Depth Chart, Buccaneers:
Antoine Winfield
Ryan Neal
Nolan Turner
Winfield played over half of his snaps in the slot while Mike Edwards played as the deep safety.
The Buccaneers just signed Ryan Neal, who can play a number of roles in the secondary.
Logan Ryan, who played 40% of the defensive snaps is still a free agent.
The Buccaneers need to add bodies at safety and likely need starters, especially if Winfield continues to play the slot.
At the combine, Todd Bowles said he would like to keep Winfield in one position rather than bouncing him around but did not clarify which position that would be.