As a lead-up to the 2023 NFL draft, we've broken down the current depth chart of every NFL team and identified the biggest draft and team needs for the New Orleans Saints.
You can find additional team-by-team draft needs articles and other draft content on our 2023 NFL Draft hub.
Who did the Saints pick in the NFL Draft?
The New Orleans Saints selected Bryan Bresee (DL, Clemson) with the 29th pick in the 2023 NFL Draft.
The Saints added Isaiah Foskey (EDGE, Notre Dame) with the 40th overall pick.
New Orleans selected Kendre Miller (RB, TCU) with the No. 71 pick.
Saints Draft Needs: Top Positions of Need in 2023
EDGE
Wide Receiver
Defensive Line
What Picks do the New Orleans Saints have in 2023?
The New Orleans Saints have eight picks in the 2023 NFL Draft, including:
Round 1 (29)
Round 2 (40)
Round 3 (71)
Round 4 (115)
Round 5 (146)
Round 5 (165)
Round 7 (227)
Round 7 (257)
New Orleans Saints Draft Capital Stats
Our Sharp Draft Value Rank is a valuation of draft capital based on a combination of average performance delivered and average dollars earned on second contracts.
This is based on two public models: performance delivered based on draft slot (the AV model created by Chase Stuart) and contractual earnings in non-rookie deals based upon draft slot (the OTC model created by Brad Spielberger and Jason Fitzgerald).
Saints Sharp Draft Value Rank: 17 of 32 teams
Saints AV Model Draft Value Rank: 16 of 32 teams
Saints OTC Model Draft Value Rank: 21 of 32 teams
New Orleans Saints Draft Value vs Other Teams:
The Saints' draft value is 9% lower than the league average of all 32 teams. 16 other teams have more draft value entering the 2023 NFL Draft.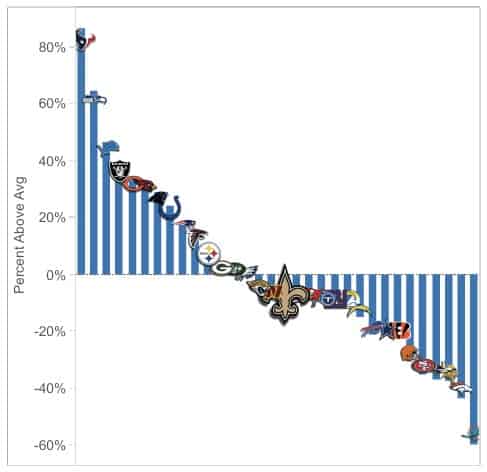 New Orleans Saints Draft Prediction:
The Sants are predicted to draft Calijah Kancey (DL, Pitt) with their 1st-round pick (#29 overall) according to the most recent mock draft from Ryan McCrystal.
Another mock draft expert, Brendan Donahue, has the Sants predicted to draft Bryan Bresee (DL, Clemson) with their first-round pick according to his most recent mock draft.
New Orleans Saints Strength of Schedule, 2023
The New Orleans Saints have the easiest NFL strength of schedule for the 2023 NFL season.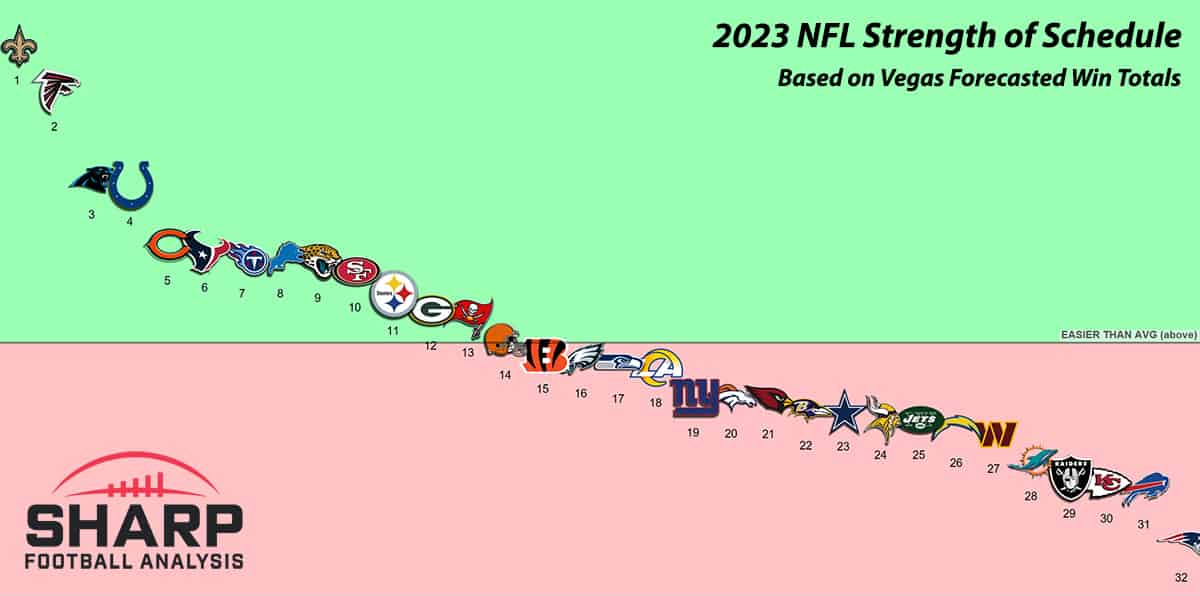 New Orleans Saints Offense: Depth Chart, Analysis & Draft Needs
Rich Hribar breaks down the offensive depth chart by position for the New Orleans Saints, identifying areas where the team could improve in the upcoming 2023 NFL Draft.
2022 New Orleans Saints Offensive Rankings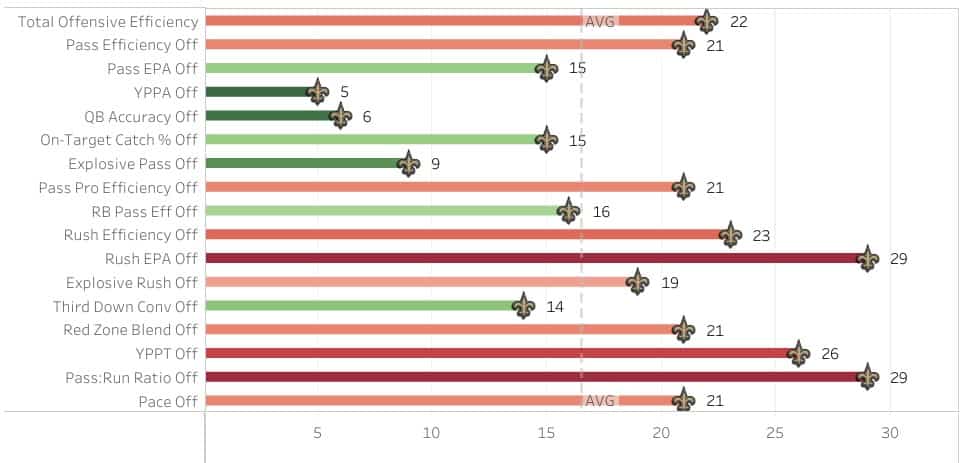 Quarterback Depth Chart, Saints:
Derek Carr
Jameis Winston
Jake Luton
The Saints signed Derek Carr to a four-year contract this spring.
The deal is worth up to $150 million, and New Orleans has potential outs after 2024 ($17.1 million dead cap hit) and 2025 ($11.4 million dead cap hit).
Carr is coming off a disappointing season with the Raiders.
Carr's 60.8% completion rate was his lowest in a season since his rookie year while he posted a career-worst 2.8% interception rate.
His 7.0 yards per pass attempt and 234.8 passing yards per game were his lowest in a season since 2017.
Our own Dan Pizzuta broke down the signing at the time, highlighting that Carr has declined in EPA per play in each of the past four seasons.
Regardless of if Carr can bounce back in 2023 or not, the Saints have a short-term commitment and will not be pursuing a young quarterback to helm this offense.
New Orleans also retained James Winston on a one-year deal this offseason, giving them one of the better backup situations in the league.
Winston has started 10 games with the Saints over the past two seasons, with New Orleans posting a 6-4 record in those games.
Running Back Depth Chart, Saints:
Alvin Kamara
Jamaal Williams
Eno Benjamin
Dwayne Washington
Derrick Gore
Adam Prentice (FB)
Despite posting 1,387 yards from scrimmage, 2022 was another mild season for Alvin Kamara.
Kamara averaged just 4.0 yards per carry, which was 31st among 42 running backs to have 100 or more carries on the season. His 36.3% success rate ranked 30th among the same group.
To give Kamara some leeway, he ran against eight or more defenders in the box on 46.6% of his carries. That was the seventh-highest rate among those backs and followed up the 51.2% rate he had in 2021.
Those two rates of running against stacked boxes are by far the highest of Kamara's career as opposing teams have not respected the New Orleans passing game.
Kamara ran against a light box (six or fewer defenders) on just 16.1% of his carries, a career low.
Kamara's decline in rushing output also extends into the passing game.
He did catch 10 more passes in 2022 than he did in 2021, but his 3.8 receptions per game were still well off the pace of his early career when he averaged over 5.0 catches per game in each of his first four seasons in the league.
On top of all of that, Kamara also scored a career-low four touchdowns.
Kamara is signed through 2025, carrying cap hits of $18.8 million ($16.7 million dead cap) and $29.0 million ($9.8 million dead cap) after this season.
To compound matters heading into 2023, Kamara could face disciplinary action stemming from battery charges in Las Vegas from the Pro Bowl after the 2021 season.
The Saints added Jamaal Williams via free agency to remedy multiple issues surrounding this situation.
Williams is not overly explosive or flashy but gives the Saints a reliable workhorse if Kamara misses any time and allows for a combination that could get Kamara more touches out in open space like in his early career.
Williams led the NFL with 17 rushing touchdowns in 2022 to go along with his first 1,000-yard season on the ground.
Only 8.4% of his carries resulted in a run of 10 or more yards (31st), but Williams ran against stacked boxes on 51.1% of his carries and still averaged more yards after contact per carry (2.78 yards) than Kamara did (2.72).
On runs against stacked boxes, Williams posted a 41.8% success rate compared to a 32.7% success rate for Kamara.
The Saints do not have an immediate need here with the two-man combination up top, but with only Kamara and Williams signed beyond this season, adding a late Day-3 contract or undrafted rookie is still on the table.
Wide Receiver Depth Chart, Saints:
Chris Olave
Michael Thomas
Rashid Shaheed
Tre'Quan Smith
Bryan Edwards
Keith Kirkwood
Kirk Merritt
Kawaan Baker
With injuries all over the place, Chris Olave was thrust into a lead receiving role with the Saints as a rookie.
Olave was excellent in this rookie season, catching 72-of-119 targets for 1,042 yards and four touchdowns.
Among all wide receivers to run 100 or more pass routes in 2022, Olave ranked sixth in targets per route run (27.7%) and eighth in yards per route run (2.43).
If fleshing out his sample among rookie wideouts to play as much as he did, Olave's 2.43 yards per route run were only bested by Odell Beckham (2.76), A.J. Brown (2.71), Justin Jefferson (2.68), and Ja'Marr Chase (2.52) among rookie wide receivers over the past decade to run at least 300 routes in their first season.
I bring up that sample size because undrafted rookie Rashid Shaheed actually averaged 2.60 yards per route in his first season last year but did so running just 188 routes.
Shaheed did not play an offensive snap until Week 6 and played just 45 total snaps through the opening 10 games of the season.
A depleted receiving corps paired with Shaheed making splash plays on limited opportunities forced him to get more playing time to close the season.
Shaheed played 61% of the snaps over the final seven games, catching 23-of-28 targets for 385 yards and a touchdown.
Over that span, Shaheed averaged 16.7 yards per catch, which was 10th among all wideouts. 50% of his targets resulted in a first down or touchdown over that stretch.
Whatever the Saints get out of Michael Thomas at this stage is a bonus. He reworked his deal again this offseason to stay with the Saints.
He turned 30 years old this March and has played in just 10 games over the past three seasons.
Thomas did still show he has a pulse in his limited sample last season.
Over the opening three games, Thomas caught 16-of-22 targets for 171 yards and three touchdowns.
While the Saints could have a solid trio here in Olave, Thomas, and Shaheed, the contractual depth is lacking paired with the uncertainty that Thomas can make it through a full season and that Shaheed was not just a flash in the pan.
Olave and Thomas are the only wideouts signed beyond this season, and Thomas is likely a formality since he was moving money around. The team has restricted rights to Kirk Merritt and exclusive rights to Shaheed after this season.
Tight End Depth Chart, Saints:
Juwan Johnson
Taysom Hill
Adam Trautman
Miller Forristall
Lucas Krull
Juwan Johnson enjoyed a breakout season in 2022.
After catching just 17 passes for 198 yards and four touchdowns over his first two years in the league, Johnson caught 42-of-65 targets for 508 yards and seven touchdowns.
Johnson was rewarded with a two-year contract this spring.
The team still has a Swiss Army Knife in Taysom Hill.
Hill is listed as a tight end, but he is far from an actual tight end.
He played 148 snaps at quarterback and another 24 in the backfield. He played 51 snaps inline with 40 in the slot and 61 lined up out wide.
Hill ended up running 123 pass routes and was targeted just 13 times all season.
Where Hill made his impact was once again as a runner, turning 96 carries into 575 yards and seven touchdowns.
Hill has held one of the more unique contracts in the sport and is still signed through 2025, carrying dead cap hits of $23.8 million, $16.9 million, and $11.1 million over the next three years on his current deal.
The Saints still have Adam Trautman in the final season of his rookie contract.
Trautman caught just 18 passes in 2022 and went from playing 76% of the snaps in 2021 down to 57% a year ago despite playing in more games.
Offensive Line Depth Chart, Saints:
LT: Trevor Penning/James Hurst
LG: Andrus Peat/Lewis Kidd/Yasir Durant
C: Erik McCoy
RG: Cesar Ruiz/Calvin Throckmorton/Koda Martin
RT: Ryan Ramczyk/Storm Norton/Landon Young
The Saints were once again bludgeoned across the offensive line in 2022.
No offensive lineman appeared in all 17 games while starters Trevor Penning (11 games missed), Andrus Peat (six), Erik McCoy (four), Cesar Ruiz (three), and Ryan Ramczyk (one) combined to play just 24 total snaps together last season.
By the end of the season, the most frequently used five linemen were together on the field for 39.0% of the team's snaps.
This followed a season in which the most frequently used line combination by New Orleans was on the field for just 15.9% of their snaps.
The major area for improvement across this line is health.
The team has both tackle spots locked up for multiple seasons. We still need a larger sample on Trevor Penning after he played just 124 snaps as a rookie, but the left tackle job is his.
The Saints also have center Erik McCoy locked up through the 2027 season.
McCoy has missed nine games over the past two seasons while his overall grade at Pro Football Focus has declined from the previous season in every year of his career.
Both offensive guards present longer-term situations that need to be addressed.
The first one is relatively easy with Cesar Ruiz.
Ruiz is in the final season of his rookie contract, but the team most certainly will pick up his fifth-year option before May 1st, ensuring he is on the team for at minimum the next two seasons.
Where things get interesting is what the Saints decide to do big picture with Andrus Peat.
Peat is in the final year of his contract and will turn 30 this season. He has missed 17 games in the past two years and has never played a full season in his career.
On top of that, his performance has sagged through all of the missed time.
Peat was 71st among all qualifying guards per Pro Football Focus in 2022 after ranking 73rd in 2021.
The only depth pieces that are signed beyond 2023 are tackles Landon Young and Lewis Kidd.
New Orleans Saints Defense: Depth Chart, Analysis & Draft Needs
Dan Pizzuta breaks down the defensive depth chart by position for the New Orleans Saints, identifying areas where the team could improve in the upcoming 2023 NFL Draft.
2022 New Orleans Saints Defensive Rankings

Interior Defensive Line Depth Chart, Saints:
Khalen Saunders
Nathan Shepard
Malcolm Roach
Prince Emili
Khalen Saunders was a productive player next to Chris Jones in Kansas City last season.
He had a tackle on 22% of his run snaps and turned in 3.5 sacks on eight quarterback hits as a pass rusher.
However, Saunders only played 36.7% of the Chiefs' defensive snaps. He signed a three-year deal with the Saints in the offseason.
Nathan Shepard played 36.6% of the defensive snaps for the Jets last season.
He was second among defensive tackles in ESPN's run stop win rate. Shepard has also had at least five quarterback hits in each season of his career.
With both David Onyemata and Shy Tuttle gone, the top of the depth chart will roll over to the new free agent signings, but there is not much behind them.
EDGE Depth Chart, Saints:
Cameron Jordan
Carl Granderson
Payton Turner
Tanoh Kpassagnon
Jabari Zuniga
After years of playing over 90% of the defensive snaps each season, the Saints have started to rotate Cameron Jordan out more often in games.
The soon-to-be 34-year-old still appeared in 16 games and played 69.8% of the defensive snaps, and he still put up 8.5 sacks even though his peripherals like quarterback hits (13) and pressure rate (8.4%) were not as strong.
Carl Granderson currently slots in as the No. 2 rusher after he played 42% of the defensive snaps in his fourth season.
Last year he had 5.5 sacks on nine quarterback hits. He is also in the final year of a two-year deal.
Payton Turner was a first-round pick in 2021 but has appeared in just 13 games with three sacks over his first two seasons.
Multiple injuries forced Turner to miss time in 2022, but he is expected to be at full health for the start of 2023.
Off-ball Linebacker Depth Chart, Saints:
Demario Davis
Pete Werner
Zack Baun
D'Marco Jackson
Ty Summers
Andrew Dowell
Ryan Connelly
Nephi Sewell
Demario Davis is another player that continues to be one of the best at his position in the latter stages of his career.
Davis turned 34 in January and is coming off a year with 6.5 sacks while he was 23rd among linebackers in yards allowed per coverage snap. He played 100% of the defensive snaps in 2022.
Pete Werner was the linebacker most often next to him, playing 52% of the defensive snaps in his second season.
He was a solid box defender with 53% of his tackles producing a positive play for the defense and 16% of his run defense snaps resulting in a tackle.
Billed as a versatile linebacker who could rush the passer, Zack Baun was a third-round pick in 2020, but he was relegated to mostly special teams duty in 2022. He was on the field for just 8% of the defensive snaps.
Cornerback Depth Chart, Saints:
Marshon Lattimore
Paulson Adebo
Bradley Roby
Alontae Taylor
Lonnie Johnson Jr.
Isaac Yiadom
Ugo Amadi
Troy Pride Jr.
Vincent Gray
Marshon Lattimore only played 36.7% of the defensive snaps as injuries kept him off the field.
Lattimore has been a highly volatile player in coverage, though his high points place him near the league's best. Entering year seven, the Saints will need him to be a bit more consistent.
Paulson Adebo had some nice moments as a rookie in 2021 but really struggled in his second season.
Adebo ranked 78th among 87 outside corners in adjusted yards allowed per coverage snap. Alontae Taylor was 56th as a second-round rookie.
Bradley Roby was average to below average among slot corners, ranking 24th among 43 slot corners in adjusted yards allowed per coverage snap.
The Saints also have a number of backups with playing experience, though the quality could be questioned. However, this is easily the deepest position on defense in terms of having bodies.
Safety Depth Chart, Saints:
Tyrann Mathieu
Marcus Maye
Johnathan Abram
J.T. Gray
Smoke Monday
Tyrann Mathieu played 99.7% of the defensive snaps in his first year with the Saints.
Mathieu played mostly in the box but jumped deep and in the slot. He was put in a position to do what he does best.
Marcus Maye played 59% of the defensive snaps after recovering from an Achilles injury.
Maye played mostly deep safety while the Saints played one of the highest rates of two-high coverage.
There isn't much depth behind the top two. Johnathan Abram hasn't lived up to his first-round status and is now on his fourth team in the past two seasons.
[pickup_prop id="33615″]