Every NFL offseason, Warren Sharp releases his Football Preview Book, which uses expert analysis to break down all 32 teams through in-depth team chapters that are both data driven and actionable.
One of the most popular sections from each team chapter is the Sharp Football team's write-up on why to bet the Over or Under for a given team.
Cowboys Win Total Over/Under Odds:
How many games will the Cowboys win this season?
The Cowboys are predicted to win 10.5 games in 2022, based on Vegas Odds.
Why You Should Bet the Over: Cowboys Win Total in 2022
#1 Reason to bet the Over:
Schedule makers have provided Dallas with unique advantages, including a league-leading five games with more rest than their opponent with three games in which the opponent has less than a week to prepare.
Both instances of less rest than the opponent occur in the first half of the season, whereas three of the five rest advantages occur in the second half of the season.
#2 Reason to bet Over:
Dak Prescott and Ezekiel Elliott both played through injuries that seemed to hamper their production last year.
Prior to Prescott's calf injury, the offense averaged 6.57 yards/play and 0.22 EPA/DB which dropped significantly after the injury to 5.67 yards/play and 0.05 EPA/DB.
Elliott averaged 5.3 YPC and 0.09 EPA/rush prior to tearing his PCL in Week 4, and 3.8 YPC and -0.02 EPA/ rush after the injury.
#3 Reason to bet Over:
The pass defense finished the season second in both DVOA and total passing EPA and from week 7 on allowed a league-leading 34% success rate.
Although likely due for regression the third easiest schedule of passing offenses will help minimize a drop-off.
» Bet the Cowboys Win Total Over 
Why You Should Bet the Under: Cowboys Win Total in 2022
#1 Reason to bet the Under:
The centerpieces of the Cowboys' offensive line are both 31 years old and Tyron Smith has missed three or more games or more in six straight seasons.
The passing game struggled with Connor McGovern on the field last year averaging -0.03 EPA/DB when on the field vs. 0.21 EPA/DB when off the field.
Injuries to the offensive line can hinder the offense as two key players departed this off season.
#2 Reason to bet the Under:
The Dallas roster has significant departures on both offense and defense from last year.
Poor cap management including a league-high $18-million cap hit for a running back led to Cowboys' management gaining cap room by trading Amari Cooper, cutting La'el Collins, and losing significant free agents, leaving the roster with less skill and depth compared to last year.
#3 Reason to bet the Under:
A league-leading +14-turnover differential in 2021 likely regresses.
The Cowboys finished fifth in fumble luck with 3.3 fumble recoveries over expectation and tallied nine interceptions against Mike Glennon and Taysom Hill alone.
» Bet the Cowboys Win Total Under 
Cowboys Strength of Schedule:
The Cowboys are ranked #10 out of all 32 teams for NFL Strength of Schedule, giving them one of the easier schedules for the 2022 NFL season.
However, when compared to their NFC East rivals, they have the hardest strength of schedule — with the Giants ranked #1 overall (easiest), Eagles ranked #2 and the Commanders at #6.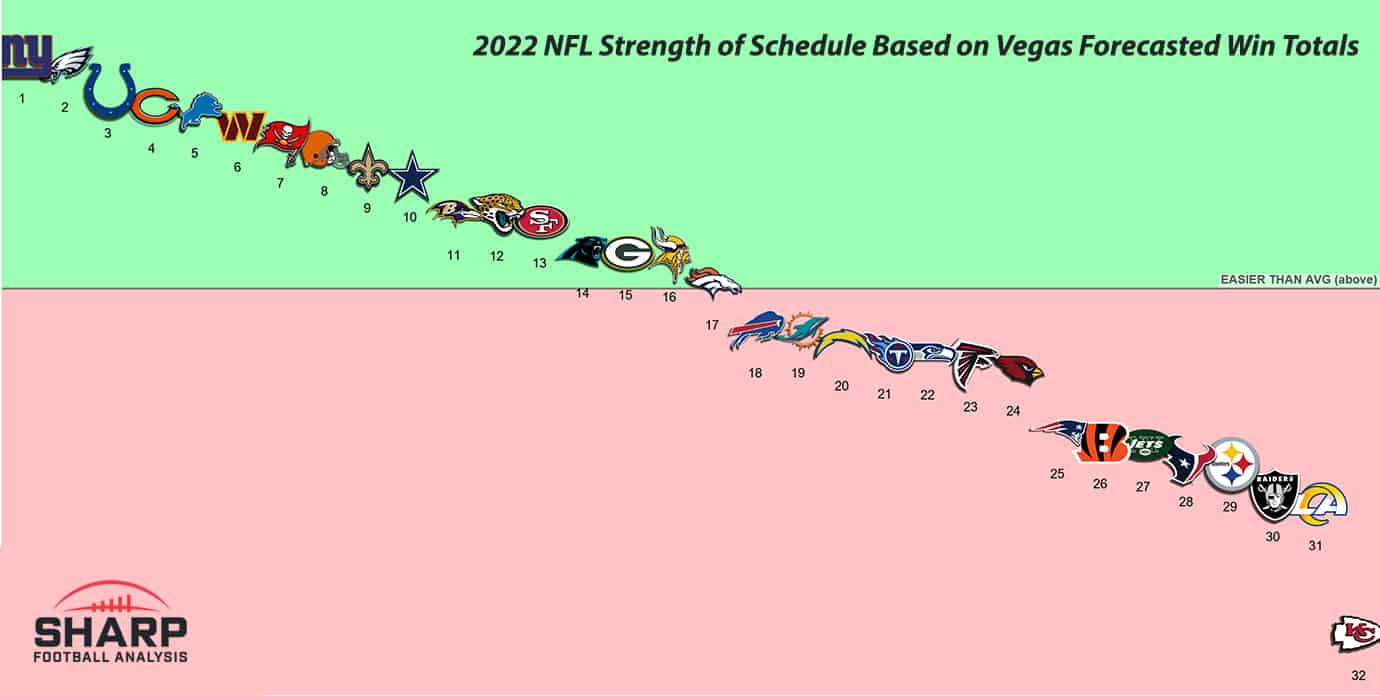 For full team chapters, including a dozen more visuals & info-graphics, defensive breakdown, and detailed Fantasy football implications pick up a copy of Warren Sharp's new '2022 Football Preview' book
All betting lines provided by BetMGM Sportsbook.