Now that free agency, the NFL Draft, and the schedule release have all passed, we have our initial layout in place in team depth charts and strength of schedule. With that, we want to take a look at some players across the fantasy landscape that are either polarizing, over or undervalued, or just interesting topics of discussion and walk through some of the pros and cons of where those players are regarded in fantasy circles. 
Last week, we explored players such as Kenyan Drake, Austin Ekeler, Marquise Brown, Tyler Higbee, and Mecole Hardman. Today, we are jumping into Nick Chubb.
For more fantasy content, check out our offseason fantasy football hub with rankings, strategy, and more.
Week 1 Age: 24.7
Contract: Signed through 2021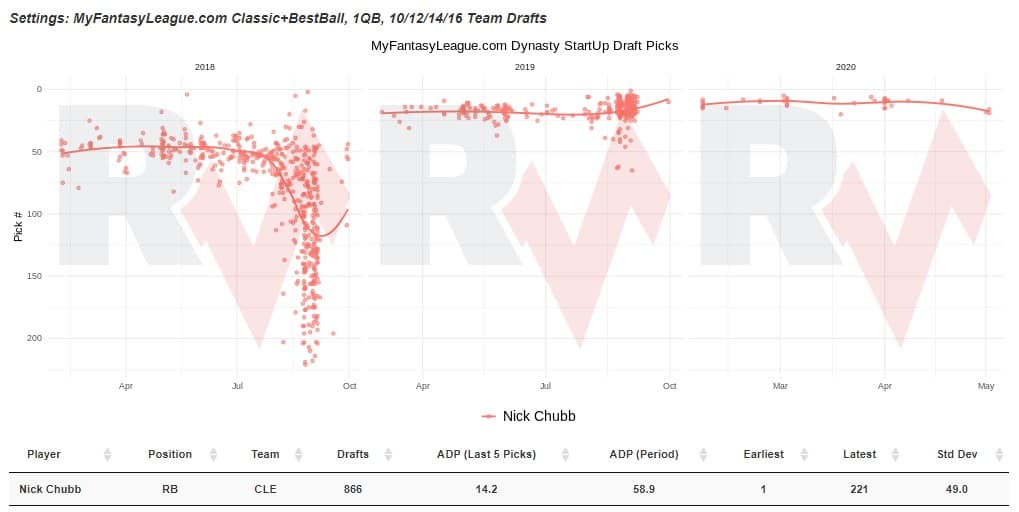 Using the Dynasty ADP app available at RotoViz, Chubb is a top-shelf fantasy asset, holding an average draft position in the early second round. After being selected in the second round in 2018, Chubb did not start until Week 7 of his rookie season. From that moment until now, only Derrick Henry has accrued more rushing yardage (2,359 yards) than Chubb's 2,317 yards on the ground. Only Christian McCaffrey (3,770 yards) and Ezekiel Elliott (3,026) have more yards from scrimmage than Chubb's 2,744 yards over that same span while Chubb ranks seventh in total PPR fantasy points among all running backs over the duration of that period.
All in all, everything checks out for Chubb and his current dynasty cost. But during last season, the Browns had Kareem Hunt return to the league after an eight-game suspension and join Chubb in their backfield. After dominating touches in the backfield with the depth of Dontrell Hilliard and D'Ernest Johnson, Cleveland had another talented back to incorporate into their offense. With an even eight games played with and without Hunt in the lineup, here are Chubb's 2019 game splits.
| 2019 | Snap% | RuAtt | Tm% | RuYd | Tm% | Tgt | Tm% | Rec | TD | YFS | PPR/Gm | RB Rank |
| --- | --- | --- | --- | --- | --- | --- | --- | --- | --- | --- | --- | --- |
| W/o Hunt | 73.00% | 154 | 82.4% | 803 | 82.9% | 32 | 11.7% | 25 | 6 | 964 | 18.9 | 6 |
| With Hunt | 63.90% | 144 | 69.9% | 691 | 76.1% | 18 | 6.8% | 11 | 2 | 808 | 12.9 | 15 |
Hunt's arrival reduced Chubb's overall workload across the board. Chubb's rushing share over the front half of the season was gaudy and likely unsustainable in the first place. Even with the back half of the season incorporated, Chubb handled 75.8% of the Cleveland rushing attempts on the season, which still led the league. Only two other players, McCaffrey at 74.4% and Joe Mixon at 72.2%, were at 70% of their team total for the season.
Chubb's 69.9% team rushing attempt share would have still ranked third in the league behind those two players over the course of a full season. One of the league's most efficient runners through two seasons, Chubb was still eighth in the NFL in yards from scrimmage among backs with Hunt active over the final eight weeks of 2019 based on the strength of his rushing acumen. 
Where Hunt really stung Chubb was in the passing game. After he caught at least three passes in six of the opening eight games of the season, Chubb had one or fewer receptions in six of the final eight. He totaled just 22.7 receiving points after posting 41.4 points through the air over the front half of the season. Just the loss of that receiving work did damage to his bottom line. Both his fantasy ceiling and floor were lowered. Chubb was an RB1 in 2-of-8 games with Hunt active and the RB33 or lower in four of those games after being an RB1 in 4-of-8 games to start the year and just one game lower than RB26.
The one area that did not have much to do with Hunt, though, was simply touchdown variance. After Chubb reached the end zone six times through six games, he scored just twice over his final 10 games played. Even with Hunt in the lineup, over the final eight games of the season, Chubb handled 15-of-19 team rushing attempts inside of the 10-yard line while Hunt had just two. Inside of the 5-yard line over that same span, Chubb had 10 of the 12 team carries while Hunt had just one. On those 10 carries for Chubb, he scored on zero of them. Base rate for the league in 2019 was converting 48.1% of carries inside of the five for touchdowns. 
For the season, only Leonard Fournette (-38.0 points scored) had a larger difference in red zone fantasy points scored versus expected total based on his touches than Chubb's -32.0 points scored below expectation in the red zone. While it is definitely true that Hunt was a problem in lowering Chubb's floor by slicing his receiving output, a touchdown here or there based on the opportunities he had could have raised some tides for Chubb as well. 
Hunt is an unrestricted free agent after the season. While sharing a backfield with Hunt may only be a speedbump for Chubb for only one more season, that also leaves us with Chubb entering 2021 in what will be the final season of his rookie contract (with no pending option year in year five since he wasn't a first-rounder), which has now become a fearful time for fantasy owners since we just saw a number of teams get ahead of expiring contracts for their current lead backs during this year's NFL draft. For many, being able to trade a running back at a premium dollar that may solely be centered around his rushing prowess for fantasy purposes is sound process.  
The biggest wild card for Chubb and the Cleveland backfield this season is the changeover to new head coach Kevin Stefanski, who was with the Vikings from 2006 through last season. We already know Stefanski is going to incorporate a Gary Kubiakian-style of offense that is going to feature the backfield to a large degree. We know that Stefanski wants to base his offense on the appearance of the run game. He had a quote last season stating his offensive plays need to "look like, taste like, and smell like the run." But we do not know how he is going to actually handle the split between Chubb and Hunt outside of guesswork. 
There is also an element that we may just be overfitting what we have seen from Stefanski's short term, 21-game run as an NFL play-caller by simply doing the job his head coach asked him to do — especially after getting the job in Minnesota after Mike Zimmer publicly expressed frustration in John DeFilippo before firing him to close 2018. The Vikings also really only had one tangible receiver for the crux of the season in Stefon Diggs and led for 47% of their offensive snaps on the season, which was seventh in the league.
Completely flying in his own direction and with different personnel than the Minnesota 2019 offense, there is some prematurity in declaring this 2020 Cleveland offense a carbon copy in terms of offensive approach as last year's Minnesota team, especially when factoring game splits based on pace of play.
As a byproduct of Minnesota leading often, they ranked 16th in the NFL in overall pace of play, running a play every 27.7 seconds of possession. But they ranked 21st in the league in pace of play playing ahead on the scoreboard at any point (29.2 seconds per play) and 27th in pace ahead in the second half of games (31.6 seconds). Adjusting game script, Minnesota had much more tempo. They ranked ninth in the NFL in pace in neutral game script outside of the fourth quarter of games (28.2 seconds) and sixth in offensive pace trailing at any point in the game (24.6 seconds per play). In the first half of games period, they were eighth in pace played (26.6 seconds).  For comparison, the 2019 Browns were 20th in first half pace of play (28.4 seconds), 27th in pace in neutral game script outside of the fourth quarter (30.4 seconds) and 26th in pace while trailing (27.4) at any point. Unless Cleveland can match the 2019 Vikings in terms of overall positive game script, we can project the Browns to run more offensive plays in 2020 than they did in 2019.
As usual in closing here, in dynasty, every player has the potential to be both a buy and sell at the same time. You just have to find the proper context in your league on which he is valued per owner. Startup ADP and cost is not going to be an exact market for you with team context a driving force in established leagues, but here are the buy and sell point suggestions using that as guideline pending which side you fall on. 
2020 Rookie Pick Value: High First (1.01-1.03)
RB Value Targets: Joe Mixon, Miles Sanders, Josh Jacobs
WR Value Targets: Chris Godwin, D.J. Moore, A.J. Brown
TE Value Targets: George Kittle