With the 2020 NFL schedule release scheduled for this Thursday night, we are continuing to look back at how the schedules played out and impacted the fantasy landscape a year ago.
So far, we have already looked at the quarterback and running back positions' strength of schedules and performances based on their respective slate of opponents, as well as how each team defense made out under the same lens versus those positions. With the methodology used in those opening two posts, we are moving on to the wide receiver position and team defenses versus opposing wide receiving corps.
As a reminder, when it comes to defensive matchup analysis, I believe a large portion of team defensive statistics are essentially statistics from the opposing offensive performance firsthand. Even with that thumbtacked in a front corner of my mind, I also do believe there are good defenses in the NFL and that they can impact games. But when it comes down to how I incorporate defensive matchups into analysis and weekly decisions, I am more apt to shade towards a statistically poor defense elevating a mid-to-lower offense or player in a matchup versus a great defense erasing a great offense.
Without a baseline for points scored in Week 1 outside of the prior season statistics, those games both went into the player and team points averages allowed, but we are focusing on the subsequent games played Weeks 2-17 once we started applying 2019 output to the sample. 
2019 Fantasy Strength of Schedule and WR Performance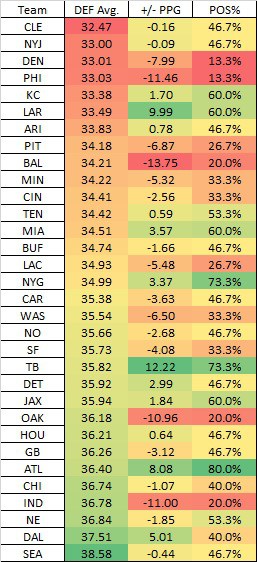 *DEF Avg. = Average PPR Fantasy Points allowed per game prior entering that matchup
*+/- PPG = On average how the Team WRs scored per week vs. that prior DEF Avg.
*Positive % = Percentage of games in which the Team WRs outscored the prior DEF Avg.
In the opening post,

Baker Mayfield

faced the toughest schedule among passers, so this rolls into the matchups he faced. No team had a harder schedule in terms of points allowed coming into that matchup than the Cleveland wideouts. The Browns faced 10 opponents in the top half of the league in point differential allowed versus opposing wide receiver average and had just three games against defenses in the bottom 10. A lot went into the disappointing season

Odell Beckham

had from a fantasy stance that did not just orbit facing a tough schedule, but the tough slate only compounded matters. Beckham's five highest-scoring games of the season came against defenses that ranked 24th (NYJ), 28th (MIA), 21st (CIN), 10th (SEA), and 23rd (ARI) in point differential versus opponent average prior to the matchup.

What jumps out above is you get a clear cut look at which teams just had anemic receiving groups altogether. Baltimore, Philadelphia, Indianapolis, and Oakland were all on average below their opponent's year-to-date performance by double-digit points per game. The Colts especially spoiled a ripe opportunity in facing the 29th ranked strength of schedule above. Other lackluster groups such as Denver and Washington were right behind the bottom-seven. A lot of these teams here naturally pursued the wide receiver hard in this past draft, with everyone except for Baltimore and Washington selecting a wideout with the first pick they had in the draft. 

Baltimore was dead last in point differential (-13.8) versus their opponent average to date. That was part offensive design and part having

Willie Snead

(676) and

Seth Roberts

(550) as their first and third lead wideouts in snaps played. No team used their wide receivers less frequently a year ago then the Ravens. Baltimore wideouts combined for 7.3 catches on 11.4 targets per game, both league lows. 

One team with good wideouts at the bottom of the barrel was the Steelers, who checked in at 27th in point differential versus opponent average. Given

how bad that both

Devlin Hodges

and

Mason Rudolph

were last season

, it is a testament that they weren't 32nd. Pittsburgh went from 313 passing yards per game in 2018 down to 186.3 passing yards per game in 2019, the largest single-season decline of passing yardage per game in league history.  

On the other end of the spectrum, teams we inherently know have good wideouts lead the way. Tampa Bay was the only team in double-digit points scored over their opponent, while the Rams, Falcons, and Cowboys were behind them. But there were a few pleasant surprises from teams such as the Dolphins, Giants, and Jaguars providing output above expectation. All three of those teams were in the top-10 in point differential above opponent average while all three were in the top-six in percentage of games above their opponent average prior. 
Now, we'll turn the tables and look at the defensive side of things. Since a lot of defensive metrics are offensively influenced, we can look at which teams had a soft road or were elevated by their slate of opponents and which teams were strong at neutralizing scoring output that their opponents have previously been posting.
2019 Defensive Fantasy Strength of Schedule and WR Performance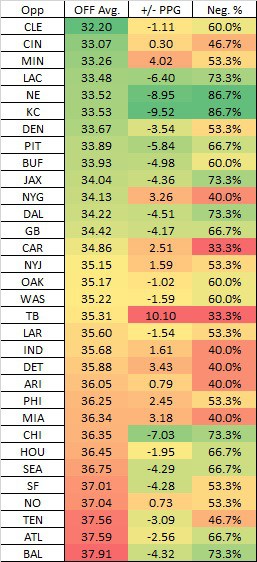 *OFF Avg. = Average team WR PPR Fantasy Points scored per game prior to facing the DEF
*+/- PPG = On average how the WRs scored per week vs. that prior OFF Avg.
*Negative % = Percentage of games in which the WRs failed to reach their season average prior to that point
Where the Browns faced the hardest slate of defenses versus their wideouts, defensively they faced the lightest test of wide receiver groups. They ranked 19th in both point differential versus opponent average and percentage of games in which they held their opponents below their year-to-date average. 

On the other end, Baltimore faced the league's hardest slate of high-scoring wideouts. They had just three games versus bottom-10 teams in wideout points per game in total. Despite that, they ranked ninth in point differential allowed per game while tied for third in rate of games holding their opponents below their average prior to the matchup.

The Chargers, Patriots, and Chiefs all ran into lighter schedules, but all were also legitimately good in consistently limiting the wide receiver position as well, ranking as three of the top four teams in point differential allowed versus opponent average. Just two wideout groups reached their prior seasonal average versus Kansas City (Detroit in Week 4 and the Chargers in Week 11) while just two did so versus the Patriots (Chiefs in Week 14 and Dolphins in Week 17), which were the fewest games allowed by defenses. 

At the bottom, Tampa Bay was as poor as defending wideouts as they were as good offensively as getting the ball to theirs. The Buccaneers allowed a league-high 10.1 points per game over what their opposing wideouts had been averaging prior to the matchup. That was a full six points higher than the next defense. Tampa Bay allowed three (versus the Rams, Seahawks, and Cardinals) of the eight highest-scoring collective wide receiver games of the season. As a bright note coming into 2020, the Tampa Bay defense did find a rhythm to close the season versus wideouts. After holding just one set of wideouts below their year-to-date average through 12 weeks, the Bucs held four of their final five opponents below that mark.

The Vikings were behind the Bucs in point differential allowed per game, which is part of the reason only one of their top-dour cornerbacks from 2019 is still on the roster. Minnesota was better than some of the bottom teams in percentage of negative games allowed, but when they did give up wideout points, they gave them up in buckets. The Vikings allowed the third (Week 5 versus Dallas) and sixth (Week 7 versus Detroit) highest scoring team wideout games of the season.