Opportunities are the name of the game for fantasy football. It is no secret that we want players getting the ball because you cannot score fantasy points without the ball. But not all opportunities are created equal for fantasy football. We have been going over some of the differences in targets in the red zone for all of the positions of late, but I wanted to put together a top-down view of players targets and the rate of which they receive the "high-fantasy calorie" types of targets that we really want.
We of course want our wideouts to get a ton of target volume in general, but which ones are getting the highest rates of deep ball, red zone, inside of the 10-yard line and end zone targets that really churn out fantasy production? Even if a player is lower volume, but high in those areas, an unprojected target spike could mean a breakout fantasy season. If you are wondering why those are the types of targets that carry the most fantasy weight, here is the breakdown in points per target for PPR scoring on those throws over the past decade.
| Value of Targets | Pts/Tgt |
| --- | --- |
| Deep Target | 2 |
| Red Zone Target | 2.42 |
| Inside 10 Target | 2.99 |
| End Zone Target | 3.69 |
| None of the above | 1.43 |
The average target over 15 yards downfield is worth roughly 1.4 times a non-vertical throw, while we then progressively climb in weight of targets coming closer to the end zone and the holy grail of targets, actual targets in the end zone.
So with that all in place, we are taking the top-40 wide receivers in fantasy draft position and hashing out their career ranks in targets per game as well as the rate in which they get each type of those "high-calorie" fantasy targets. Since we are looking at career production, I am also including the same exact table at the very bottom for the 2019 season only for comparison and role changes and will hit some notes on the differences between careers and 2019 deployment as we move along. 
Wide Receiver Career Target Rates for Deep, Red Zone and End Zone Targets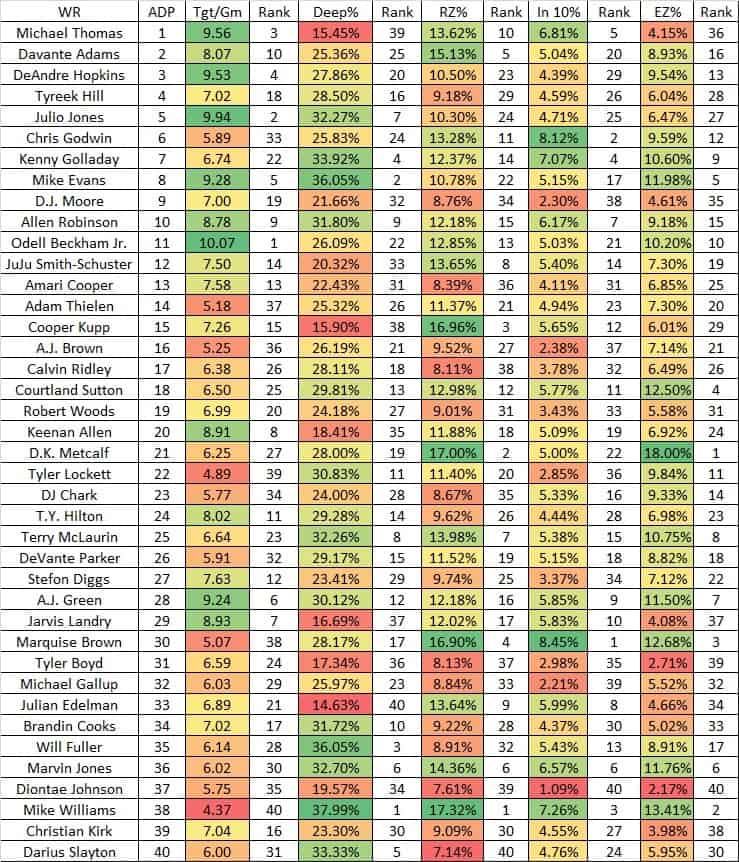 I had to make this an image to fit everything in, but the way to read this is the wideouts are sorted by 2020 fantasy draft position and the rates of their deep ball, red zone, and end zone targets followed by their rank in each statistic among the field. 
So just starting at the top, we can see just how unique of a fantasy player Michael Thomas is right away. He gets a ton of actual volume that we care about firsthand and that is what matters the most, but he is in the bottom five here in both percentage of targets that come downfield and rate of targets that come in the end zone. This is not an overall volume masking a low rate stat, either, where Thomas has so many overall targets that he still ranks high in each category from a raw stance. Even with 185 targets last season, Thomas ranked 49th in the entire league in deep targets (21) and tied for 55th in end zone targets. 
We covered how Thomas has been a primary short-yardage scorer and he does rank highly in red zone and inside of the 10-yard line rate, but over his four NFL seasons, Thomas has never had more than seven end zone targets in a season. Despite lacking a high volume of vertical targets, Thomas has been efficient on the opportunities he does get there, averaging 2.53 points per target. In the red zone, Thomas is at 3.23 points per target and 3.92 points per target inside of the 10-yard line while he ranks seventh among all wideouts here in points per target in the "none of the above" category with 1.67 points per target. 
Sorting from actual volume per game first, the closest top-12 wideouts here in targets per game come to also being top-12 across the board in all of the target rate columns are Mike Evans, A.J. Green, and Allen Robinson.
Robinson is the only wideout here that is in the top-15 in every category. Robinson bounced back with his first 1,000-yard season last year since 2015 while setting career highs in receptions (98) and targets (154) a year ago. Robinson ranked third in weighted opportunity among wideouts last year behind just Michael Thomas and DeAndre Hopkins. In 2019, the only area where he lagged compared to his career was deep ball rate (25.9%), which played into his suppressed 11.7 yards per catch, his lowest since his rookie season.
Nick Foles may be the better option to spike that rate again as Foles has been much more willing to go downfield than Mitchell Trubisky for scores, but both quarterbacks are similar in rate of overall downfield targets as Foles has gone deep on 20.8% of his career pass attempts compared to 19.6% for Trubisky. Robinson himself has also struggled with those targets — likely as a proxy of his quarterback play — averaging just 1.60 points per target on deep targets, ranking ahead of only Julian Edelman of the wide receivers listed above. 
I have been fairly cautious on A.J. Green this summer despite the inherent upside he presents at his cost. Being 32-years-old, missing 29 games since the 2015 season, and playing with a rookie quarterback are all obstacles that give me the internal feeling of possibly attempting to catch a falling knife, but Green's upside based on career usage make it easy to see why many are taking shots on him at his draft cost. 
Green just missed out on joining Robinson in the top-15 in every category just so slightly and is top-12 everywhere outside of red zone target rate. If Green can channel anywhere close to retaining the same volume and types of targets he gets, he does not even have to play a full season to be a potential value at his cost.
Mike Evans was the only player here to rank top-10 in every single category during the 2019 season. The types of targets Evans leans on invite some volatility, but he stacks so many weighted opportunities that you have to ride the lows to get those incredible highs. Now Tom Brady is in play to potentially lower his rate of deep targets and Rob Gronkowski has been added to threaten goal line opportunities. There is potential in the range of outcomes that perhaps Brady's intermediate consistency over what Evans has had through his career also elevates Evans's weekly floor. 
We did not need this chart to diagnose Julio Jones's career, but it is does confirm the context in what has limited his touchdown production. Jones is second here in career targets per game and seventh in deep ball rate, but 24th or lower in all of the target rates that factor in true scoring chances.
Another unique player is Tyreek Hill. Hill's trump card is being the best wide receiver in distance scoring by a wide margin. Being able to score regularly from long range has allowed Hill to overcome never being a major player in the red zone or end zone. Even more unique, Hill is the best long-ball scorer, but does not just get fed deep targets at an alarming high rate. Even in 2019, he was 16th out these 40 wideouts in deep ball percentage.
But Hill does dominate on those deep targets he does get. While the base rate is 2.0 points per target on those opportunities, Hill has averaged 3.24 points per target on those types of targets, which is the most of any wideout here. Hill is just one of two wideouts above that are top-12 in ADP, but not top-12 in any individual category. 
We ran out of room for efficiency per target, but Calvin Ridley has been hyper-efficient compared to the base rates so far through two seasons in the league. Ridley has only tallied 92 and 93 targets over his first two seasons in the league and not stacked high target rates in any particular area of the field on that volume. Despite that, Ridley ranks seventh in points per target on deep targets (2.74), first in points per red zone target (5.07), third in points per target inside of the 10 (5.47) and third in points per end zone target (4.67) of the 40 wide receivers above. The missing ingredient for Ridley is volume, something he should find more of in all areas in 2020.
While we have largely talked about good players that are expensive to begin with outside of Green, there is an opportunity to drill into why players with lower inherent volume overall can still make a fantasy difference based on the types of targets they receive and inversely with high-target options and where the bulk of their targets come from. The former are typically often found with the attachment of "In a best ball", but offer higher fantasy upside as their volume rises compared to the latter that lead with volume first.
The best recent example of the former is Tyler Lockett. Lockett has not sniffed being a top wideout in targets per game, but the targets he does get matter. Lockett ranks 11th above in both deep ball rate and end zone rate per target. On deep ball targets, Lockett ranks third in points per target while ranking 10th in points per end zone target. Looking below at just 2019 output, Lockett was 26th in this field in targets per game, but first in red zone target rate (20.9%), seventh in end zone target rate (11.8%), and 14th in deep ball rate (30.9%). 
Lockett's teammate D.K. Metcalf is not dissimilar given the nature of the Seattle offense. Metcalf had a league-leading 18% of his targets come in the end zone as a rookie while ranking 18th in 2019 in deep ball rate (28.0%).
A player with only one season under his belt that looks strikingly similar to Lockett is Marquise Brown. We took a deep dive on Brown earlier this offseason exploring his future. Brown was just 38th in targets per game in 2019, but was top-five in rate of targets that involved higher touchdown odds across all three categories. He was 17th in deep ball rate (28.2%), but we know he has even more downfield ability in his toolkit that could be unlocked with a screw removed from his foot this offseason. Brown averaged 3.16 fantasy points per target on deep balls a year ago, which trailed only Tyreek Hill (3.22) and Stefon Diggs (3.68) among these wideouts a year ago. 
Kenny Golladay is in a similar vein and had more overall targets than Lockett. Golladay gets fewer targets than his peers at ADP, but the targets he does get have significant fantasy juice. He is 22nd above in targets per game, but top-15 everywhere else. In 2019, he was first in target rate inside of the 10-yard line (10.3%) and second in deep ball rate (38.8%). 
Courtland Sutton is not quite as high as Golladay in each category and is priced lower for fantasy due to quarterback and team attachment, but he may be an arbitrage opportunity for someone like Golladay. Sutton enjoyed a sophomore breakout (72-1,112-6) while ranking fourth among all wideouts in yards per team passing attempt (2.21) and fifth in weighted opportunity. He ranked 13th or better in 2019 in every rate category while 25th in targets per game. 
The discount version of both Golladay and Sutton is Mike Williams. Williams is dead last above in career targets per game, but you can see why we still keep the lights on for him in the event that he does run into a high-target season. Williams is third or higher in every rate category above. Williams even ranks second behind Chris Godwin in points per target on the "none of the above" targets at 1.72 points per target among non-rookies from a year ago if wondering if perhaps he should warrant some more of those opportunities.
You can see here why it is still hard to quit someone like Will Fuller and the upside we have seen on a weekly level. Fuller is third in deep ball rate (36.1%) behind Julio Jones and Mike Evans while he also is 13th in target rate from inside of the 10-yard and 17th in end zone target above, marks way higher than his WR35 price tag.
On the other end of the spectrum, we can look at some high target options that do not pack as much meat on the fantasy bone with the targets they have got thus far for their careers. These players thrive on high volume to carry their production firsthand and if that should ever be compromised, it could lead to a potentially lower floor. This is often why you may see some of these names frequently underperform projection models that weigh in a lot of the hollower targets a wideout can stack. It is also a heat check for models that use yardage gained on a player level to project touchdowns.
Tyler Boyd was seventh among all wideouts in targets last season with 147, but due to the types of those targets compounded by subpar quarterback play, Boyd checked in just 18th in overall points and 27th in points per game on all of that opportunity. For career opportunity, Boyd is bottom-five above in all of the rate statistics outside of targets per game and second to last in end zone target rate out of the 40 wideouts above.
Through four NFL seasons, Boyd has received just 64 downfield targets, 30 red zone targets, 11 targets inside of the 10-yard line with just 10 total end zone targets on his 369 career targets so far. The Bengals may want to explore using him more near the end zone. The worst part of Boyd's heavy usage in non-high leverage targets is that he has actually been efficient with his red zone and end zone targets and actually under par on his low-leverage targets.Despite having minimal volume, Boyd has been efficient with his targets near the end zone, ranking third in red zone points per target (3.38) and fourth in points per target inside of the 10-yard line (4.24) above. In the "none of the above" target category laid out in the open, Boyd is below league base rate at 1.33 points per target, which ranks 38th out of 40 wideouts here.
This has also been an issue that has cropped up at times for Robert Woods. In 2019, Woods was eighth out these 40 wideouts in targets per game, but 33rd or lower in every rate statistic. Woods has never scored more than six receiving touchdowns in a season and it is not hard to see why given how he has been used so far, ranking in the bottom-10 above in career target rates in the red zone, inside of the 10-yard line, and the end zone.
The Rams really forgot about Woods in the end zone last season, giving him just two end zone targets all season long. Through three seasons with the Rams, Woods has now totaled just 15 end zone targets with just 10 in games that Cooper Kupp has been active. 
Being the next Robert Woods or Tyler Boyd is not an overall negative for fantasy because, again, we care about overall volume. That said, being used solely as a short-yardage target outside of the red zone is something we are hoping does not happen to D.J. Moore since he is relatively expensive and has been used in a similar capacity to Woods and Boyd up until this point through two seasons. Moore was 11th in 2019 in targets per game among the top-40 wideouts, but also 24th or lower in all the rate categories for money targets.
Even when Moore has been targeted in the red zone, he has averaged 1.81 points per target, which is ahead of only Diontae Johnson for the players here. We covered Moore's lack of use thus far near the end zone and are looking for his role to expand into new target areas in his third NFL season and first paired with new offensive coordinator Joe Brady.  
We have not been able to pour a lot of cold water on Diontae Johnson this offseason, but here is some small ammunition if you are looking to do so. Johnson was 31st or lower last season in every single category. Obviously, a large grain of salt is applied to Johnson for the quarterback climate he faced (and his teammate JuJu Smith-Schuster was far below his career rates in 2019 playing with Devlin Hodges and Mason Rudolph) but Johnson had just two end zone targets and 18 deep targets on his 92 targets. 
I could touch on every player here, but let me hit on a 2020 wideout from what I believe are the overpriced, underpriced and properly priced buckets.
From the overpriced area, Amari Cooper stands out. Cooper is the 13th wideout off the board right now, but even in 2019, but was 19th or lower a year ago in all five categories. I did take a deeper look into Cooper earlier this offseason and am optimistic on what he can be if Dallas uses him in the slot more this season, but he is a major red zone regression candidate while his overall usage does not quite match his price tag. 
I find Odell Beckham to be properly priced and will draft him when he falls below market value. Beckham was another player we took a hard look at this offseason exploring a potential bounce back. Beckham is someone you have to apply context to in the above table for role change and current usage compared to career usage. Even with 2019 factored in, Beckham is first on the table above in targets per game, but had a career-low 8.3 targets per game a year ago, which had him 15th of the same group. But I do not believe his targets will fall greatly from his 2019 pace per game while Beckham was sixth in deep target rate (33.8%) and 11th in end zone target rate (9.8%).
Beckham is unlikely to receive double-digit targets per game in this Cleveland offense such as he did early in his career with the Giants, but the injury and letdown discount on Beckham from 2019 has room to be advantageous if he and Baker Mayfield can channel some of the downfield and end zone efficiency in their second season playing together freed from Freddie Kitchens.
I do like all of Fuller, Brown, and Williams as players potentially underpriced right now that have a much higher ceiling in their range of outcomes than where they are currently priced, but since I already touched on them, Marvin Jones looks like a solid buy at WR36. Even with red zone regression coming into this season, for his career, Jones is ahead of that WR36 tag in all five categories above, even in targets per game, while he is sixth or higher in all of the weighted rate areas. Jones still carries spike-week potential with actual target volume higher than some company he keeps in price point as a fringe WR3/WR4 option.
Closing this out, below you will find the same table with 2019 output only to reference to the career distribution above. 
2019 Wide Receiver Target Rates for Deep, Red Zone and End Zone Targets
---
Learn more about our 2020 Fantasy Football Package, available for a short time at our early-bird pricing. Massive member benefits, including:
Access to "The Worksheet," by Rich Hribar, one of the industry's most-read early week articles that provides unique statistics and expectations on every player for every game during the season
Comprehensive 2020 Draft Guide: tier breakdown, positional rankings, historical trends & statistical correlations per position, sleeper value by position, and much more!
In-Season member-only content: weekly positional rankings, waiver wire analysis, access to DFS plays and weekly player rankings
Fantasy Football Interactive Tools: receiver vs defense heat maps, expected fantasy points per target, expected fantasy points per pass attempt
Don't miss out, sign up for our 2020 Fantasy Football Package today!