Now that free agency the NFL Draft and the schedule release have all passed, we have our initial layout in place in team depth charts and strength of schedule. With that, we want to take a look at some players across the fantasy landscape that are either polarizing, over or undervalued, or just interesting topics of discussion and walk through some pros and cons of where those players are regarded in fantasy circles. 
So far we have explored players such as Kenyan Drake, Austin Ekeler, Marquise Brown, Tyler Higbee, Mecole Hardman, Nick Chubb, the trio of DeVante Parker, Preston Williams and Mike Gesicki and D.J. Chark. For this installment, we are digging into the subpar 2019 season from Odell Beckham.
For more fantasy content, check out our offseason fantasy football hub with rankings, strategy, and more.
Week 1 Age: 27.8
Contract: Signed through 2023 (potential out year starting after 2020)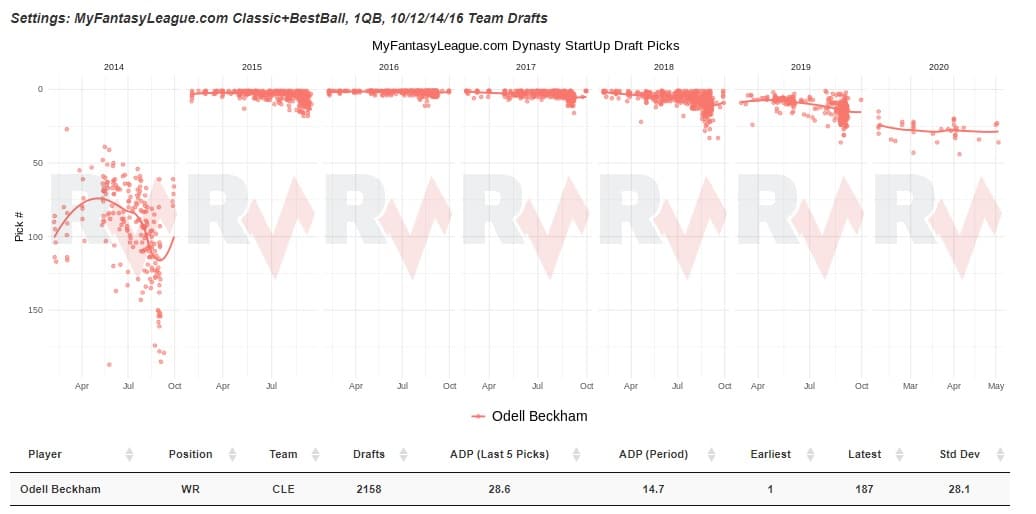 Using the Dynasty ADP app available at RotoViz,  we're starting to see the slow trickle down of Beckham's price point as he enters his late twenties. He is still being handled as a top-30 option overall, but is now near the lower-end WR1 grouping of wideouts after a five-year run as a top-five option among wideouts. 
Beckham's 2019 season was filled with a plethora of things that went wrong. Through his own play, dealing with injuries, subpar quarterback play, chemistry with that quarterback through changing teams, and a daunting schedule layout, Beckham turned in what was his worst season to date. Beckham closed 2019 at WR25 overall in scoring and WR34 in points per game (12.6) while having career-lows in targets per game (8.3) and yards per target (7.8). He was credited with a career-high 11 dropped passes.
A big component of Beckham's struggles in his first year in Cleveland was developing any tangible rapport with second-year quarterback Baker Mayfield. Per Pro Football Focus, just 62.3% of Beckham's targets in 2019 were deemed catchable, which ranked 76th out of 86 qualifying wide receivers. Using the completion percentage per target depth tool at Sharp Football Stats, here is the passing chart for Mayfield in 2019 when targeting Beckham.
2019 Completion Percentage by Target Depth for Baker Mayfield targeting Odell Beckham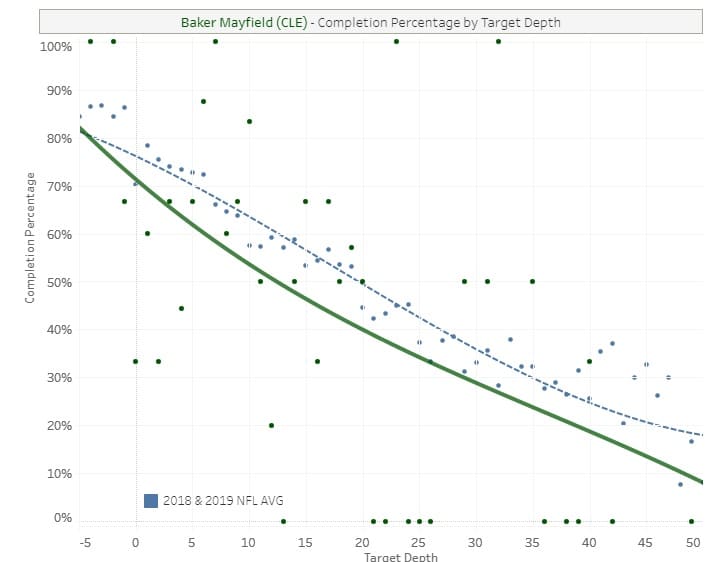 Wide receivers changing teams have been a mixed bag for fantasy. Over the past 10 years, we have had 34 different wide receivers with ADP among the top-36 wideouts that offseason that were on new teams that season. Of that group, just 12 scored more PPR fantasy points per game than the year prior for their new clubs with just 10 of those receivers finishing the season higher than their respective ADP was among the position heading into the season. The sample is small for elite wideouts changing teams such as Beckham, with just six of those players having top-12 ADP. But five of those six had a scoring drop in their first season with their new team and only one (Brandon Marshall in 2012) finished that season as fantasy WR1. 
Wide Receivers With Top-24 ADP Changing Teams Over the Past 10 Years
| Player | Year | ADP | Y1 PPG | Prior Yr PPG | PPG % +/- | Y2 PPG | PPG % +/- |
| --- | --- | --- | --- | --- | --- | --- | --- |
| Odell Beckham | 2019 | 5 | 12.6 | 19.2 | -34.38% | TBD | TBD |
| Antonio Brown | 2019 | 9 | 16.1 | 21.6 | -25.46% | n/a | n/a |
| Jarvis Landry | 2018 | 13 | 13.6 | 16.3 | -16.56% | 14.8 | 8.82% |
| Brandin Cooks | 2018 | 18 | 15.2 | 13.8 | 10.14% | 8.4 | -44.74% |
| Allen Robinson | 2018 | 20 | 11.8 | 12.5 | -5.60% | 15.9 | 34.75% |
| Brandin Cooks | 2017 | 12 | 13.8 | 15.4 | -10.39% | n/a | n/a |
| Terrelle Pryor | 2017 | 16 | 5.6 | 13.3 | -57.89% | n/a | n/a |
| Andre Johnson | 2015 | 21 | 7.2 | 12.7 | -43.29% | n/a | n/a |
| Jeremy Maclin | 2015 | 23 | 16.2 | 17.3 | -6.28% | 9.1 | -43.87% |
| DeSean Jackson | 2014 | 22 | 14 | 16.8 | -17.01% | 10.5 | -24.86% |
| Wes Welker | 2013 | 13 | 16.2 | 18.1 | -10.35% | 7.7 | -52.51% |
| Mike Wallace | 2013 | 24 | 12.5 | 13 | -3.84% | 13.3 | 6.77% |
| Brandon Marshall | 2012 | 8 | 20.9 | 14.9 | 40.27% | 19.1 | -8.61% |
| Brandon Lloyd | 2012 | 21 | 11.8 | 13.1 | -9.78% | n/a | n/a |
| Vincent Jackson | 2012 | 24 | 16.3 | 14.4 | 13.37% | 15.2 | -6.61% |
| Brandon Marshall | 2010 | 8 | 14.6 | 18.5 | -21.08% | 14.9 | 2.05% |
| Anquan Boldin | 2010 | 12 | 11.8 | 14.3 | -17.48% | 11.7 | -0.85% |
Wide receivers do not often change teams during the apex of their careers, so we only have a 17-player sample to work with here. But we are seeing that happen more often of late, with seven of the players here coming over the past three seasons with DeAndre Hopkins and Stefon Diggs changing teams this season.
Five of the 13 non-Beckham players here did not even make it to a second year with their new teams while four of the remaining eight wideouts here that had a decrease in scoring output in year one with their new teams continued to hemorrhage points in year two with that same team. One of those players that did increase his scoring in year two was teammate Jarvis Landry, but only two of those four, Allen Robinson and Mike Wallace, got back to the scoring level per game they had prior to changing teams. It is hard to successfully say that just by being in year two with the same team actually nurtures a bounce back. 
We can still question whether anyone here outside of Marshall is in the same orbit of Beckham's talent level and apex production. It is also fair to question what stems the decline of the small sample here. Is it solely new chemistry and adjusting to a new scheme? We also see rookie wideouts often struggle and take time to acclimate to the league. Is it arc of the player's career at the stage, or another reason?  But it exists that wideouts in new homes have struggled to sustain their output. It could also just be small sample noise as we have seen players such as Amari Cooper, Brandin Cooks, and John Brown recently changed teams and improved or excelled.  
Beckham also dealt with a number of injuries in 2019. He played through a sports hernia, torn abductor, and torn rectus. Despite that, Beckham actually did play in all 16 games for just the second time in his six-year career. Beckham has missed 21 games due to injury over his career, picking up a number of ailments over the years. The most time Beckham has missed in a season is 12 games in 2017 due to a fractured ankle, but outside of that, he has missed time for hamstring, quad, and groin injuries in the NFL, while missing time in college due to a hip injury. Suggesting a player is injury-prone is a slippery slope, but Beckham has not made it through a season fully healthy now since 2016, the last time he was a full-season WR1 for fantasy. 
If playing on a new team and through injuries were not enough, the Browns faced the absolute toughest fantasy schedules a year ago for quarterback play and wide receiver play. The Browns faced 10 opponents in the top half of the league in point differential allowed versus opposing wide receiver average and had just three games against defenses in the bottom 10.
Beckham's five highest-scoring games of the season came against defenses that ranked 24th (NYJ), 28th (MIA), 21st (CIN), 10th (SEA), and 23rd (ARI) in point differential versus opponent average prior to the matchup. Facing tough competition is not an out for a talent such a Beckham, but it did compound matters. As it stands now per metrics at Sharp Football Stats, the Browns project to face the easiest 2020 schedule of opposing defenses based on passing efficiency and explosive plays allowed.
The positive for Beckham is that he has made back-to-back 1,000-yard seasons feel disappointing based on his talent and expectation level, and his opportunity was still rich. Even in a down year through all that worked against him, he still ranked 12th overall among all wide receivers in targets (133), fourth in end zone targets (13), 12th in expected fantasy points, and eighth in weighted opportunity rating at the position. We can safely project for Beckham to be involved in the offense, the other question is what will this new offense under Kevin Stefanski and Alex Van Pelt offer in 2020? 
In the post on Nick Chubb, I cautioned against solely retrofitting what the 2019 Vikings did as an offense to what the Browns will do in 2020. We know what Stefanski wants to do from a personnel stance, but his pace of play was much faster than that of the Browns when in neutral and negative game script. There is an element in play that the Browns run more plays than they did a year ago, despite Stefanski's predicted run-first nature. 
That said, if we do see overlap from Cleveland in 2020 based on some of what Minnesota did a year ago, the one area where I believe we can see Beckham have a legitimate shot to regain some of his upside under Stefanski is in the shot play department.
The scheme he ran in 2019 turned Stefon Diggs in arguably the best deep threat in the league a year ago. Diggs averaged a career-high 17.9 yards per catch and thrived off play-action. Diggs trailed only Michael Thomas in yards per team pass attempt (2.42 yards). The one bright spot for Mayfield a year ago is that the majority of his positive plays came from using play-action. 37.3% of Mayfield's yardage came off play action, the fifth-highest rate in the league, and he was third in the league in touchdown passes (11) using play-action, which accounted for half of his touchdown passes. 
The rub is that the role Diggs was asked to play thrived on career-high efficiency due to career-low volume. We have seen Beckham be capable of efficiency, but the volume aspect can still be questioned here. Beckham was below double-digit targets per game a year ago and it is hard to see him getting back to that level here in this situation based on scheme and surrounding talent. Beckham is a good bet to likely still get to the 120-130 target range, but his days of being a 150-target-plus player again are absolutely compromised unless dominoes fall.
Beckham is a clear double-sided coin of risk and reward. With Beckham's age, injury history, and recent performance dip, this very well may be the final window open to move Beckham at WR1 cost. Beckham may not be aging elegantly and also no longer carries a dead cap hit for the Browns in any season beyond 2020. There is a solid amount of incentive to just get out now if you can get market value, even if Beckham still may have a short-term window of apex production. Even with a bounce back, Beckham would have to rebound with a monster season to jump back past the younger wideout tier ahead of him currently. 
On the other end, it is tough to let go of the upside of one of the most precocious wide receivers in league history. With the lack of true fantasy WR1 options thinning at the position, Beckham still has that upside in his range of outcomes.
If the Browns' schedule plays out as projected paired with opportunities to make downfield plays in the new offensive scheme, the opportunity for spike output is present. From a 2020 projection stance, I am operating more cautiously with Beckham, but from a ranking stance, there's room to be more aggressive due to that shrinking lead-WR1 tier of options — especially if Beckham is not your anchor at the position. 
For Dynasty, I do not believe Beckham's market value will jump back above the top and mid-WR1 group, even with a strong season in 2020. But I also have a hard time moving him below players such as Amari Cooper, Stefon Diggs, Kenny Golladay, and even Allen Robinson — players in a similar age strike zone that also come with some added questions of being true locked-in fantasy WR1 options. 
As usual in closing here, in dynasty, every player has potential to be both a buy and sell at the same time. You just have to find the proper context in your league on which he is valued per owner. Startup ADP and cost is not going to be an exact market for you with team context a driving force in established leagues, but here are the buy and sell point suggestions using that as guideline pending which side you fall on. 
2020 Rookie Pick Value: Mid First (1.05-1.07)
RB Value Targets: Aaron Jones, Austin Ekeler, Kenyan Drake
WR Value Targets: Amari Cooper, Kenny Golladay, Allen Robinson
TE Value Targets: Travis Kelce