Now that free agency, the NFL Draft, and the schedule release have all passed, we have our initial layout in place in team depth charts and strength of schedule. With that, we want to take a look at some players across the fantasy landscape that are either polarizing, over or undervalued, or just interesting topics of discussion and walk through some pros and cons of where those players are regarded in fantasy circles. 
So far we have explored players such as Kenyan Drake, Austin Ekeler, Marquise Brown, Tyler Higbee, Mecole Hardman, Nick Chubb, the trio of DeVante Parker, Preston Williams and Mike Gesicki , D.J. Chark, Odell Beckham, and Aaron Jones.  For this installment, we are digging into the polarizing Leonard Fournette. 
For more fantasy content, check out our offseason fantasy football hub with rankings, strategy, and more.
Week 1 Age: 25.6
Contract: Signed through 2020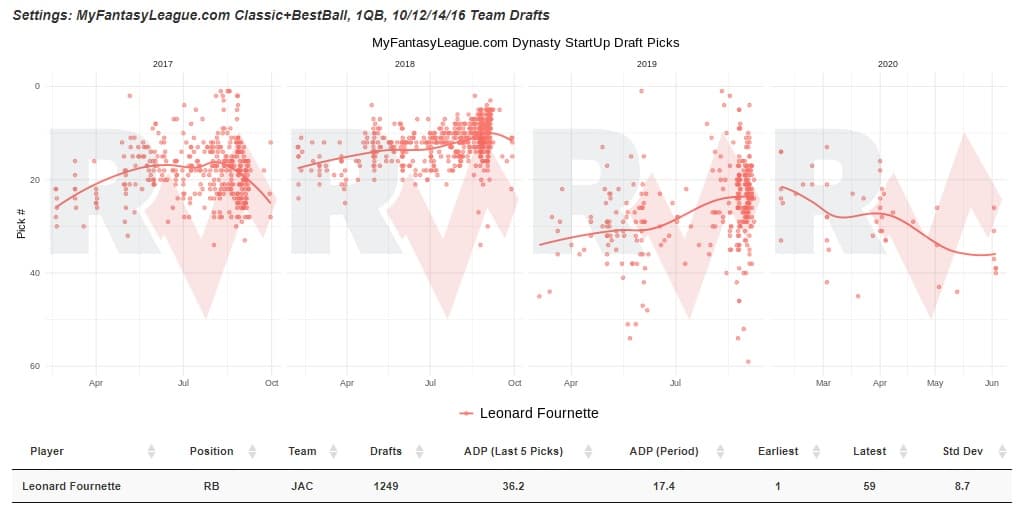 Using the Dynasty ADP app available at RotoViz,  Fournette's average draft position is the lowest it has ever been. But he still carries a significant amount of individual despite that decline, being selected as a top-40 player overall and a top-15 running back. Fournette has not exactly lived up to the hype of perceived talent and draft investment, but he has ranked seventh, 12th, and ninth in PPR points per game among running backs.
In 2019, we finally got to see Fournette stay healthy, only missing Week 17 of the season, after missing three and eight games over his first two seasons in the league. With that, we finally got a full season of workhorse usage. He tallied a career-high 341 touches, which trailed only Christian McCaffrey (403) and Ezekiel Elliott (355). Despite missing a game, Fournette handled 85.8% of the Jacksonville running back carries and 84.8% of the backfield touches. Those rates of usage trailed only Christian McCaffrey at the position. On those touches, Fournette ranked fifth among all running back with 1,674 yards from scrimmage.
Despite staying healthy and racking up usage and yardage at top-five levels in the league, Fournette was ninth among running backs in PPR points per game (17.3) due to his misfortunes in finding the end zone. Fournette scored just three times on 341 touches. It was the fifth-most touches in an NFL season with three or fewer touchdowns scored and the first time a running back scored three or fewer times on 300 or more touches since 2007.
Players with 3 TD or fewer on 300 Touches Since 1990
| Player | Year | TD | Touch | N+ TD | N+ Touch |
| --- | --- | --- | --- | --- | --- |
| Leonard Fournette | 2019 | 3 | 341 | TBD | TBD |
| Thomas Jones | 2007 | 2 | 338 | 15 | 326 |
| Willie Parker | 2007 | 2 | 344 | 5 | 213 |
| Reuben Droughns | 2005 | 2 | 348 | 4 | 247 |
| Tiki Barber | 2003 | 3 | 347 | 15 | 374 |
| Curtis Martin | 2003 | 2 | 365 | 14 | 412 |
| Edgerrin James | 2002 | 3 | 338 | 11 | 361 |
| James Allen | 2000 | 3 | 329 | 2 | 165 |
| Jerome Bettis | 1998 | 3 | 332 | 7 | 320 |
| Garrison Hearst | 1995 | 2 | 313 | 1 | 237 |
| Erric Pegram | 1993 | 3 | 325 | 1 | 119 |
| Harold Green | 1992 | 2 | 306 | 0 | 237 |
If Fournette can replicate his touch count — something tough to do in today's game — then a significant scoring spike could be in order. The backs here that received 300 touches again the following season had scoring seasons of 14, 15, 11, 15, and seven touchdowns. The issue is that all that rebounded were Hall of Fame-caliber backs (and Thomas Jones).
For the season, Fournette's -38.0 fantasy points scored in the red zone versus expected total based on his touches was the largest discrepancy in the league. He scored on just 3-of-8 carries inside of the 5-yard line and 3-of-7 carries from the 1-2 yard lines after scoring on 11-of-19 carries inside of the five and 10-of-15 carries from 1-2 yards out over his first two seasons in the league. Fournette has some potential issues in rolling over his 2019 volume which we will get to shortly, but he is an objectively strong bet to score more touchdowns in 2020.
On a team level, Fournette's three rushing scores made up the entire team total, which was the fewest rushing touchdowns in a season for a team since 2005. Jacksonville had a 24-to-3 passing to rushing TD rate (88.9%) the second highest split over the past decade behind the 2017 Seahawks, who went from four touchdowns on the ground up to 15 the following season.
Lowering the arbitrary split down to teams who scored 80% of their touchdowns through the air over the past decade, we have a 29-team sample prior to last year (the 2019 Lions also apply here with the Jaguars). Of those 29 teams, 24 of them scored more rushing touchdowns with an average increase of 5.8 rushing touchdowns the following season. Attached to the Jaguars offense, Fournette is unlikely to get into that double-digit touchdown area, but 6-8 scores on the ground is a realistic baseline if he stays on the field.
When the Jaguars Got Bad, Fournette Declined
You may not remember this, but the Jaguars were actually a competitive football for a stretch of the 2019 season. Through eight weeks, Jacksonville had a 4-4 record and +10 point differential, which was 14th in the league over that span. During that run, Fournette averaged 18.1 PPR points per game with 131.8 yards from scrimmage per game. He posted 14 or more points in six of those eight games and was a top-12 scorer in five of those weeks with just two weeks outside of the top-20 scorers. Even with poor touchdown fortune, he was still a set and forget RB1 option.
Weeks 9-16, Jacksonville went 1-6 and was outscored by 125 points, the worst point differential in the league. After starting 4-4, the Jaguars were outscored 174-57 over the following five games. It was during this stretch when Fournette began to taper off and become a similar fantasy back to what we were getting from Le'Veon Bell a year ago. Just empty-calorie touches.
Over his final seven games of the season, Fournette dipped to 16.4 points per game, anchored by a 36.9-point effort in Week 12. Over those final seven games he appeared in with Jacksonville floundering, Fournette reached 14 points in a game just twice and was inside of the top-20 scorers at his position just twice.
Where does Fournette's 2020 Volume Stand?
We have been preconditioned to pursue touches and volume first for running backs. Fournette has never been a model of efficiency and 2019 was no different. He ranked 54th among all backs in rushing success rate and 50th in success rate per target. But a player getting the ball 20 times a game is inherently going to stack yardage regardless of efficiency. 
The question still remains in how to we do trust the Jaguars and can Fournette get to 300 touches again in 2020? On one hand, they seemingly are not too enthralled with Fournette on the field or behind closed doors. They tried to trade him this offseason and declined to pick up his fifth-year option. But on the other hand, the team also failed to aggressively add any real competition or investment into the depth chart from a rushing perspective behind Fournette. 
During the draft, Jacksonville had 12 draft picks. They used zero of them on an heir apparent to Fournette, only the additions of James Robinson and Tavien Feaster as undrafted signings after the draft. As the Jaguars sit right now, the challengers for Fournette's rushing equity outside of those two undrafted rookies are Ryquell Armstead (a fifth-round pick in 2019 who had 3.1 YPC as a rookie, Jeremy McNichols (a fifth-round pick in 2017), and another undrafted player in Devine Ozigbo. Rookie wideout Laviska Shenault should be expected to be used in a creative fashion after a strong rushing resume for a receiver exiting college and he is built like a running back, but those touches likely have a ceiling cap on them. 
The one thing that is the shakiest for Fournette is that his 2019 receiving role should be expected to be compromised. Fournette set a career-high with 76 catches and 100 targets, but did so with only 6.9 yards per catch and had 19 total air yards all season on those targets. There is a difference between being able to catch a football and being a receiver out of the backfield that adds value, and Fournette was the former. Of all 20 backs with 50 or more targets on the season, Fournette ranked 17th in success rate on those targets.
The Jaguars added veteran Chris Thompson to take away receiving snaps. Thompson has familiarity with Jay Gruden and has averaged 3.4 receptions per game over the past five seasons. He is a legitimate threat to continue the role he has had as a satellite back and be the passing-game compliment to Fournette, compromising rolling over his high-end usage in the passing game from 2019. But if Fournette does have to compete with a pass-catcher, is Thompson necessarily the worst competition? Thompson himself carries as much injury concern as Fournette, having played a full season just once in seven years while missing five or more games the past three seasons.
Fournette has the projected workload and scoring regression to the mean as pros to him being a potential value option with a high floor, but also comes with added fragility due to his standing with the organization and potential loss of a career-high in receiving output.
If I am a contending team, I am willing to see if the team that has Fournette rostered is looking to get out under market value. I do not believe Fournette will be an RB1 for 2020, but I do believe he is a safe bet to still retain an RB2 floor with spike weeks since the floor there is significantly lowered. From a startup dynasty stance, I am lower than the current market. With his pending free agency, unknown future landing spot, or role on that new team paired with his injury history, he is a risky investment beyond this season.
As usual in closing here, in dynasty, every player has potential to be both a buy and sell at the same time. You just have to find the proper context in your league on which he is valued per owner. Startup ADP and cost is not going to be an exact market for you with team context a driving force in established leagues, but here are the buy and sell point suggestions using that as guideline pending which side you fall on. 
2020 Rookie Pick Value: Mid-back First (1.07-1.09)
RB Value Targets: Aaron Jones, Kenyan Drake
WR Value Targets: Courtland Sutton, Keenan Allen, Stefon Diggs
TE Value Targets: Mark Andrews
---
Be sure to pick up a copy of Warren Sharp's new book: 2020 Football Preview, available for pre-sale now with an early-bird special price!
This book shares insights into the players, coaches, teams and philosophies with one goal in mind: to get you prepared for the 2020 season by delivering the smartest information in the fastest, most direct way possible for optimal reviewing and retention.