As the offseason rolls along, we are laying the groundwork for early best ball drafts, new dynasty startups, and everything else under the fantasy sun as we gear up for the next NFL season.
Below you will find 2023 fantasy football running back rankings along with a profile for every ranked running back.
These running back rankings will move and be updated throughout the offseason as the landscape changes. I also have more detailed player write-ups in the tiers breakdown.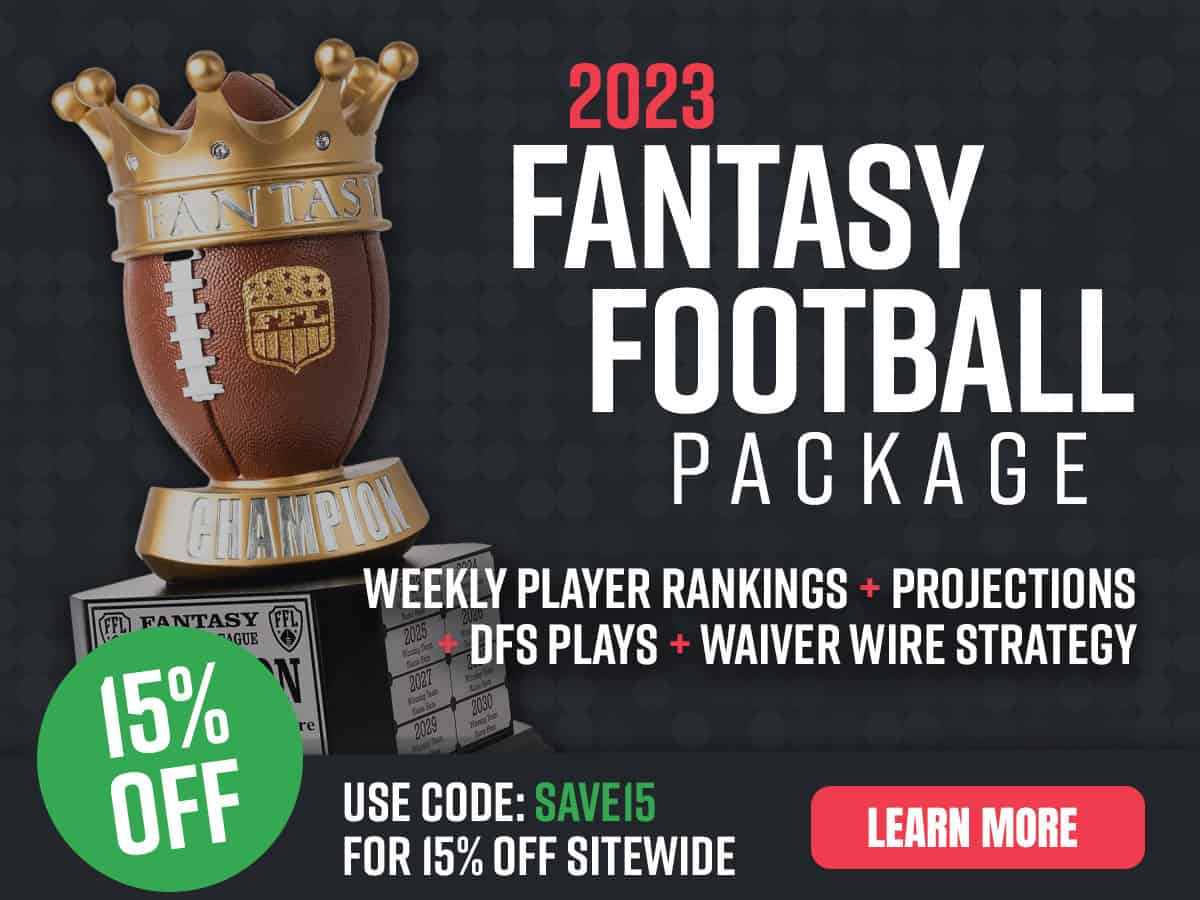 Fantasy Football Rankings:
2023 Fantasy Football Running Back Rankings:
Updated August 31
1. Christian McCaffrey: The only thing that has stopped McCaffrey from being a fantasy stud has been injuries. Over his past five seasons, he has been the RB3, RB1, RB1, RB5, and RB2 in points per game. After joining the 49ers, McCaffrey was an RB1 scorer in eight of his final ten games of the season with just one week outside of the top-17 scorers at the position over that span. If looking for something to monitor looking from a wider lens, the 49ers did alleviate McCaffrey's workload when Elijah Mitchell was available. In four regular season games with Mitchell active, McCaffrey averaged 15.0 touches per game (with one game over 15 touches) compared to 23.5 touches per game (with one game with fewer than 17 touches) the other six weeks.
2. Austin Ekeler: Ekeler has been a top-12 scorer in points per game in each of the past four seasons, closing as the RB6, RB12, RB3, and RB1 in per-game scoring over that span. He was forced to carry this offense a year ago given all of the injuries on the Chargers. He had a career-high 311 touches and led the NFL in total touchdowns (18) for the second consecutive year. With Keenan Allen and Mike Williams missing so much time, Ekeler led the team with career-highs in targets (127) and receptions (107). The forced volume did sap his previously prestige efficiency, however. Ekeler averaged just 6.7 yards per catch and 5.7 yards per target, the lowest rates in his career by far. Entering the final year of his contract at age 28, the Chargers and Ekeler have hinted at reducing his workload, but the team added no viable candidates on the depth chart to warrant significant touches.
3. Tony Pollard: Pollard followed up his breakout in 2021 with an RB8 overall scoring season last year. He racked up 1,378 total yards and 12 touchdowns. Among 42 running backs with 100 or more carries last season, Pollard was second in the rate of carries to go for 10 or more yards (16.1%) and first in yards after contact per carry (3.82). Pollard's touches and yardage have now gone up from the season prior in all four years of his career. With 232 touches last season, there is still room for that streak to continue with the Cowboys releasing Ezekiel Elliott. If there is one area where Pollard is unlikely to have as much fortune this season it is scoring touchdowns from long-range. Pollard had a career-high 12 scores last season, but just three came inside of the 10-yard line. The absence of Elliott can unlock his path to the goal line rushes as a potential solution to that issue.
This premium article is part of the Sharp Fantasy Football Draft Kit, one of the best resources to get you prepared for the 2023 fantasy football season.
Unlock this article and all premium content from our Fantasy Draft Kit for just $1
To continue reading this article
and gain access to our 2023 Fantasy Football Draft Kit, including rankings, tiers, strategies & much more, click below.
Purchase