As the offseason rolls along, we are laying the groundwork for early best ball drafts, new dynasty startups, and everything else under the fantasy sun as we gear up for the next NFL season.
Below you will find 2023 fantasy football quarterback rankings along with a profile for every ranked quarterback.
These quarterback rankings will move and be updated throughout the offseason as the landscape changes. I also have more detailed player write-ups in the tiers breakdown.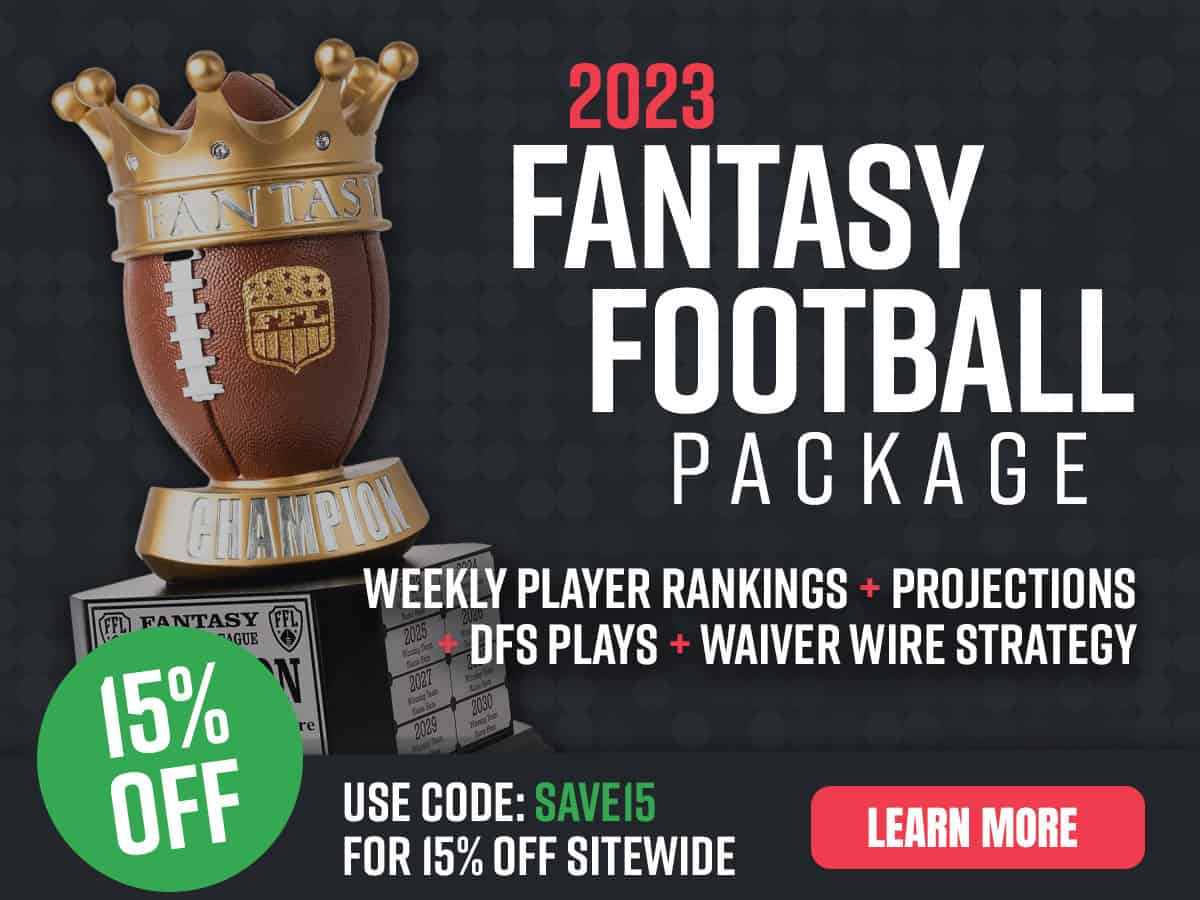 Fantasy Football Rankings:
This is a FREE PREVIEW of the Sharp Fantasy Football Draft Kit, one of the best resources to get you prepared for the 2023 fantasy football season.
Click here to get the Draft Kit for just $1!
2023 Fantasy Football Quarterback Rankings:
Updated August 28
1. Jalen Hurts: These three quarterbacks could be 1A, 1B, and 1C and operate as a mini-tier at the front of the position. Hurts has raised his completion percentage and yards per pass attempt while simultaneously lowering his interception rate from the previous season each year in the NFL. Hurts climbed up to 14.9 passing points per game last season (10th) while still popping for 10.3 rushing points per game (second). With 13 rushing scores, Hurts was the first quarterback in league history to have back-to-back seasons with double-digit rushing touchdowns. Coming off of the easiest schedule in the NFL last season and the loss of Shane Steichen I do expect some regression for the Philadelphia offense, but a more challenging outlook will also press the Eagles to be more aggressive for 60 minutes per week in 2023.
2. Josh Allen: Has finished as the QB3, QB1, and QB2 in points per game over the past three seasons. I still view Allen as having the best combination of passing and rushing upside in fantasy. 2022 was the third consecutive season in which Allen threw at least 35 passing scores with over 4,000 yards through the air. From a rushing perspective, Allen added another 762 yards and seven scores via his legs. He has rushed for at least six touchdowns in all five of his years in the league.
3. Patrick Mahomes: You are getting a high floor paired with a strong ceiling. Mahomes has been a top-six scorer in points per game in all five seasons as a starter. Even after the trade of Tyreek Hill and working with a rotating motley crew of pass catchers outside of Travis Kelce, Mahomes led the NFL in passing yards (5,250), touchdowns (41), and expected points added per dropback (0.27). He even added a career-high 3.5 rushing points per game last season. Over his five seasons as a starter, Mahomes has been a QB1 scorer in 75.3% of his games while his lowest-scoring week in 2022 was QB13.
4. Lamar Jackson: Opened 2022 on fire with 12 total touchdowns over the opening three games before the wheels fell off. Jackson had just eight total touchdowns throwing and rushing over his final nine games of the season. He has missed 11 games over the past two years and has failed to recapture the 2019 magic that made him the fantasy MVP that season. After 11 top-six and nine top-three scoring weeks in 2019, Jackson has combined for 11 top-six and six top-three scoring weeks over the past three seasons. With the Ravens collapsing offensively the past two years without Jackson, the team finally has gotten serious about upgrading his playmakers.
5. Justin Fields: After a slow opening month of the season in 2022, Fields reeled off nine consecutive QB1 scoring weeks on the back of an incredible rushing profile. Fields rushed for 1,143 yards in 15 games, pacing all quarterbacks in rushing points per game (10.8). We should see regression in his rushing efficiency since Fields had the most rushing yards ever for a quarterback on runs of 20 or more yards (429). Any regression in that area could be a big swing as Fields was 20th in passing points per attempt (0.427) and 40th in passing points per game (9.1). The positive end is that the Bears have invested by adding D.J. Moore to elevate his passing output while adding Darnell Wright at offensive tackle to offer more protection up front.
6. Justin Herbert: Everything that could go wrong for Herbert did in 2022. After touchdown rates of 5.2% and 5.7% over his first two seasons, Herbert posted a 3.6% touchdown rate this past season. He averaged 6.8 yards per pass attempt, 9.9 yards per completion, and took a sack on 5.2% of his dropbacks, all the worst rates of his early career. From a rushing perspective, Herbert rushed the fewest times per game over his first three years in the league (3.2 attempts per game). He averaged 2.7 yards per rush after 4.3 yards and 4.8 yards per run in his first two seasons. Herbert suffered a chest fracture in September that he played through and then a torn labrum in January. Outside of his injuries, the Chargers had all of Rashawn Slater, Corey Linsley, Keenan Allen, and Mike Williams on the field together for just 20 total plays last season. Herbert took just 175 dropbacks last season with both Allen and Williams on the field, but he still showed his upside when he had playmakers available. With both Allen and Williams on the field, Herbert was third in the NFL in yards per pass attempt, second in success rate, and led the league in completion rate.
7. Joe Burrow: The QB4 in points per game (21.9), Burrow showcased a higher floor last season than during his breakout the year prior. He had seven top-six scoring weeks in 2022 after just three in 2021. Working with attachment to the best trio of wideouts in the league (including attachment to a top-five fantasy pick overall in consensus ADP), Burrow avoided taking sacks as the season went on while the Bengals added another offensive line upgrade in Orlando Brown this offseason.
8. Trevor Lawrence: Things came together for Lawrence after a slow start in his second NFL season. Through eight weeks the Jaguars and Trevor Lawrence were struggling. Lawrence completed 62.5% of his passes (27th) for 6.6 yards per pass attempt (23rd). Lawrence's 84.8 rating was 22nd over that span, sandwiched between Kyler Murray and Matt Ryan. Lawrence had 10 passing touchdowns and six interceptions over his opening eight games. Over the final 11 games of the season, Lawrence completed 67.7% of his passes (seventh) for 7.1 yards per attempt (17th) with 20 touchdowns and seven interceptions. His 97.5 rating was seventh in the league over that span while ranking fifth among all quarterbacks in expected points added per dropback (0.14). Lawrence had eight QB1 scoring weeks over his final 12 regular season starts. The addition of Calvin Ridley gives Lawrence another potential weapon in one of the weakest divisions in the NFL.
9. Deshaun Watson: Watson was downright rough when he was finally able to play last season. Over his six starts to close the season, Watson completed a career-low 58.2% of his passes. He also would have had career-low marks in yards per pass attempt (6.5), yards per completion (11.1), and touchdown rate (4.1%) while his 2.9% interception rate was his highest since his rookie season. Watson has a full offseason to recalibrate himself moving forward in this offense, and the Cleveland offensive line, which was a mess to close the season on top of his struggles, should improve. Despite the step of blind faith that Watson can recapture his previous fantasy success, he is the archetype of quarterback we look to invest in for fantasy when the price dips. Watson still rushed for 29.2 yards per game, eighth among passers with multiple starts.
10. Dak Prescott: Coming off the worst fantasy season of his career. Prescott was the QB16 in points per game (16.6). His 7.3 yards per pass attempt and 238.3 passing yards per game were his lowest in a season since 2017. Turning 30 this July, Prescott's rushing output has fallen off the map, which adds more dependence on having his passing efficiency rebound. The good news is the Cowboys added Brandin Cooks as a direct target upgrade over the loss of Dalton Schultz to aid a potential bounceback.
11. Tua Tagovailoa: After throwing 27 touchdowns over his first two years in the league, Tagovailoa tossed 25 scores last season as he led the NFL with a 6.3% touchdown rate. After passing for 6.3 and 6.5 yards per pass attempt over his first two seasons, Tagovailoa led the league with 8.9 yards per attempt in 2022. For fantasy, the question is how reliable Tua's efficiency can be when tasked to punch up with the consistency of other front-end fantasy scorers. Tagovailoa got fat over three weeks versus the Lions (QB1), Bears (QB4), and Browns (QB3) last season but had just one other top-10 scoring week over his other 10 starts.
12. Geno Smith: Smith was one of the best stories of the 2022 season. At age 32, Smith led the NFL with a 69.8% completion rate, throwing for 4,282 yards and 30 passing touchdowns. Over his previous eight seasons in the league, he had just 34 touchdown passes. Only Mahomes matched Smith in games last season with multiple passing touchdowns (12). Smith was a big winner this offseason. He inked a three-year extension, Seattle did not draft a rookie quarterback to push him, and they also added Jaxon Smith-Njigba in the first round as another pass-catching weapon. Seattle used 11 personnel on just 63.0% of their passing plays in 2022, which was 26th in the league. Expect that rate to rise in 2023, especially as the season progresses.
13. Anthony Richardson: The draft capital invested into Richardson paired with the commentary made after the draft by Shane Steichen suggests Richardson is going to play earlier than expected entering the NFL. Assuming Richardson even approaches something near 90% of the Indianapolis dropbacks this season, he is going to produce fantasy points simply due to his rushing potential. If he is declared the Week 1 starter, I would take him over Smith and Jones as well. At 6-foot-4 and 244 pounds, Richardson ran a 4.43 forty at the NFL Combine, logging the second-best speed score (accounting for player size) behind Robert Griffin. For good measure, Richardson then tacked on the highest vertical (40.5 inches) and broad jumps (11-foot-9) for any quarterback ever at the combine. There are passing concerns that could limit a true fantasy ceiling, but on rushing output alone Richardson will be a viable weekly starter at the position.
14. Jared Goff: After three straight down seasons, Goff bounced back last season with a solid campaign. He threw 29 touchdown passes (the second most of his career) while setting a career-low in interception rate (1.2%). His 7.6 yards per pass attempt were his most in a season since 2018. For fantasy, Goff closed as the QB15 in points per game (16.7). He particularly came on strong to close the season, finishing as a top-six scorer in four of his final six starts of the season.
15. Kirk Cousins: We know exactly what we have with Cousins as a solid QB2 play that can be streamed and moonlight as a QB1. He has finished QB16, QB19, QB12, QB12, and QB14 in points per game over his five seasons in Minnesota. Some slight pause on only being the QB14 in points per game last season since he also had a career-high 698 dropbacks to go along with that finish. But Cousins still has an attachment to the WR1 in fantasy in Justin Jefferson, and we are hoping the addition of Jordan Addison is an immediate upgrade over what Minnesota got out of Adam Thielen in 2022.
16. Daniel Jones: Jones enjoyed a breakout in his first season under Brian Daboll, finishing the season as the QB10 in points per game (18.1). Under Daboll, Jones was finally unleashed as a runner. He rushed for a career-high 44.3 yards per game (fifth) and seven touchdowns (tied for third). We are still looking for another step under Daboll as a passer to max out more of a fantasy ceiling since Jones was 30th in passing points per game (11.1), but his floor has risen tremendously as a QB2 than can flirt with QB1 scoring weeks. The Giants do have our 32nd ranked passing schedule this season, so Jones will have to make a significant stride as a passer to be more than a matchup-based play in 1QB formats.
17. Aaron Rodgers: After back-to-back MVP campaigns, Rodgers and the Green Bay passing game took a major step backward last season after trading away Davante Adams. Rodgers was the QB28 in points per game (14.1) and averaged 13.4 passing points per game, the fewest of his career. With a new environment in New York in 2023, Rodgers is reunited with Nathaniel Hackett and gets an up-and-coming star receiver in last year's Rookie of the Year Garrett Wilson. Rodgers has sagged for seasons prior and come back strong, but with his rushing output next to nothing at this stage of his career, turning 40 this December, Rodgers has to have hyper-efficient passing output to punch up for fantasy.
18. Russell Wilson: There is not much good to say about Wilson's first year in Denver. He had career lows in completion rate (60.5%) and touchdown rate (3.3%) while his 7.3 yards per pass attempt were the second-lowest rate of his career. For fantasy, he was the QB20 in points per game (15.0). As bad as things were, Wilson did still provide some hope to end the season, closing the season with three top-five scoring weeks over his final four starts. Denver still has a solid surrounding group of pass catchers, and the addition of Sean Payton to keep Wilson in play is a potential value this summer.
19. Brock Purdy: Purdy is back on track to start Week 1. During his five starts last season, Purdy averaged 18.2 fantasy points per game. He was the Qb7 in overall scoring over that span. There is no way that Purdy can sustain the 8.8% touchdown rate he had over those starts, but we have seen this system coax efficiency out of several passers above their perceived talent level.
20. Kenny Pickett: Pickett completed 63.0% of his passes (23rd) for 6.2 yards per pass attempt, which was 32nd out of those 33 passers. None of those quarterbacks had a lower touchdown rate than Pickett's 1.8% on the season. There is nowhere to go but up for Pickett in the touchdown department. When comparing the surrounding talent available in 2023 for Pickett compared to other younger options down here, there is more appeal in Pickett having increased viability in breaking out of a QB2 platoon and being a usable QB2 on his own.
21. Derek Carr: Carr is coming off a disappointing season with the Raiders. His 60.8% completion rate was his lowest in a season since his rookie season while he posted a career-high 2.8% interception rate. His 7.0 yards per pass attempt and 234.8 passing yards per game were his lowest in a season since 2017. Through nine NFL seasons, Carr has finished higher than QB19 in points per game just once. While we are hoping Carr can elevate the offense as a whole in New Orleans, he is best as a streamer in 1QB formats and a matchup-based QB2 in 2QB leagues. Carr is going to start the full season barring a injury, so he retains 2QB value.
22. Matthew Stafford: Stafford started the season with issues surrounding the elbow on his throwing arm and then only lasted nine games due to a spinal contusion. Before being shut down, Stafford was having arguably the worst season of his career. The Rams had a 3-6 record while Stafford had just 10 passing touchdowns and eight interceptions. His 3.3% touchdown rate was tracking to be his lowest since 2012. His 6.9 yards per pass attempt was his lowest rate since 2018. His 10.1 yards per completion was his lowest since 2010. On top of all of that, he was also sacked on 8.7% of his dropbacks, the highest rate of his career. Stafford turned 35 this February, and Sean McVay has already stated that he will have "no limitations" coming into this offseason. Despite that, there is not much to be overly excited about given the current state of the Rams organization. Having Cooper Kupp and McVay still in place does give a healthy Stafford more runway to be a better player than what we saw in 2022, but he has a hard road pushing out of the QB2 zone for fantasy purposes this summer.
23. Kyler Murray: We will see fluctuation with Murray's ADP this offseason based on a more accurate timeline for his return over the summer. For now, this is a spot where I would be comfortable entertaining him in 2QB formats (or best ball leagues drafting 3QB) until we get more clarity. But in 1QB leagues, there is no reason at all to sink into drafting him at this stage. Murray had surgery on his ACL and torn meniscus on January 27th, meaning we should not anticipate him to be ready for the start of the season. There are even whispers that he may not play until closer to midseason. For as bad as things were for Murray in 2022 as a passer, he was still the QB9 in points per game (18.2) and was a QB1 in seven of his 10 full games played. He did so in part to 29.8% of his points coming via rushing, something we have to heavily question remaining intact even when he does return to the field this season.
24. Jordan Love: We will finally see what we have here in Love after he was blocked by Aaron Rodgers. Love has thrown just 83 passes in the NFL. He at least looked the part much better last season when he had clean-up duties compared to 2021. The Packers were not a fantasy-friendly offense last season due to running one of the slowest paces in the league. Their strength through their backfield and defense may also make Green Bay double down on a ball-control offensive style with Rodgers moving on to New York.
25. Sam Howell: If Howell were guaranteed to start the entire 2023 season I would be more bullish on him, but I am interested in him in 2QB formats. I had him as the QB2 in the 2022 Draft and Washington has plenty of pass catchers in place to offer upside. Howell made just one start last season in Week 18, finishing as the QB7 (18.3 fantasy points). He is going to push the ball downfield and offers some mobility. In that game, he rushed five times for 35 yards and a touchdown.
26. Bryce Young: The No. 1 overall pick in the draft should open as the Week 1 starter for the Panthers. For fantasy, rookie quarterbacks have been a mixed bag with relatively lower odds to hit as week winners right away. Cam Newton, Robert Griffin, and Justin Herbert are the only rookie passers to clear 300 fantasy points since the merger in 1970. While Young is mobile, he is not at the level of runners of Newton or Griffin. Anthony Richardson has that spade. Can Young be the type of passer that Herbert was as a rookie? The way the Panthers are currently constructed, that will be a lot to ask since Carolina is lacking playmakers at wide receiver, has a strong offensive line, and has a viable young defense.
27. Jimmy Garoppolo: Jimmy G is reuniting with Josh McDaniels, who was the offensive coordinator for the Patriots for Garoppolo's first three years in the league. Garoppolo is the poster child for quarterback wins (40-17 in his career as a starter) and the number one quarterback that gets pushback when it comes to spreadsheet analysis for quarterback efficiency numbers. For fantasy purposes we do not need to fight those battles. Garoppolo has never been higher than QB18 in points per game and has been a QB1 scorer in just 24% of his career starts.
28. Desmond Ridder: We only got to see Ridder make four starts to close out last season, finishing as the QB27, QB25, QB29, and QB10 in those games. Ridder only attempted 28.8 passes per game in those weeks and Atlanta has done nothing this offseason to make us believe that they are going to open this offense up. Remaining a ball control offense, Ridder will have to be a hyper-efficient passer and run more than he showed last season to be a weekly starter in 2QB formats.
29. C.J. Stroud: Stroud has the most decorated passing profile of the rookie quarterbacks and the size to have more designed rushing attempts in the NFL than what he had in college. The questions will be does he still have enough rushing output to provide a strong weekly floor and do the Texans have enough around him to give any shot at a viable passing floor?
30. Mac Jones: Jones has opened the first two years of his career as the QB29 and QB33 in points per game. He gets a bit of pass for last season since New England saddled him with a no-win situation under the guidance of Matt Patricia and Joe Judge, but even with Bill O'Brien coming on board this season, Jones does not offer us much in terms of rushing output while the Patriots still have a lackluster group of pass catchers.
31. Ryan Tannehill: Tannehill will turn 35 this July and only started 12 games last season due to ankle injuries at different points of the season. In the final season of his contract and with Tennessee potentially not being good enough to remain in the playoff race, we should see the Titans give Will Levis a look during the season.
32. Baker Mayfield: The Buccaneers seem to have one foot still in on putting up a fight in 2023 and not going all-in on a rebuild. With that, I give Mayfield the best odds to win any potential battle versus Kyle Trask, who could not even get on the field ahead of Blaine Gabbert in Week 18 last season. In 2022 with the Panthers and Rams, Mayfield was 31st among 33 qualifying passers in expected points added per dropback (-0.16), 30th in success rate (35.6%), and 29th in yards per pass attempt (6.5 Y/A). If looking for a silver lining, at least Mayfield will be throwing to multiple viable wide receivers when all that he had in 2022 was D.J. Moore for his stint with the Panthers before taking over a Los Angeles offense down Cooper Kupp.
33. Clayton Tune: It is between Tune and Josh Dobbs to draw starts to open the season in Arizona. Tune is at least an unknown commodity, but both quarterbacks are largely just bodies in SuperFLEX formats. Tune has modest production, exiting college with a 68th percentile TD: INT ratio (4.0:1) paired with a 76th percentile completion rate (67.0%) in his final season. Per SiS, Tune had the highest on-target rate (78.1%) in this draft class with the highest on-target rate (79.5%) in the pocket. Only C.J. Stroud had a higher on-target rate than Tune's 62.4% on throws 10 yards or further downfield and outside of the numbers.
34. Sam Darnold: Darnold has thin odds to make a full-season fantasy impact this season, but now that he is the No. 2 QB he is drawing live at some point. Darnold will still only be 26 years old at the start of 2023 and closed last season playing arguably the best football of his career. Reclaiming the starting job in Weeks 12-18 last season, Darnold was fifth in the NFL in fantasy points per dropback (0.58) and second in yards per pass attempt (8.2).
35. Will Levis: Given where the Titans appear to be as a franchise, what we saw from Malik Willis last season, and trading up in the front of the second round to select Levis, I would expect that Levis gets a call to start some games in 2023 so that Tennessee can access that they have moving forward. Levis has several passing concerns paired with what is arguably the worst pass-catching group in the league, but he does offer athleticism. The number of sacks that he took dragged his 2022 rushing output into the abyss, but he did scramble 62 times for 338 yards in the past two seasons.
36. Gardner Minshew: Minshew is at least drawing live to open as the Colts starter in 2023. If he does, then that at least gives him some late-round appeal at the position in 2QB leagues. Especially for those who get frozen out at the position and are grasping on anyone making starts. Minshew will not have the luxury of working with the talent that the Eagles had on the field, but he is familiar with the system and has an average weekly finish as QB18 over his 24 career starts.
37. Colt McCoy: McCoy is the favorite to start for Arizona initially while waiting for Kyler Murray to return to the field. McCoy has made six starts for Arizona over the past two seasons, with the team posting a 3-3 record. There have been 58 passers to attempt 100 or more passes in the past two seasons and McCoy's 5.7 air yards per attempt rank dead last among that group. His 6.6 Y/A ranks 41st while his 9.3 yards per completion rank 53rd.
38. Jacoby Brissett: Brissett is veteran insurance should Sam Howell crash and burn with his opportunity. Brissett made 11 starts with the Browns last season and was a floor-based QB2, averaging 15.3 points per game and the average weekly QB17 in those starts.
39. Marcus Mariota: Mariota has now played himself out of multiple starting opportunities, but he landed in a premier spot as a backup for surrounding talent and his rushing ability. Should Jalen Hurts miss any time, Mariota would immediately be in a position to be a streamer in 1Qb leagues and a strong QB2 option.
40. Andy Dalton: Dalton is at least drawing some percentage to start the season for the Panthers, but his odds are extremely low and much lower than Minshew's. Dalton had two QB1 scoring weeks over his 14 starts with the Saints last season.