As the offseason rolls along, we are laying the groundwork for early best ball drafts, new dynasty startups, and everything else under the fantasy sun as we gear up for the next NFL season.
Below you will find 2023 fantasy football tight end rankings along with a profile for every ranked tight end.
These tight end rankings will move and be updated throughout the offseason as the landscape changes. I also have more detailed player write-ups in the tiers breakdown.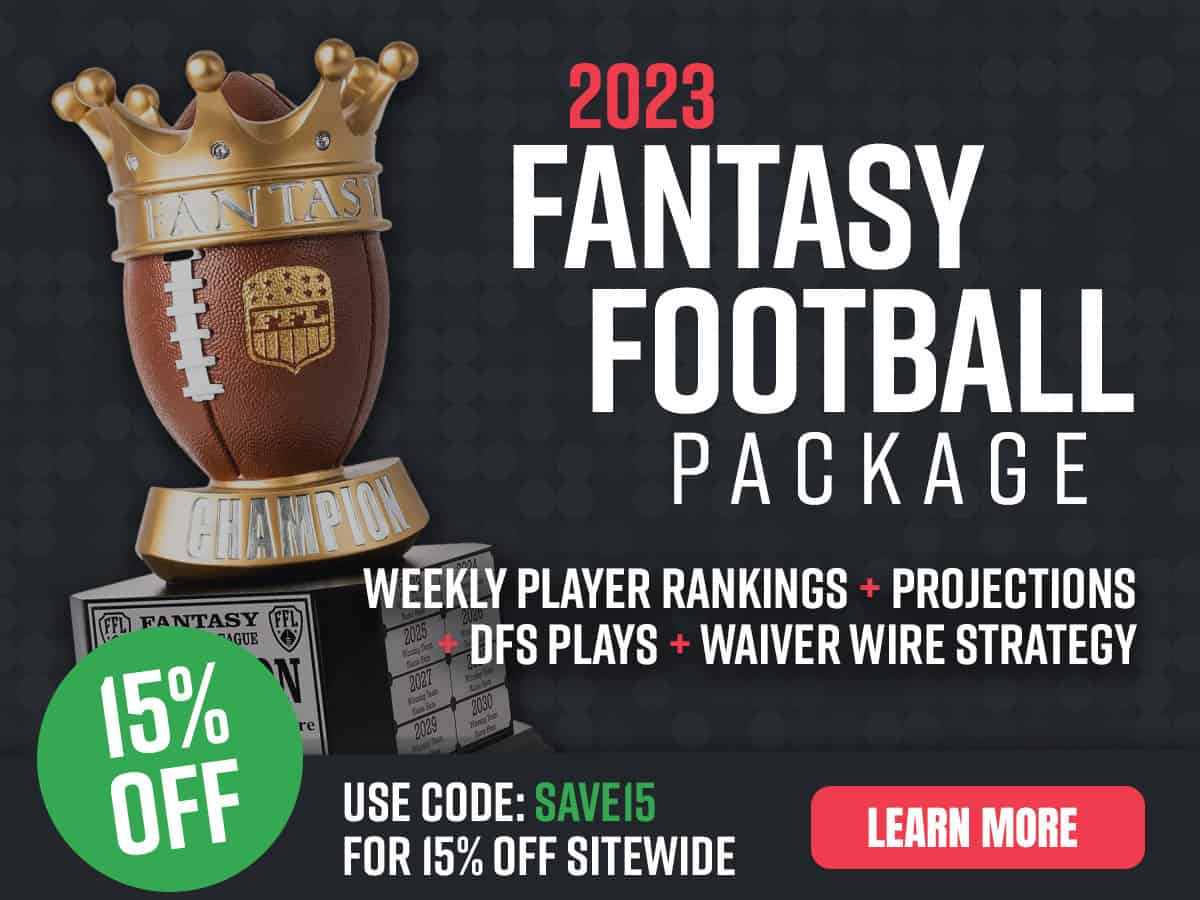 Fantasy Football Rankings:
2023 Fantasy Football Tight End Rankings:
Updated August 14
1. Travis Kelce: It all starts here. Kelce has outright led all tight ends in scoring in six of the past seven seasons. The one time that he did not (2021) he was second. Kelce will turn 34 in October, but Father Time has not come calling yet. Last season, Kelce set career-highs in targets (152), catches (110), and touchdowns (12). His 1,338 yards were his second most in a season, which also was his seventh consecutive season going over 1,000 yards receiving. No other tight end in league history has had more than four 1,000-yard seasons over their entire career, let alone seven in a row.
2. Mark Andrews: Andrews led the team in targets (113), catches (73), yards (847), and touchdowns (five) in 2022, but he was beaten up along the way and saw an impact in his output last season. Over the opening six weeks of the season, Andrews caught 39-of-57 targets for 455 yards and all five of his touchdowns. He was once again neck-and-neck with Kelce in terms of output over that span as the league's most productive tight end. Andrews was even leading the position in yards per route run (2.32) and target rate per route (29.1%) over those weeks. Then Andrews picked up shoulder and knee injuries and was never quite the same the rest of the season. Over the remaining 10 games he played, Andrews caught 39-of-66 targets for 465 yards and zero touchdowns. Baltimore has added target competition, but Andrews (turning 28 in September) is still at the heart of the apex of his career.
3. T.J. Hockenson: Minnesota traded for Hockenson at the trade deadline last season, and he immediately became their second receiving option in the passing game. From Week 9 through the end of the regular season, Hockenson was second among all tight ends in targets (86), catches (60), and receiving yards (519) behind only Kelce. His 21.8% share of the Minnesota targets over that span was third at the position. He ran the most pass routes in the league (36.1 per game) over that span while his 1.44 yards per route run was 15th. Hockenson's 8.7 yards per catch and 6.0 yards per target with the Vikings were the lowest rates of his career. Hockenson will look to find a marriage of efficiency and volume this season.
This premium article is part of the Sharp Fantasy Football Draft Kit, one of the best resources to get you prepared for the 2023 fantasy football season.
Unlock this article and all premium content from our Fantasy Draft Kit for just $1
To continue reading this article
and gain access to our 2023 Fantasy Football Draft Kit, including rankings, tiers, strategies & much more, click below.
Purchase